How Has Ariana Grande Paid Tribute To Her Ex Mac Miller After His Death?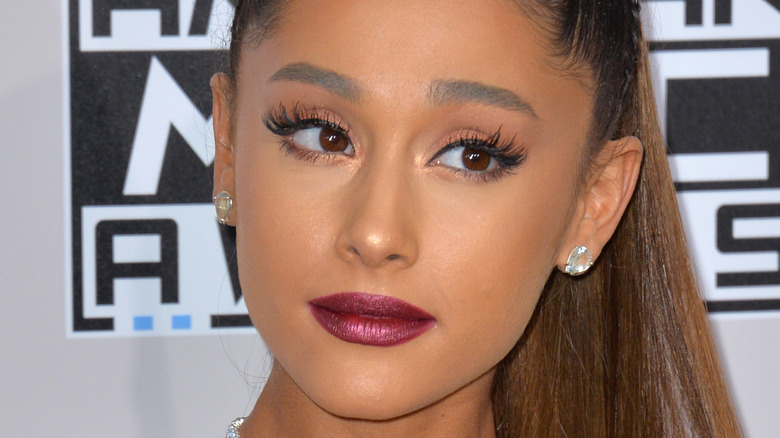 Shutterstock
Ariana Grande seemingly paid another sweet yet subtle tribute to her late ex-boyfriend, Mac Miller. Grande dated the rapper for two years between 2016 and 2018 (via Capital FM) and the star has made no secret of her devastation after the "Self Care" rapper died in September 2018. The two were pretty much inseparable for most of their time together, though Grande shared that things broke down as the star struggled with his sobriety. In May 2018, she hit back at a tweet seemingly blaming her for Miller's DUI as she claimed their relationship had become "toxic."
"How absurd that you minimize female self-respect and self-worth by saying someone should stay in a toxic relationship because he wrote an album about them, which btw isn't the case (just Cinderella is ab me)," Grande responded. "I am not a babysitter or a mother and no woman should feel that they need to be."
Grande then went on to become engaged to Pete Davidson, who she was with at the time of Miller's death, but she's repeatedly proven there was no bad blood between herself and Miller by sharing personal tributes to the late rapper multiple times over the years.
"The Voice" coach's latest appeared to go down during her animated concert in "Fortnite," where she appeared to honor Miller in a touching way. Read on for the details.
Ariana Grande seemingly honored Mac Miller with a stairway to heaven
Many fans speculated that Ariana Grande paid tribute to Mac Miller when an animated version of herself performed during what was dubbed "The Fortnite Rift Tour" as part of the "Fortnite" game on August 6. Per Bustle, Grande chose to perform her 2013 single featuring the rapper, "The Way." As well as showing her love for Miller by including the song in her set list, fans noticed she appeared to honor him as the song played by having her avatar walk up what resembled a stairway to heaven before then shooting up to the sky.
Plenty of fans noticed the subtle nod and shared their thoughts on Twitter. "I'm sobbing! Ariana Grande pays tribute to Mac Miller during her Fortnite concert, the #RiftTour," one fan tweeted. "Their hit 'The Way' played as the singer's avatar walked up the stairway to heaven." "Ariana grande had an event on 'fortnite' and she had a part of her walking to heaven with the song the way playing... it hurts... RIP MAC," another commented, while a third fan wrote, "Ariana walking up the stairs in fortnite while 'the way' was playing made it look like she was walking up to heaven to be w Mac."
Grande doesn't appear to have explicitly spoken out about the inspiration behind the moment that had fans talking, but this certainly wouldn't be the first time the star has shared a tribute to the rapper.
Ariana Grande has repeatedly shared her love for Mac Miller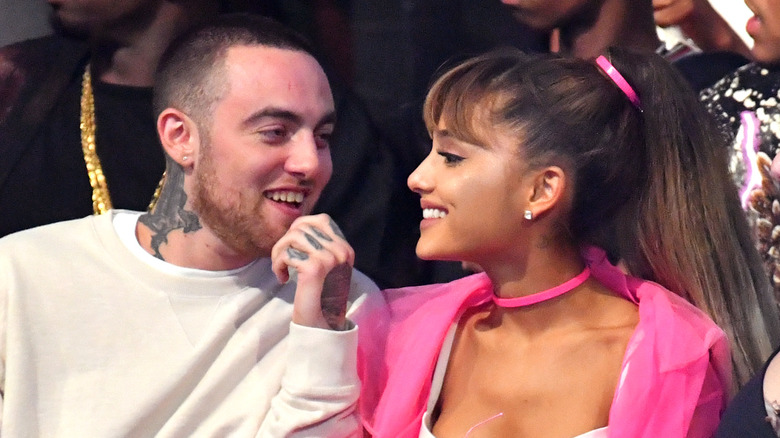 Mike Coppola/mtv1617/Getty Images
Ariana Grande previously spoke about Mac Miller's death and addiction issues during an August 2019 interview with Vogue. She described her grief over his death as being "pretty all-consuming," adding, "By no means was what we had perfect, but, like, f**k. He was the best person ever, and he didn't deserve the demons he had." Grande also opened up a little about their split, sharing, "I was the glue for such a long time, and I found myself becoming... less and less sticky. The pieces just started to float away."
Grande also addressed Miller's death in September 2018 with a heartbreaking video on Instagram of him laughing. She shared it alongside a lengthy caption, in which she told the late star she "adored" him from the very first day they met. She continued, "i can't believe you aren't here anymore. [I] really can't wrap my head around it. we talked about this. so many times. i'm so mad, i'm so sad i don't know what to do." Grande also touchingly apologized for not being able to "fix or take [his] pain away," before calling him "the kindest, sweetest soul with demons he never deserved. i hope you're okay now. rest."
Fans have also speculated that Grande paid a secret tribute to Miller on her 2020 album, "Positions," as well as multiple times during concerts, including when she broke down in tears on stage while performing in his home town.
If you or anyone you know is struggling with addiction issues, help is available. Visit the Substance Abuse and Mental Health Services Administration website or contact SAMHSA's National Helpline at 1-800-662-HELP (4357).