How Blake Shelton Really Feels About Ariana Grande Joining The Voice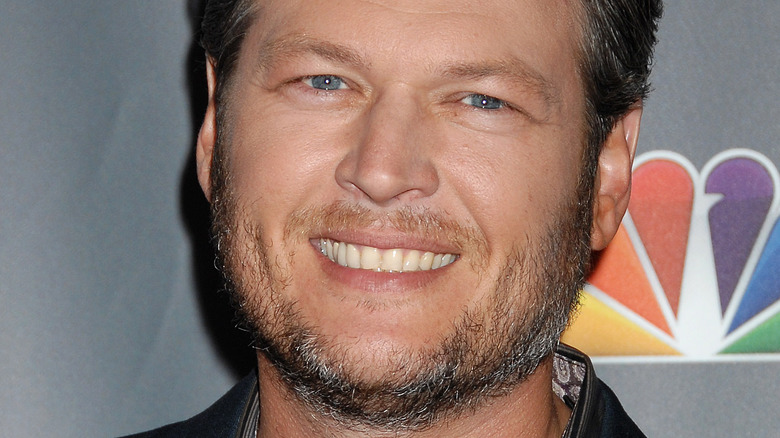 Shutterstock
Blake Shelton has seen many famous faces come and go on "The Voice" over the years. Shelton is the only original coach to still be appearing on the show since it first began in 2011 and he has a few thoughts about Ariana Grande joining the coaching panel alongside himself, John Legend, and Kelly Clarkson, who have starred alongside each other for the past few seasons.
Grande was officially revealed as Nick Jonas' replacement in March when the NBC show shared a snap of the "Positions" singer perched on the infamous red spinning chair to Instagram. "Our new Coach's name is Ari and we're so good with that," "The Voice" captioned the snap, borrowing a line from her breakup anthem "thank u, next," with a white heart emoji.
Fans then got their first look at how the pop superstar was getting along with her fellow coaches when the singing series dropped the first trailer for Season 21 in July as the foursome sang by the campfire. "Look at that amazing star over there!" Shelton said in the clip, to which Legend jokingly responded by thinking he was looking up at the sky. "No, I mean Ariana Grande!" Gwen Stefani's new husband then hit back, adding at the end of the clip, "This is gonna be an amazing season."
And it sounds like that's definitely true, as the country star just revealed how he really feels about the show's newbie and what her first few days on set were really like.
Blake Shelton thinks Ariana Grande is a 'fierce competitor' on The Voice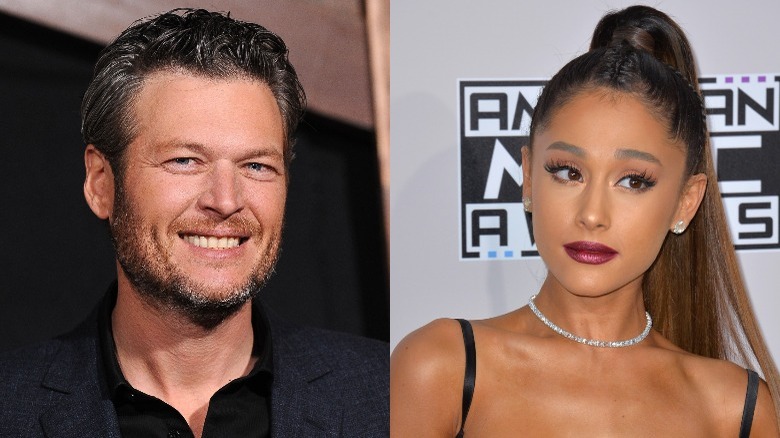 Shutterstock
Well, it sounds like Ariana Grande has already surpassed Blake Shelton's expectations on "The Voice." Shelton opened up about the star's first days on set during an August interview with SiriusXM's Storme Warren, admitting Grande didn't need any help from him when the latest round of Blind Auditions began taping. "She is a tiny human being, but she is a fierce competitor. She's a blast. I found out since we've been working together, she's been a fan of the show for a long time and she knew the process," Shelton shared.
"A lot of the times, a new coach comes in and we kind of have to walk them through, 'Okay, here's what this part of the show is and here's how it works. There's a Steal, there's a Save, don't be afraid to say this,'" he continued, noting that Grande didn't need anyone to hold her hand as she "knew everything" already and was more than ready to get stuck in.
Shelton added that he "didn't know what to expect" from Grande when she was announced as Nick Jonas' replacement, but teased, "She was super competitive in the [Blind Auditions] to the point where she was really funny." He added, "I didn't expect her to just come out swinging like she did."
Do Blake Shelton and Ariana Grande get along on The Voice?
It sounds like Blake Shelton and Ariana Grande are definitely going to be in fierce competition on "The Voice," but that doesn't mean there's any drama between the two. Shortly before Shelton's confessions about Grande's first few days on set, the two looked pretty happy to be together when "The Voice" official Instagram account shared a snap of the coaches together.
The show posted a sweet filtered selfie on July 26 which showed the two smiling on set, confirming in the caption that it was the first time they'd ever met. The photo was originally posted as part of a batch upload from Grande earlier in the day that gave her followers a behind the scenes look at her filming the Season 21 promo.
Grande captioned the upload by telling fans that she had "fun" working on the show, writing, "i adore these humans so much and am already an emotional wreck worrying about saying goodbye to everyone the day of the finale and nothings even happened or aired yet." She added, "i love these people and this crew and my TEAM OH MY GOD and everything about this. i can't say anything else. but... simply cannot wait til we get started."
It definitely sounds like Ariana Grande is taking "The Voice" super seriously, and we can't wait to see what she's serving up week after week when the show returns to our screens in September!