The Real Reason Kathy Griffin Got Back Together With Her Husband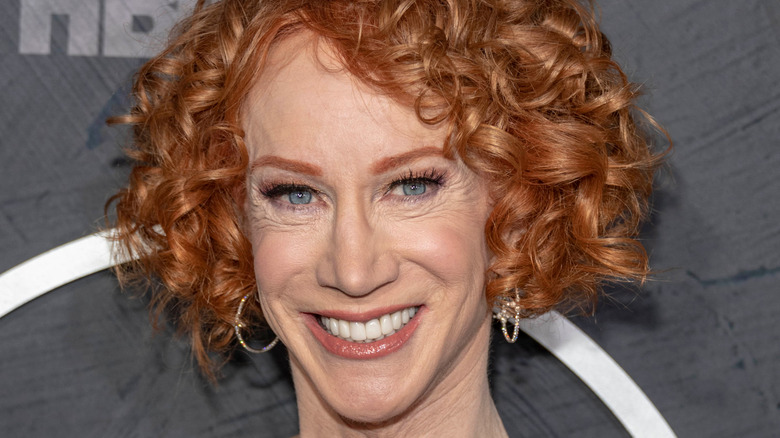 Shutterstock
Comedian Kathy Griffin has navigated plenty of life challenges over the years, both in her personal life and her career. She surprised fans by marrying Randy Bick in a surprise New Year's Eve wedding ceremony to kick off 2020, but the two had split for a while before reuniting and marrying. What was behind that initial split, and why did they reunite?
As "Good Morning America" detailed, Griffin and Bick first met in 2011 at a Los Angeles food festival. Despite the fact he was 19 years younger than her, the sparks flew and they started dating. Their romance continued for several years, but they ultimately called it quits in November 2018. She explained to "Entertainment Tonight" that the scandal she sparked in May 2017 related to former President Donald Trump played a role in that breakup.
Griffin noted she had been dating Bick for seven years at the time of their split. In addition, he had been her tour manager and the two lived together. His family, Griffin explained, were supporters of Trump's. Apparently, her stunt with a prop that looked like Trump's bloodied and decapitated head did not go over well with Bick's family. He stood by her side at the time, but the incident seemingly continued to weigh on both Griffin and Bick, and she noted she felt "really guilty" about the drama the situation generated for him.
How did they get back together?
Kathy Griffin and Randy Bick
Until she announced their split, things had seemingly been going well for Kathy Griffin and Randy Bick. She had previously admitted to People she never expected the romance to last and really just expected it to be a fling. She was surprised it became a real, long-term relationship and she credited him for being "very sweet and very mellow." She added, "He's like a regular guy, you know, he's like a real guy. He's not like a Hollywood guy."
But on November 8, 2018, Griffin took to Twitter to reveal that she and Bick went their separate ways. "God help me, but I'm gonna be one of those people who announces a break up," she began. "After 7 years, Randy and I have decided to part ways. It's not acrimonious and I will always adore him," Griffin continued. The comic even added a dig at TMZ, noting they couldn't break the news themselves since she revealed it first herself.
But just a few months later, the two were back on...
The couple reunited and 'fought to make it work'
Kathy Griffin and Randy Bick's split only lasted a few months, as she revealed in a March 2019 Twitter post. Bick commented on her post, writing, "Every time I look into your eyes, I'm helplessly aware. That the someone I've been searching for is right there." What prompted the reunion? She told "Entertainment Tonight," "We just came to the decision that, we've really been through so much together. We've been together over eight years." Griffin explained, "Even though he's 19 years younger, we both turned to each other and realized, this is the longest relationship for both of us, you know?" The realization helped them decide "We should fight for it and make it work," Griffin noted.
By the following New Year's Eve, Griffin and Bick were ready to wed and she revealed a sweet tidbit about the dress she wore. Griffin shared a throwback photo on Twitter, noting it was from their first date. When Griffin prepared to marry Bick, she tweeted that "I asked Randy to pick out which ever one of my long dresses was his favorite for any reason. He picked out this dress and showed me this photo," referencing their first date snapshot. The dress he picked was the same one she wore on their first date, and they exchanged vows as Lily Tomlin officiated. Griffin and Bick's romance was an unusual one, as was their wedding, and it seemed to suit them perfectly.