The Bizarre Surgical Procedure Grimes Had Done On Her Eyes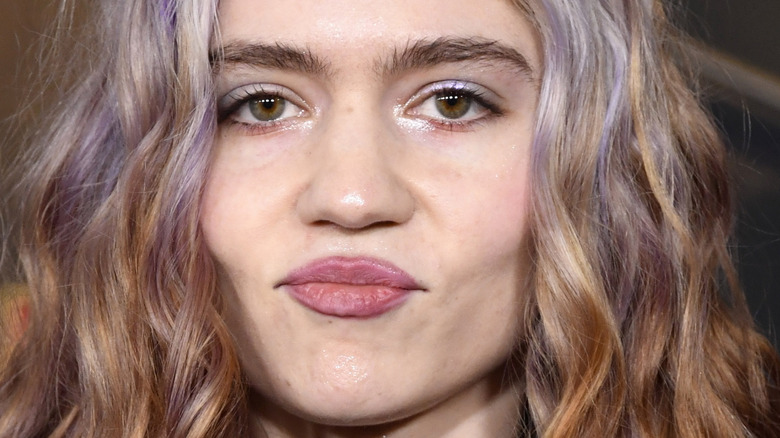 Frazer Harrison/Getty Images
Lately, whenever Grimes is in the news, it usually has something to do with her relationship with her controversial partner Elon Musk. From their awkward Twitter exchanges, like the time Grimes called Musk out for his statement on pronouns, per Forbes, to the overall unexpectedness of their coupling (She supported Bernie Sanders while Musk has donated to Republican campaigns in the past, per W), the duo can definitely be considered eccentric. And after the birth of their son, they upped the ante by announcing on Twitter that they decided to name their bundle of joy X Æ A-XII.
But despite being a talented singer-songwriter, Grimes has always been known for her unorthodox approaches to life independently of her relationships. When it comes to her music and career, the artist can been defined as a free spirit and rule breaker, which checks out when you look at her body of work. Still, that didn't make it any less shocking when the singer revealed she had a risky surgery done on an extremely delicate part of her body. Keep reading for more details on the bizarre surgical procedure Grimes had done.
Grimes said she surgically altered her eyes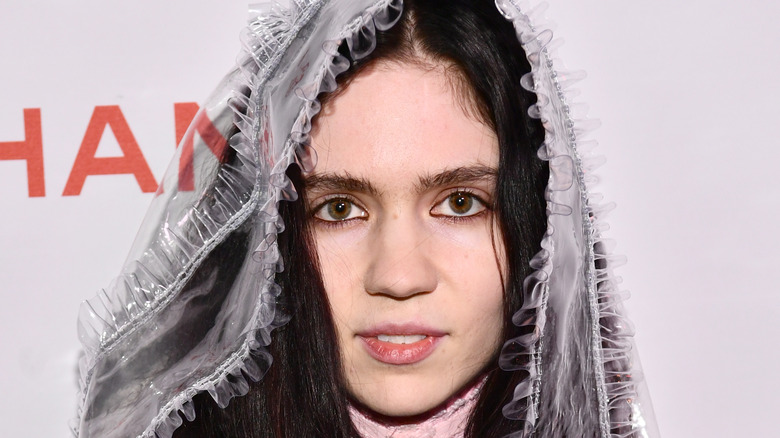 Emma Mcintyre/Getty Images
In 2019, while discussing her collaboration with Adidas, Grimes revealed she had undergone an eye operation that had many jaws on the floor. "I have also eliminated all blue light from my vision through an experimental surgery that removes the top film of my eyeball and replaces it with an orange ultra-flex polymer that my friend and I made in the lab this past winter as a means to cure seasonal depression," she wrote on a since-deleted Instagram post, per Time. Though blue light rays have been known to cause issues, like reducing the ability for some to sleep restfully, most experts disputed Grimes' claims, instead saying the surgery was dangerous.
Billboard interviewed Dr. Sunir J. Garg, a retina surgeon and professor of ophthalmology, about Grimes' procedure and its efficacy. Not only did Dr. Garg contradict all of the concern over blue light, claiming humans have dealt just fine with blue light for centuries, he also spoke about the dangers of Grimes' experimental surgery. "I'm not sure what she was doing without causing herself severe pain ... and then putting a polymer on an eyeball is something that nobody should do," Dr. Garg said.
Of course, Grimes isn't the only celebrity that has had eyebrow-raising surgery. Keep reading to learn about another controversial surgery a musician underwent.
Lil Uzi Vert turned heads with his surgery
While Grimes' supposed eye surgery is definitely not your ordinary celebrity gossip, she's not the only artist to have undergone a relatively unknown and potentially dangerous surgery. In February, rapper Lil Uzi Vert dropped a bombshell on fans: He literally implanted a pink diamond into his forehead. While on Instagram Live, the rapper revealed he had initially considered wearing the diamond as a ring before eventually deciding to implant it in his face.
According to Dazed Digital, the rapper explained, "I'm Lil Uzi. I'm turnt up. So $24 million on a ring is the stupidest idea because I'm gonna look down and that ring ain't gon' be there ... I know me. I wake up in odd places and different sceneries." But per Page Six, photos of the rapper from June make it seem like he is no longer wearing the gem on his forehead.
Oh, the things — and operations — money can buy.