Out Of Every Taylor Swift Kanye West Diss, One Stands Above The Rest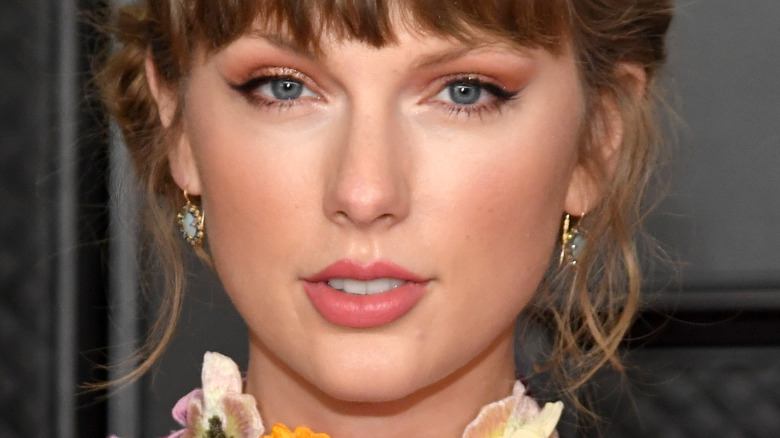 Kevin Mazur/Getty Images
Ahh, celebrity feuds. They are a tale as old as time. They feed our healthy dose of gossip and drama without forcing us to participate ... unless you enter the Twitter conservation and get hounded by opposing trolls. Nevertheless, sometimes they are fake and friendly like our favorite "frenemies," Ryan Reynolds and Hugh Jackman, while other feuds of a more spicy nature heartwarmingly get resolved. We cannot forget the iconic moment when Kim Kardashian and Paris Hilton twinned in Juicy Couture-inspired tracksuits, after all. But, sometimes feuds drag on to the point that their origins become blurred. None more reminiscent of this is Taylor Swift and Kanye West's almost 12-year quarrel. Okay, so perhaps "quarrel" is putting it lightly ... "battle" is probably the more appropriate term for the two Grammy-winning artists' incredibly fraught relationship.
Perhaps the most infamous feud of this millennium, West and Swift have been at each other's throats (and Twitter timelines) since 2009, when West shockingly disagreed with Swift's VMA win on stage. Despite West apologizing for his behaviour that evening, the singers continued to throw shade (in almost every color, we might say) for years on end. What ensued were multiple song and speech references, social media disses, surprising make-ups ... and then predictable break-ups, until a "Famous" phone call seemingly marked the end of their constant bickering. While the singers' have not publicly outed one another since that final heated debate back in 2016, let's take a look back at the fallout which divided the world into two camps — Team Kanye or Team Taylor. 
Kanye West simply shouldn't have stolen a teenage Taylor Swift's limelight at the VMAs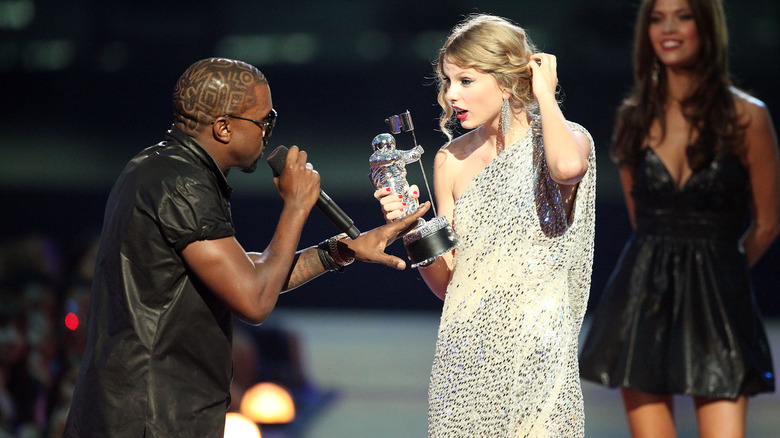 Christopher Polk/Getty Images
It all started with a mic steal. You simply cannot analyze Taylor Swift and Kanye West's relationship without going back to the OG argument, which we believe is the most savage given it sparked nearly 12 years of "Bad Blood," and paved the way for Twitter wars. For those of you unfamiliar or forgetful of the VMA scandal, allow us to re-enlighten you. Swift was 19, curly-haired, and dressed like a princess for her first-ever VMAs, in which her song, "You Belong With Me" was nominated for Best Video by a Female Artist. Meanwhile, West — who was 32 at the time — rolled up to the red carpet "wasted" and holding a bottle of Hennessy. Whitney-Gayle Benta, the former vice president of talent relations for MTV News, told Billboard: "At the time to keep the peace we just didn't challenge him. I just remember thinking, 'This is not going to end well.'" And it certainly didn't. 
After Swift won the VMA and thanked fans, West took to the stage mid-speech, taking her mic ... and limelight. "Yo, Taylor, I'm really happy for you, I'mma let you finish. But Beyoncé had one of the best videos of all time! One of the best videos of all time!" West said in reference to Beyoncé's video, "Single Ladies." Cameras then cut to a shocked Beyoncé, who gasped, "Oh, Kanye," to a booing crowd. After West stormed off the VMA stage, a stunned Swift stood still until the VMAs awkwardly cut to a pre-recorded segment.
Kanye West set a precedent for Twitter when he called out Taylor Swift on stage at the VMAs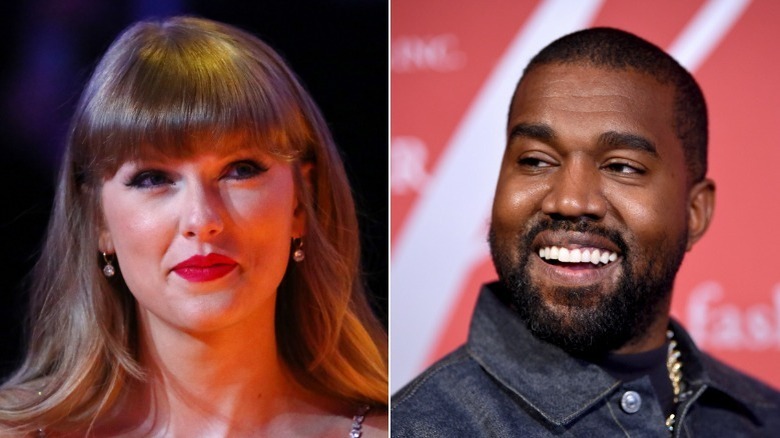 Jmenternational, Dimitrios Kambouris/Getty Images
While Kanye West and Taylor Swift's initial disagreement may seem relatively tame compared to later events, it changed the way we find news and interact with it. Just after the drama unfolded, Twitter went into meltdown as people vented their outrage or retold the story for those who missed it. Even celebs got in on it, like Katy Perry who tweeted: "F*** U KANYE. IT'S LIKE U STEPPED 0N A KITTEN." At that time, Twitter was only three years old, but somehow West's outburst got people talking, thereby boosting the nascent platform's profile. 
Vox called the aftermath "explosive," as traditional news platforms began taking notice of the power of social media. "Kanye storming the stage was the first time I realized just how powerful Twitter was in driving audiences to TV," Jim Cantinello, former MTV News reporter, told Billboard. "If you opened up your timeline that night, your feed was overrun with reactions. If you weren't watching the VMAs and you opened Twitter, it felt like you were missing out on the craziest TV moment of all time."
Despite MTV later pulling Swift and West's VMAs feud from YouTube, it's evidently immortalized on Twitter ... much to the dismay of those involved. "I would very much like to be excluded from this narrative, one that I have never asked to be a part of, since 2009," Swift said in 2016. These days, however, Swift seems too preoccupied bringing down West's former manager, Scooter Braun. One battle at a time, it seems.