How Many Grandchildren Does Nancy Pelosi Have?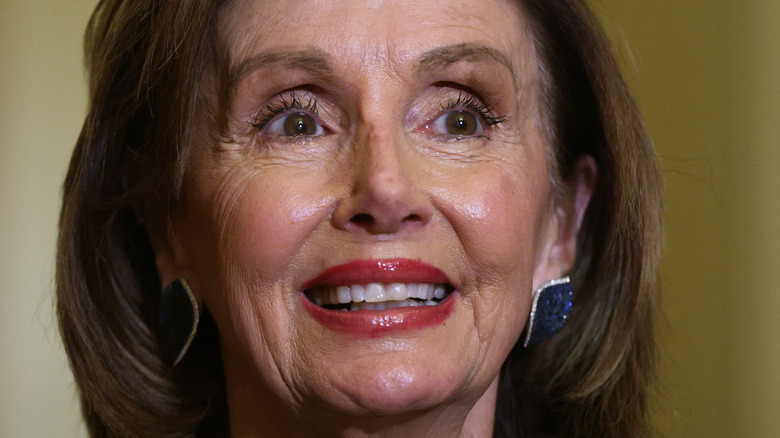 Alex Wong/Getty Images
Nancy Pelosi has accomplished a lot in her life, both personally and professionally. She grew up in a political family in Baltimore, Maryland, as her father, Thomas D'Alesandro Jr. was both a mayor and a member of Congress, per Biography. In addition, her brother, Thomas D'Alesandro III, served as the Baltimore mayor for a time and her mother, Anunciata D'Alesandro, was an active political organizer, according to the Irish Examiner. Pelosi seemed destined to follow her family's path in politics from an early age. She was just 12 years old when she attended her first Democratic National Convention, and she helped her dad during his various campaigns.
Pelosi attended Trinity College in the Washington, D.C. area, and it was there she met her future husband, Paul Pelosi. They got married and moved to San Francisco, California, where they quickly built a family, having five children over the first six years of their marriage. While her focus was raising her children while they were young, she couldn't resist the draw of politics and went on to become both House Speaker and a proud, engaged grandmother.
Over the years, Pelosi has talked about how those worlds intersect and influence one another. Pelosi's extended family is a large one, and she's proudly embraced being a doting grandmother to her numerous grandchildren. So, how many grandchildren does she have to spoil?
Nancy Pelosi has quite a few grandchildren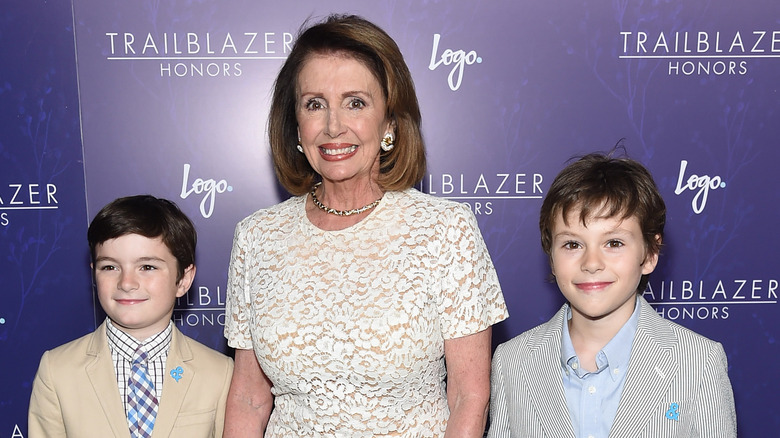 Jamie Mccarthy/Getty Images
According to Biography, Nancy Pelosi tackled local politics as she raised her children, and won a special election in 1987 to join the House of Representatives. She told The Lily in 2019 that she "was really forged by" her kids as she embraced politics and that there is "no question" she "became so energized and efficient in the use of time and willing to delegate" thanks to her kids. More recently, she told Mika Brzezinski on "Morning Joe" that her motivation to enter politics "sprang from being a mom," per NBC. Her youngest child was a senior in high school when she ran for office, U.S. News & World Report noted, and as Extra detailed, she was already a grandmother as she took her oath.
In July 2020, Pelosi spoke with Craig Melvin, and noted she had "nine grandchildren from grade school all the way up to college." All four of the politician's daughters have children, while her son, Paul Jr., does not. Pelosi's oldest daughter, Corinne Prowda, has a daughter, Madeleine, and a son, Alexander, per East Valley Tribune. Daughter Christine has a son, Octavio, and a daughter, Bella. Daughter Jacqueline has three sons: Liam, Sean, and Ryan, per Irish Examiner. Interestingly enough, all three of Jacqueline's sons were baptized in Ireland, at the Kilquade church in County Wicklow. This was their paternal grandfather's home prior to moving to Texas. Finally, Alexandra, Pelosi's youngest daughter, has two sons named Paul and Thomas, per Your Tango.
Nancy Pelosi's grandchildren are often by her side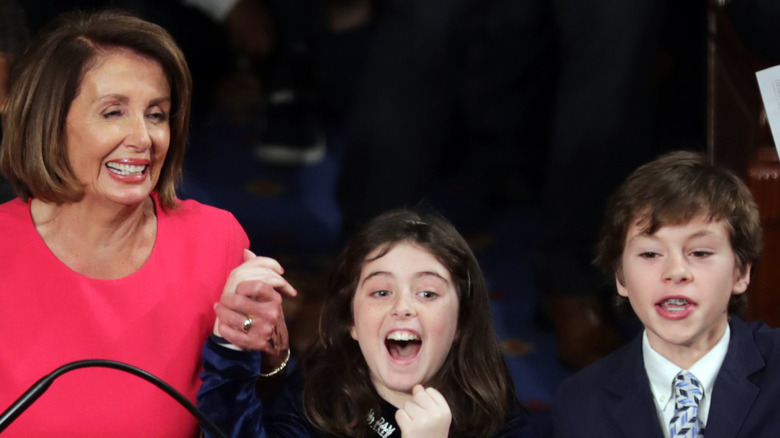 Chip Somodevilla/Getty Images
Many of Nancy Pelosi's grandchildren have been by her side during significant political events, and sometimes they even steal the show. During the 2019 House speaker election, many representatives brought their children or grandchildren along. When it was Pelosi's turn, her granddaughter Bella ran over, grabbed her grandmother's hand, and urged her to vote. As Pelosi did, Bella got quite animated, causing others in attendance to chuckle. As Pelosi later prepared to take her oath as House Speaker, C-SPAN caught a moment during which she was surrounded by several of her grandchildren and kids of other representatives. One of the kids was heard yelling "Mimi!" as they ran up to the podium, which is what Pelosi's grandchildren call her, according to her daughter, Christine.
Pelosi's children described her as being a "hands-on mom" who led "synchronized chaos," per Vanity Fair. She was typically strict, but she wasn't always serious, and there were times she would "dance wildly around the kitchen," according to daughter, Christine. Apparently, Pelosi really embraced her whimsical side when she became a grandmother. She texts her grandchildren frequently, often relying on emojis to signal where she is and what she is doing. Pelosi is a dedicated grandmother; She once took two of her grandsons to a Metallica concert. 
As strict as Pelosi may seem in politics, she's clearly got a very soft spot for her nine grandchildren.