Why Russell Simmons Ended His Friendship With Donald Trump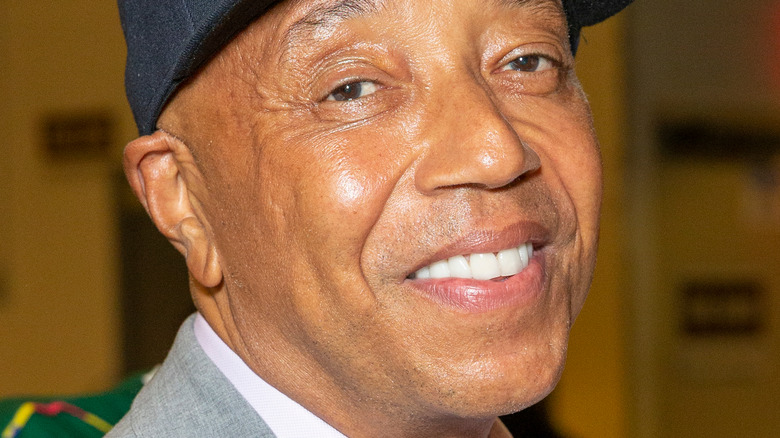 Shutterstock
While former President Donald Trump's circle has continued to shrink since his White House adieu, it appears to be a trend that has gone on long before Trump ever assumed office. Trump, a purportedly dubious one-time real estate mogul who moved into television fame in the aughts for hosting the reality TV competition "The Apprentice," appeared to lose a number of those in his social cadre after he announced his intentions to run in the 2016 presidential election. 
At the time, this was spurred by a number of controversies and scandals which came to light, including his passive refusal to outright denounce an endorsement from KKK member and former politician David Duke, his leaked 2005 Hollywood Access video which featured him boasting about sexual misconduct and worse against women, and the litany of anti-immigrant, racist, and bigoted remarks he made along his campaign trail. Out of the many A-listers and high profile figures who decided to sever their ties to Trump over the years, it seems that one of them was perhaps one of his earliest and most vocal friends-turned-detractors: hip-hop icon Russell Simmons, who made his stance on Trump both nuanced and well-known.
Even though it's been years since Simmons purportedly put Trump on his no contact list in 2017 after decades of friendship, it seems Simmons didn't take the decision lightly. So what was their relationship like before Trump's political ambitions? And what was Simmons' breaking point? Keep on scrolling to find out more.
Russell Simmons was in the room for Donald and Melania Trump's first date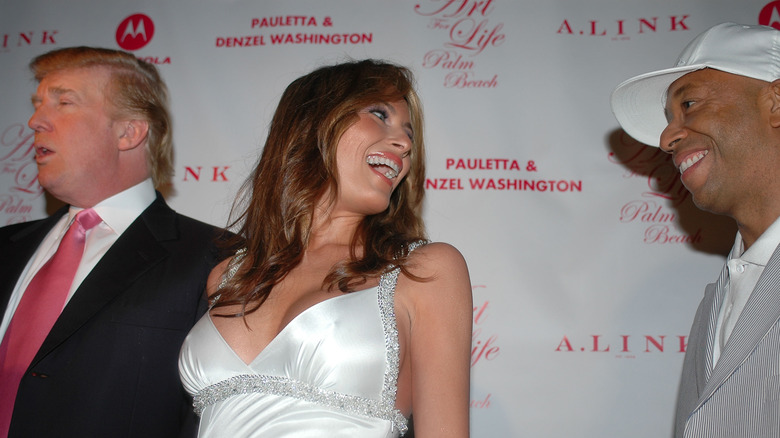 Gustavo Caballero/Getty Images
As producer and reality star Russell Simmons has spoken about in a number of interviews over the years, he first became acquainted with Donald Trump over three decades ago, and for a time spent almost every weekend with the entrepreneur at his favorite private golf club, Mar-a-Lago. Simmons was also present the night Trump met his future wife and former first lady, Melania, who was working as a model at the time. 
But Simmons began to notice troubling attitudes and behaviors Trump exhibited around 2011, when Trump became a vocal figure of the birther movement, a right-wing conspiracy theory which claimed that then-President Barack Obama was born in Kenya, not in the U.S., and that he had won the election under false pretenses. (Notably, as The Atlantic pointed out in 2020, a sizable chunk of this conspiracist demographic included white supremacists.)
According to Salon, Simmons attempted to intervene with Trump's alarming willingness to propagate bigoted attitudes, going as far as to arrange an ecumenical discussion between Trump, Simmons, and a trio of religious leaders: two imams and a rabbi. Per Salon, Simmons' aim was course-correct. "We talked about the hate crimes against the Muslim community in America," Simmons said of the meeting at the time. "Donald was very, very enlightened by learning about the work that's being done ... to promote tolerance." Unfortunately, this proved to be too little and too late. 
Russell Simmons walked away from Trump over his bigotry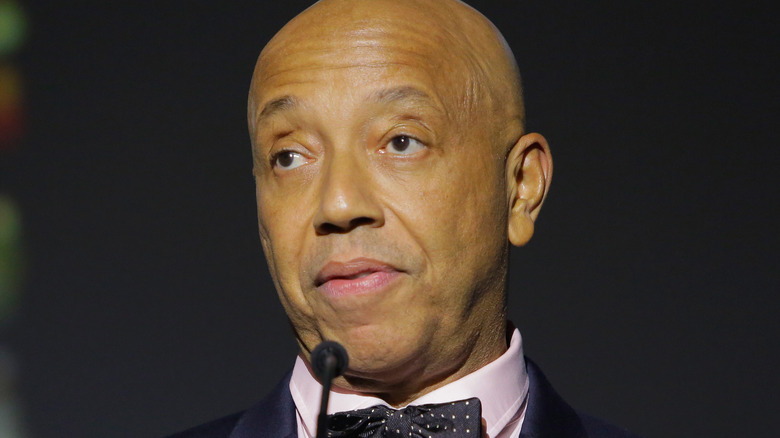 Tiffany Rose/Getty Images
In 2015, Russell Simmons went public with the fact that he had yeeted Donald Trump out of his social life. As Simmons stated in a 2017 interview with the New York Daily News, the final straw had been, in a lot of ways, anticlimactic. "We haven't been friends since the day he announced [his presidential bid], and I said, 'I'd rather Kim Kardashian be president,' so he called the office and that was the end of our friendship," the hip-hop mogul recounted. Soon after their last conversation, Simmons penned an open letter to Trump published by Global Grind, which served as a final plea to a man who had been his friend for three decades. "Don't feed into the rhetoric created by small-minded people," Simmons wrote. "You're smarter and certainly more loving then you let on." Simmons added, "I know the cheap seats are easy to play to, but you can get them just by being the man I have known for nearly 30 years." 
Later, in 2017, Simmons again went on the record about the dangers of Trump's messaging. Simmons said Trump was a "contradiction" to American ideals, adding, "he thinks he's a crusader for making America great again, which is code for promoting sexism, racism, Islamophobia, and antisemitism," per CNN. Months later, Simmons spoke out after the white supremacist riot in Charlottesville, telling USA Today that Trump had never "acted on any real belief."
It seems like both Simmons and Trump have agreed to disagree.