The Real Reason Thomas Gibson Left Criminal Minds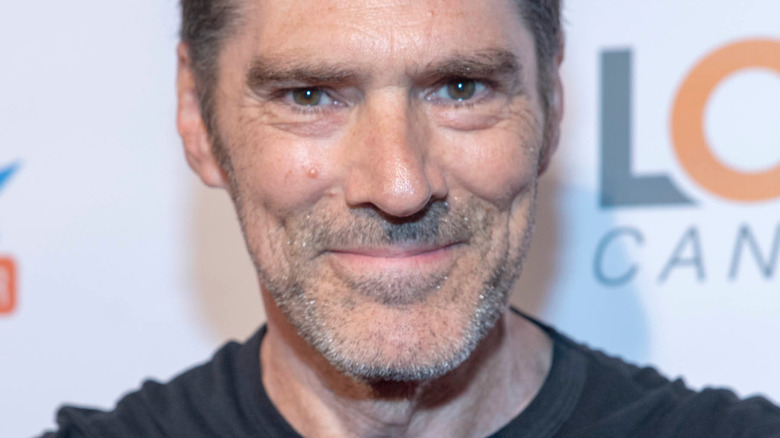 Shutterstock
Thomas Gibson starred in "Criminal Minds" for 11 years. Gibson played Supervisory Special Agent Aaron "Hotch" Hotchner on "Criminal Minds," the Behavioral Analysis Unit's (BAU) team leader. In the crime drama, Gibson's character was the leader, a father figure of sorts for the members of the BAU. The popular CBS series followed FBI profilers who hunt down serial killers while trying to anticipate their next moves before they strike. Gibson played the role of the calm lead FBI profiler, but in real life, the actor was reportedly difficult to work with.
Gibson's sudden exit from "Criminal Minds" in 2016 surprised fans. After Gibson left the series, his former co-star Shemar Moore spoke out, per Deadline. Moore posted a now-deleted Instagram video that didn't mention Gibson, but it seemed that he was addressing the situation. Moore wrote (via Deadline), "Lot of birdies chirping out there; the gossip is real. I'll just say this: I believe in karma. Good things happen to good people. Honest people. Hard-working people. Humble people. People who believe in basic goodness. ... Treat people how you expect them to treat you. Celebrate yourself and celebrate your blessings — as you should — but just know that you're not better than anybody." 
Deadline reported that Moore left the popular CBS series a few months before Gibson in 2016. But "Criminal Minds" continues to be a hit, with more fans discovering the series via streaming services. If you're curious about the real reason that Gibson left "Criminal Minds," keep reading!
Thomas Gibson was fired from Criminal Minds after a fight on-set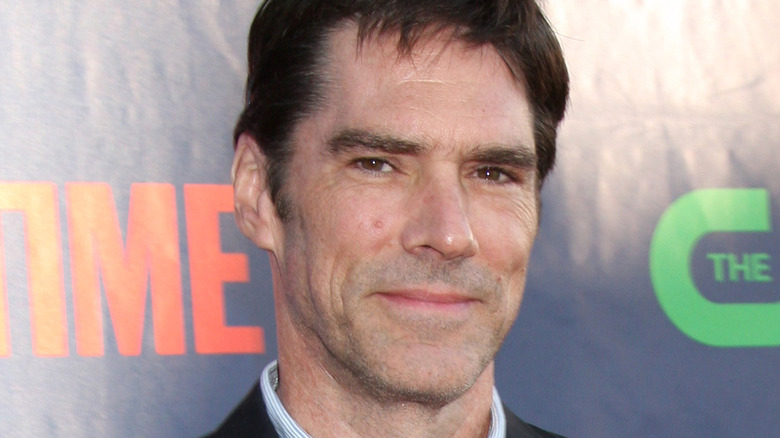 Shutterstock
Thomas Gibson was fired from "Criminal Minds" in 2016. After an on-set fight, his character, BAU unit chief Aaron "Hotch" Hotchner, was written out of the show. Per The Wrap, Gibson was suspended from two episodes of the crime drama after reportedly kicking a writer on the leg.
But after other stories about Gibson's behavior made news, ABC Studios and CBS Studios announced that Gibson was fired over the 2016 kicking incident. "Thomas Gibson has been dismissed from 'Criminal Minds,'" the statement read, via Variety. "Creative details for how the character's exit will be addressed in the show will be announced at a later date."
The 2016 altercation reportedly wasn't the first time a disagreement involving Gibson turned ugly. According to TMZ, Gibson reportedly had a history of bad behavior behind the scenes, with the outlet reporting that the actor was "aggressive and verbally abusive for years on set." In 2010, Gibson reportedly pushed an assistant director while filming a scene because they were "moving too slowly," and the network made Gibson go to anger management classes, TMZ noted. 
According to Variety, some sources on the "Criminal Minds" set said Gibson was a "dedicated family man," but others were not sorry for his departure. A staffer told Variety, "It's like a dark cloud has been lifted off that show. You never knew which Thomas Gibson was going to show up."
Thomas Gibson's 2016 incident was the third strike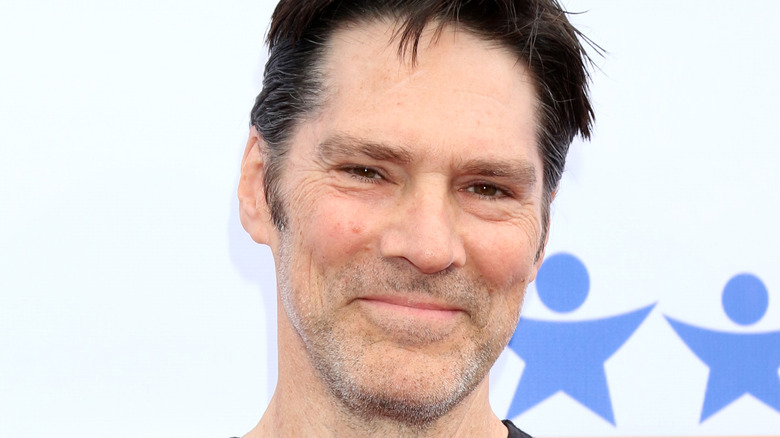 Shutterstock
Thomas Gibson was fired from "Criminal Minds" for his reported altercation with writer-producer Virgil Williams, per Variety. But the outlet reported that "past incidents weighed heavily on the studios' decision to terminate Gibson."
Variety reported that multiple sources described Gibson as a "mercurial personality on set" who could be quick to anger. The outlet noted that Gibson and his "Criminal Minds" co-star Shemar Moore "had an extremely tense relationship." In addition to Gibson's tension with Moore, Variety reported that the star of the crime drama demanded that the "Criminal Minds" production schedule be juggled to give him the flexibility to travel back to his home in San Antonio, Texas. TV Guide also reported that in 2013, Gibson was arrested on suspicion of DUI. In addition, Variety reported that after the DUI, Gibson lost his driver's license for a while, leaving "Criminal Minds" staffers to drive him to and from the set.
Deadline reported that "Criminal Minds" aired for 324 episodes on CBS between 2005 and 2020. Viewers are so obsessed that there is talk of a "Criminal Minds" reboot on Paramount+. Fans still love Kirsten Vangsness, Matthew Gray Gubler, Shemar Moore, and other cast members, but Thomas Gibson may not be getting an invite to join the reboot based on how he left the series.