The Strange Thing Kate Middleton Wouldn't Let Prince George Do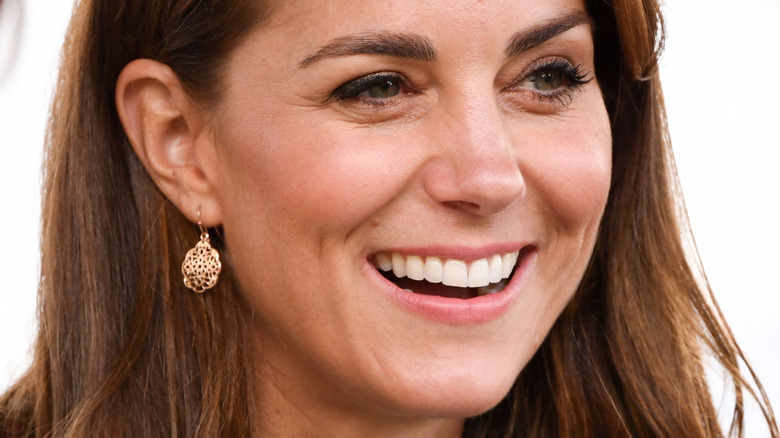 Shutterstock
Prince William and Kate Middleton are the proud parents of three young children. They often show off Prince George, Princess Charlotte, and Prince Louis on their social media pages when they are not bragging about them in interviews. In fact, Harper's Bazaar reports that the royal three might not be impressed with their mother's passion for capturing them on camera. "Everyone's like, 'Mummy, please stop taking photographs!" the Duchess of Cambridge revealed. But, who can blame Kate for wanting to immortalize their precious childhood by getting behind the lens?
Wills and Kate have also been candid about the boundaries they set for their trio and how they rely on each other for support. During the lockdown, the Duke of Cambridge admitted (via Express), "I've found it pretty testing, not going to lie, trying to keep the children engaged in some kind of work, it's been an interesting few months." He continued, "Basically we're a good team tag session, I come in with the children and try and get them to do something and Catherine comes in when frankly everything has gone wrong."
It wasn't the first time Kate came to the rescue. The 39-year-old was thrust into mothering in the spotlight and had to learn to have her wits about her. She quickly learned to set firm boundaries where her children were concerned. An Australian zookeeper soon realized that Kate's word was law, per the Mirror.
Kate Middleton put her foot down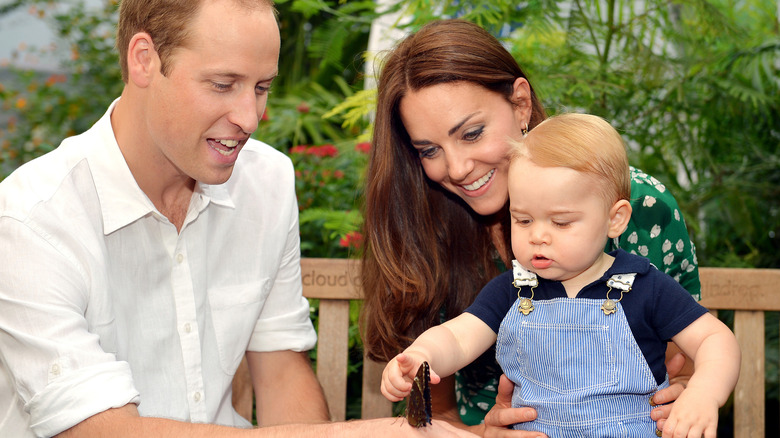 Wpa Pool/Getty Images
Kate Middleton went mama bear when Prince George was just 10 months old. According to the Mirror, Prince William, Kate, and George visited Australia in 2014. Of course, the curious wildlife animals beckoned the young family, and they popped in at the Taronga Zoo in Sydney. It wasn't long before an eager zookeeper tried to get George to interact with the animals.
Apparently, the family were entranced by a bilby, a small marsupial, when the zookeeper overstepped his mark. He urged Will and Kate to let the young George pet the marsupial, also called George. However, Kate politely refused, claiming that George "has quite a strong grip." It also seemed as if Wills was a quick learner and backed his wife like any good dad. "[I]f he gets it, he'll never let it go," he explained. He then placed a kiss on his son's head. These two seemed to have established their awesome parenting skills from way back.
Even though George did not touch the bilby, he still enjoyed the Zoo Down Under. He was given a soft toy bilby as a parting gift, but it seemingly did not grab his attention the way a car sticker did. He threw the stuffed animal on the floor, stuffed the sticker into his mouth, and chewed it to his heart's content. Got to hand it to Kate and Will: a car sticker is far easier to remove from a toddler than a live marsupial.
Kate Middleton has changed her tune now that her kids are bigger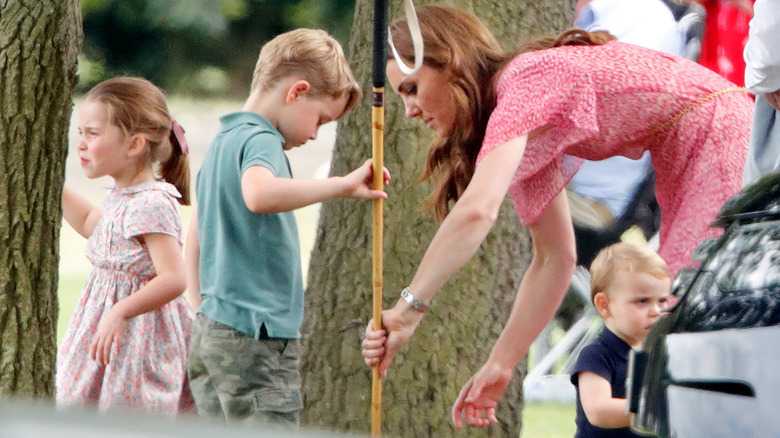 Max Mumby/indigo/Getty Images
Kate Middleton and Prince William did not want Prince George petting an animal at an Australian zoo, presumably because they didn't want the 10-month-old squeezing the life out of it. But how do the Duke and Duchess feel now that their kids are older? Do George, Princess Charlotte, and Prince Louis have any pets?
The answer is a resounding yes. Even before George came into the picture, Catherine and William had a dog named Lupo, a black English Cocker Spaniel, per People. In 2016, Kate revealed that they had added to their animal brood. She told a 9-year-old girl that they also had a pet hamster named Marvin, per Us Weekly. The girl revealed, "[She] said she had a hamster, and [Princess] Charlotte really likes it because the whiskers always tickle her face." How sweet is that?
At the end of 2020, Lupo died and the Cambridges released a statement about their "dear dog." Express reported that George was "desperately sad" about the family pet. However, the Cambridges are said to have welcomed another black Cocker Spaniel into their home, per TODAY. Apparently, the puppy made its arrival just before Lupo died, and George, Charlotte, and Louis are seemingly smitten with their new pooch. 
While Kate wouldn't let her son touch a bilby when he was a baby, now that her kids are a little bigger, they're free to cuddle and touch their own pets to their hearts' content.