Is This The Real Reason Lindsey Graham Attacked Hunter Biden?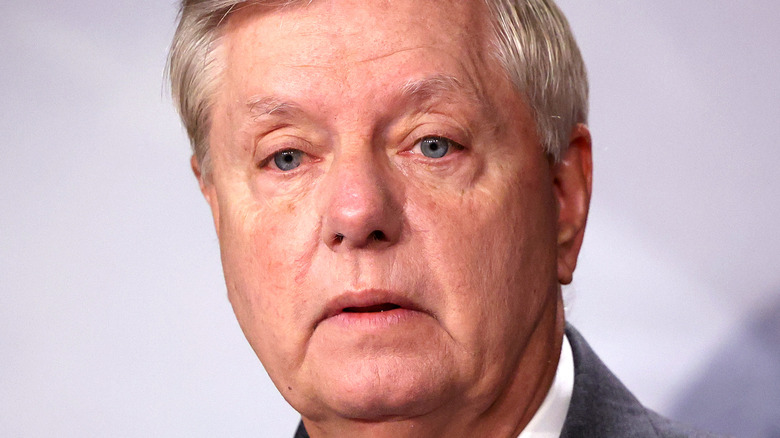 Kevin Dietsch/Getty Images
When it comes to the art of the apology, it seems Lindsey Graham could use a refresher or two. As The Guardian reported on August 16, the Republican South Carolina senator attempted to reach out and apologize to President Joe Biden. During the administration of former President Donald Trump, Graham had levied a number of attacks not only on Biden himself, but members of his family. 
Graham, who was initially a vocal critic of Trump after he announced his intention to run for office in 2015, was once lauded for excoriating descriptors he applied to the then-candidate, labeling him as "a race-baiting, xenophobic bigot," per The New York Times. But as the newspaper also noted, Graham's 2015 comments are the diametric opposite of the behavior the senator has exhibited after Trump's ascent. Swapping his oppositional stance regarding Trump with one more along the lines of the sycophantic, Graham transformed himself into one of Trump's closest allies. Graham himself has a history of supporting anti-LGBT+ measures dating back to at least 1996. He also denied the existence of systemic racism in April. 
His loyalties to the twice-impeached former president supposedly caused him to eschew his long-running friendship with Biden. Graham even went as far as to zero in on Biden's son, Hunter, in an attempt to sway the November 2020 election in Trump's favor. However, Graham has since reportedly attempted to make amends with Biden after the election was over. So what went down? 
Lindsey Graham's reason for attacking Hunter Biden wasn't enough for Joe
Shutterstock
Per The New York Times, Senator Lindsey Graham made a call to President Joe Biden almost immediately following his victory in the November 2020 presidential election to offer up an apology. The reason? His part in the campaign to thwart Biden's victory by echoing Donald Trump's accusations that his son, Hunter, had engaged in potentially illegal business dealings in Ukraine, and which tenuously involved his father. (These claims were later proved to be false, per USA Today.) 
Graham, who had been friends with Biden for years before Trump took office, was even there to express his sincere condolences for Biden's son Beau, a decorated Army officer and lawyer who died in 2015 from brain cancer at 46. While recounting the call and the tragedy surrounding it, an emotional Graham said, per The Washington Post, "If you can't admire Joe Biden as a person, then you got a problem."
It seems, however, that Graham's devotion to Trump wasn't enough to preclude his assailment of Biden and his remaining son years later, though he reportedly sought to make amends to his former friend following his election win. In an August profile published by the Times, unnamed sources close to the situation said his part in the attacks against Hunter was done as "only the bare minimum to satisfy Trump supporters back home," which Biden summarily rejected. Biden reportedly found the betrayal "unforgivable," saying, "Lindsey's been a personal disappointment because I was a personal friend of his."