Where Does Jeff Bezos Live And How Big Is His House?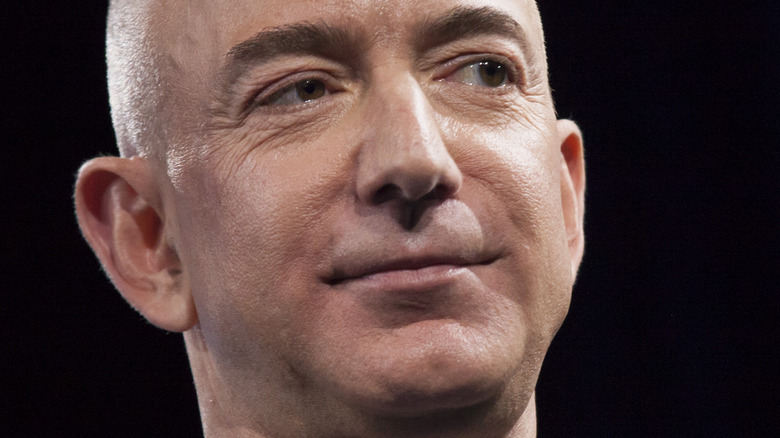 David Ryder/Getty Images
If you know one thing about Jeff Bezos, it's that he's rich. Very, very rich. The founder and former CEO of Amazon is worth an estimated $191 billion as of August, per Bloomberg. To put that in perspective, that's more than Bill Gates and just below SpaceX CEO Elon Musk. You probably also know that Bezos is a little, say, eccentric. To be fair, with money like that, you can afford to be.
Bezos recently took a flight to the outer reaches of space. He was criticized for the publicity stunt, not only because he was taking a multi-million dollar flight from a station in a small town, but also because the internet agreed that he looked kind of like Dr. Evil while doing it. You might also know that Bezos recently went through a very high-profile divorce, in which he reportedly left his wife after beginning an affair with a former news reporter. That might seem scandalous enough, but things became even more tabloid-worthy when someone leaked some very intimate texts from Bezos to his alleged mistress.
Something you might not know about Bezos, though, is where he lives. If you're the second richest man in the world, you can live anywhere you want. So, what does Bezos do? Keep scrolling to find out.
Jeff Bezos has some fancy neighbors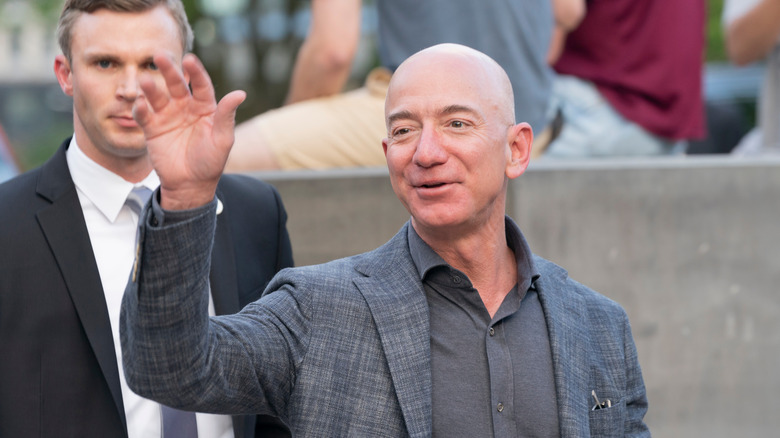 Shutterstock
It should come as a little surprise that as the founder of Amazon, Jeff Bezos chooses to live close to the company's headquarters. According to Business Insider, Bezos calls a palatial Medina, Washington estate his home. The 29,000-square-foot property was purchased in the late '90s for a mere $10 million. That sounds like a lot to most people, but to put it into perspective, Bezos makes an estimated $8.5 million an hour, per the Independent.
So, what's the property like? Well, the property was renovated for $28 million in 2010. Bezos also increased the size of the property by buying a neighboring house for around $50 million. Thanks to the tight security surrounding them, there's not much information on what the houses are like on the inside. The city of Medina, located outside of Seattle, is known as a safe haven for the 1%. Bezos lives within a few miles of Bill Gates and several high-up Microsoft executives, per Business Insider.
If you think that one moderately priced property (by Bezos standards) sounds understated for a guy who just took an 11-minute joyride to space, you'd be right. The Medina compound is only the first in an impressive property portfolio acquired by Bezos over the years.
Bezos has property all over the country
There are Amazon headquarters spread throughout the country; Therefore, Jeff Bezos has a property portfolio to match. In addition to his Washington home base, Bezos owns property in Texas, Washington, D.C., Los Angeles, and New York City, according to Independent. The Texas property is less residential and more business-oriented, as that is where Bezos runs his up-and-coming private space company. In D.C., he owns a townhouse and a $23 million former textile factory. He also spent $24 million on a seven-bedroom Beverly Hills compound.
Bezos' most recent purchase was three neighboring penthouses in a swanky New York City building for a cool $80 million. When combined, this gives Bezos one massive apartment with 12 beds and a total of 17,000 square feet to use as he pleases. He dropped another $16 million to add a fourth floor to his collection of real estate on Fifth Avenue in 2020.
The New York property is the first major investment Bezos has made since his 2019 divorce. According to Washington state law, Bezos' ex-wife, Mackenzie, is entitled to half of the assets acquired during the marriage. It's unclear who got what in terms of property (It's safe to say Mackenzie didn't get the Texas property), but she did walk away with approximately a quarter of Bezos' fortune, per Observer. Even with that chunk of change out of his pocket, it's appropriate to say Bezos still has plenty of cash to invest in future properties, if he so pleases.