What Happened To O.J. Simpson's First Wife, Marguerite Whitley?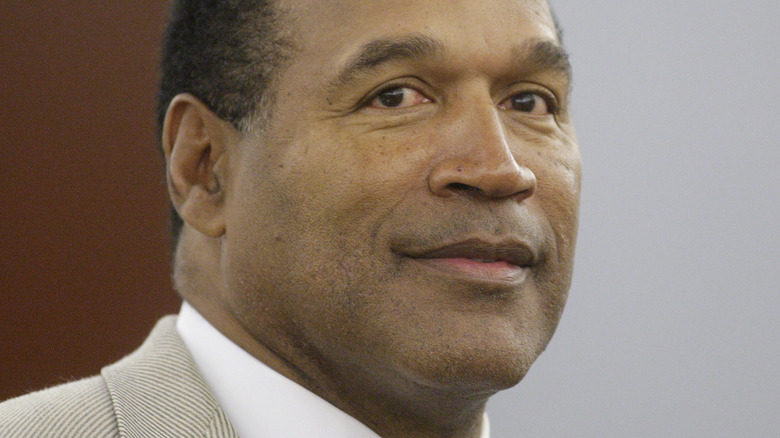 Pool/Getty Images
When it comes to the trial and subsequent acquittal of O.J. Simpson for the 1994 murders of his ex-wife, Nicole Brown Simpson and her friend Ron Goldman, there's a lot to be said for how certain people connected to the crime have, for better or worse, receded into the shadows. While it could be argued that the infamous trial brought a swirl of topics into the cultural forefront — ones like racism, classism, and patriarchal toxicity — it also, in part, flattened the lived experiences of the victims of the crime itself. It's undeniable that the media circus tended to point the spotlight on O.J., a celebrity who had by all accounts also been an abusive spouse, rather than on Goldman and Nicole, whose lives were brutally ended. And TV shows and other portrayals (*ahem* Ryan Murphy) have essentially followed suit in the decades to come.
Although the victims of the tragedy — a crime that O.J. was acquitted of in 1995, but found liable for the wrongful deaths for both — were the primary (and justly central) examples of key figures perhaps pushed to the sidelines by its central figure's fame, others were also seemingly given the same treatment. Among them is O.J.'s first wife, Marguerite Whitley. So what happened to her? And where is she now? Read on to find out.
Marguerite Whitley's marriage to O.J. Simpson ended for this reason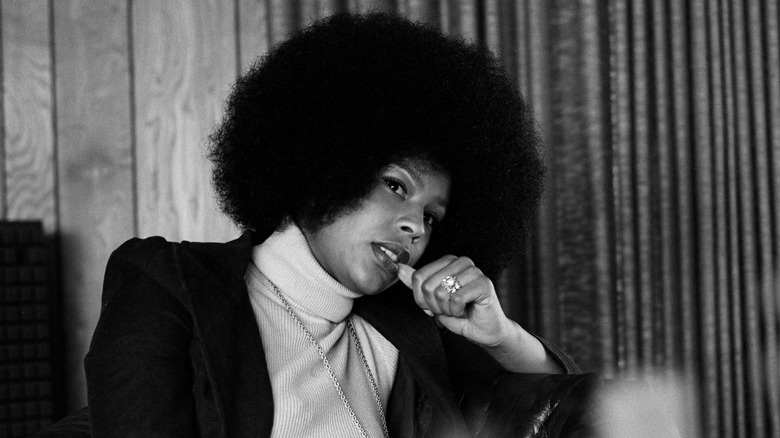 Michael Ochs Archives/Getty Images
Marguerite Whitley, the first wife of O.J. Simpson, met the former actor and athlete well before he became a household name or an NFL powerhouse. As Vogue noted in 2016, the two began dating in high school and married when they were 19 years old, one year before O.J. won the coveted Heisman trophy in 1968. The couple had three children together in the years following O.J.'s entrée into the world of professional sports, first as a Buffalo Bills, and later for the San Francisco 49ers, as well as his later forays on the big screen in movies like "The Towering Inferno." 
All the while, Whitley kept herself out of the spotlight — a decision she made in her own right. Per Vogue, O.J. stated in a 1979 interview with People magazine that Whitley found her husband's fame to be a detriment to their marriage. "My wife is a private person, yet we can't walk down the street without causing a commotion," he said. Whitley and O.J. divorced that year, due in part to the pressures of O.J.'s celebrity, but also (and possibly primarily) because of the two-year affair the star had already carried on with a woman who would become his second wife: Nicole Brown Simpson.
Marguerite Whitley still supported O.J. Simpson during his 1995 trial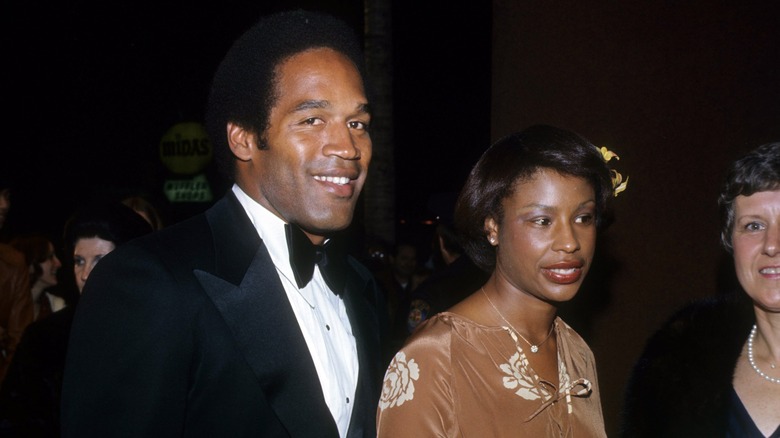 Michael Ochs Archives/Getty Images
Despite the end of their years-long marriage, Marguerite Whitley was an adamant supporter of her ex-husband throughout his 1995 murder trial, going as far as to state that she would be willing to testify on the behalf on the defense, per Vogue, though she was never ultimately asked to do so for O.J.'s legal team or for the side of the prosecution. She also publicly denied any physical or emotional abuse on the part of O.J. during their years together, as The New York Times reported in 1994, which proliferated in his second marriage to Nicole Brown Simpson — even at one point landing her in the hospital for her injuries.
Though The New York Times noted at the time that Whitley had remarried twice since parting ways with O.J. in 1979, it is unknown as to whether she remains married to her third husband. In fact, as Vogue pointed out, it seems there is no publicly accessible information about her whereabouts at all, and she continued to remain silent about the trial after the premiere of the Ryan Murphy-helmed series "American Crime Story: The People v. O.J. Simpson" in 2016.