Karma Is Just Around The Corner For Meghan Markle, Royal Expert Theorizes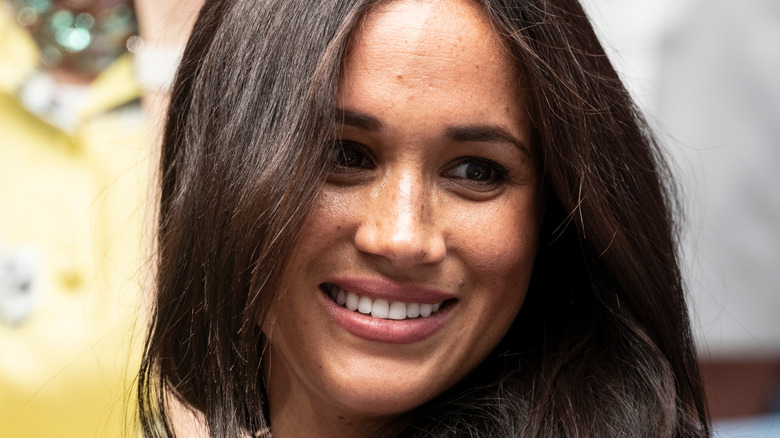 lev radin/Shutterstock
Poor Meghan Markle is being dragged through the British tabloid mud once again, this time helped on by her own sibling. As if it weren't bad enough to have commentators like Piers Morgan and even the royal family themselves speaking badly about Meghan, now her own half-brother is again jumping on the bandwagon.
Meghan is already associated with television shows both scripted and "real," from her former acting role on the USA show "Suits," to her well-publicized exclusive interview with Oprah Winfrey, to "Inside Edition," and lots more. She now has an association she didn't expect, nor want: "Big Brother VIP," a celebrity-based spinoff set in Australia featuring infamous names like fashion designer Imogen Anthony, former "Apprentice" contestant and former Donald Trump aide Omarosa Manigault Newman, and personality Caitlyn Jenner.
Meghan is estranged from her family: father Thomas, half-sister Samantha, and half-brother Thomas Markle Jr. While her father has been trying to reconnect with Meghan — at least long enough to meet his grandchildren — Thomas Jr. has decided to use Meghan's fame to cash in for his own benefit: he is scheduled to be a contestant on "Big Brother VIP" and is already talking crap about his half-sister.
Now the Daily Mail's columnist Sarah Vine is adding her mean-spirited take too (per the Mirror). Keep reading to find out what these two said.
Sarah Vine thinks Meghan Markle's half-brother Thomas Markle Jr. will air out her dirty laundry
Now that half-brother Thomas Markle Jr. is appearing on Australia's "Big Brother VIP," there's new cause to talk crap about Meghan Markle. As journalist Charlotte Griffiths said (via the Mirror), "The last thing [Meghan] wants to be associated with is Big Brother." Already, in his appearance in the trailer for the new show, Thomas Jr. claims, "I told Prince Harry, I think she's going to ruin your life. She's very shallow," he said about Meghan.
On the Daily Mail's podcast "Palace Confidential" (per the Mirror), writer Sarah Vine said she suspects Meghan Markle will get "a taste of her own medicine." Having no sympathy for Meghan whatsoever, Vine didn't mince words when asked if she felt sorry for Meghan: "No, I think she's about to find out what it feels like to have someone cash in on your family," Vine said, "which is what the Queen has been dealing with for the last 18 months." She continued, saying "[Meghan] and Harry have been cashing in on their Royal Family, by cashing in on all sorts of Netflix deals and giving interviews to people and saying dreadful things." One person's "dreadful things" may be another person's truth. Who are we to decide?