The Real Reason There Won't Be Another Pop Smoke Album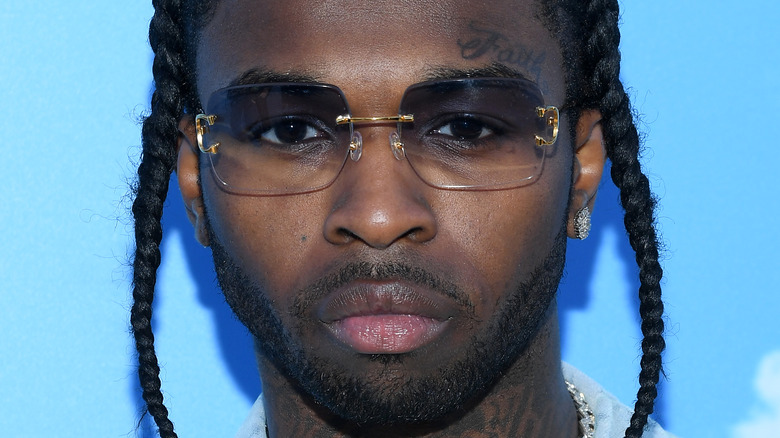 Pascal Le Segretain/Getty Images
Before Pop Smoke unexpectedly died, the rapper was recording new music for his debut album, thanks to the success of tracks like "Welcome to the Party" and "Dior." As fans will know, the Brooklyn native died in February 2020, after falling victim to an armed robbery at a Beverly Hills mansion he rented. 
After his tragic death, however, Pop Smoke's friends and associates vowed to keep his legacy alive by releasing some of the songs he had recorded, in the form of his first posthumous album, "Shoot For The Stars, Aim For The Moon." 50 Cent worked on the project as executive producer, and did so out of love. "See, Pop Smoke, that was one of my favorite," 50 said during an Instagram Live session. "I liked that n***a, man. I swear to God, I like that n***a man."
Fans often drew comparisons between them, with some accusing the late rapper of copying 50, which the rapper vehemently denied. "That's not copying. He never copied one f***ing thing from me," 50 Cent explained in the same video. "He just looked at it, he saw what was good in it. It influenced him, and he was doing his own thing with it. ... I fell in love with the n***a at that point." After "Shoot For The Stars, Aim For The Moon" was released in 2020, Pop's team released a second posthumous album, titled "Faith" in July 2021. Per the late rapper's friend, however, "Faith" may be his last project ever.
Pop Smoke's best friend suggests there isn't any music left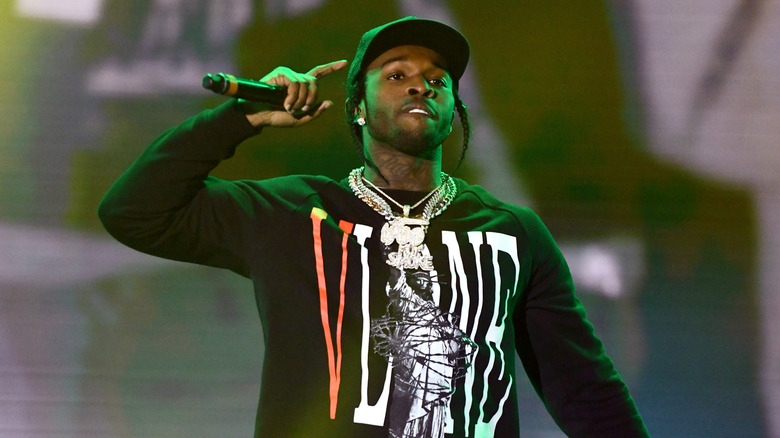 Scott Dudelson/Getty Images
According to Pop Smoke's best friend, Mike Dee, it's very unlikely that there will be another posthumous album. During an August 16 Instagram Live interview with radio host Kalisha Perera, Dee suggested that there may not be any music left to work with. Dee also revealed what he would have done differently if he called the shots. "I feel like, instead of dropping all 30 songs, I would have waited until now, till next year," he said, referencing the deluxe, 30-song version of Pop's second posthumous album, "Faith." Dee added: "That way his name will stay alive instead of just dropping it all at one time."
When Perera asked him if the deluxe version included Pop Smoke's entire catalogue, Dee seemed to think so. "I'm guessing this is what he had left in the vault." Of course, Pop's loyal fans didn't take long to share their thoughts on the matter. "those 30 songs COULDVE been split into albums of just 10 songs so every 3 years we would get an album," one fan wrote in the comments. Some fans aren't even surprised by Dee's statement, and think Pop's management should let him rest. "Good, his label needs to stop milking his death," someone typed in the comments. "Even if he had more music...just let him rest," another fed-up fan said. 
And despite its commercial success, "Faith" received backlash from even more fans — and some collaborators.
Pop Smoke's second posthumous album was met with even more criticism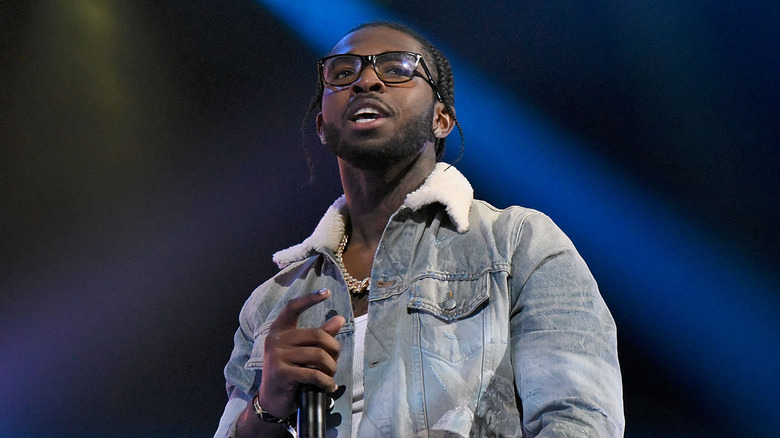 Arik Mcarthur/Getty Images
On July 16, Pop Smoke's management released his second posthumous album, "Faith." The project — which debuted at No. 1 on the Billboard 200 Albums chart — included guest appearances from Chris Brown, Kanye West, Future, Pharrell Williams, Pusha-T, Rick Ross, Dua Lipa, and many more. However, despite its undeniable success, some Pop fans felt that the album was a disappointment due to all the features.
"Too many features.. we just wanted to hear Pop smoke man," one fan tweeted. "Pop Smoke wouldn't have fw half of the features on that album if he was still alive to see it," another one pointed out, sharing a clip of Pop explaining why he didn't like features. Mike Dee was also disappointed, adding that he wasn't aware of the project until it dropped. 
"I had no involvement in my dawgz album didn't even kno a album was dropping until it got broadcasted on this internet s*** I'm upset my damn self at it cuss I know he wouldn't even want this like this," Dee explained via Instagram Story (per HotNewHipHop). Before "Faith" dropped, 50 Cent also suggested that he wasn't going to be involved with it. "[Pop Smoke's manager] talked to me about the new record, and I'm not sure if I'll participate with this, that record," he said in a Kris Kaylin interview. "I just wanted to make sure that his record did what it was supposed to."