The True Meaning Behind 'Woo Baby' By Pop Smoke Featuring Chris Brown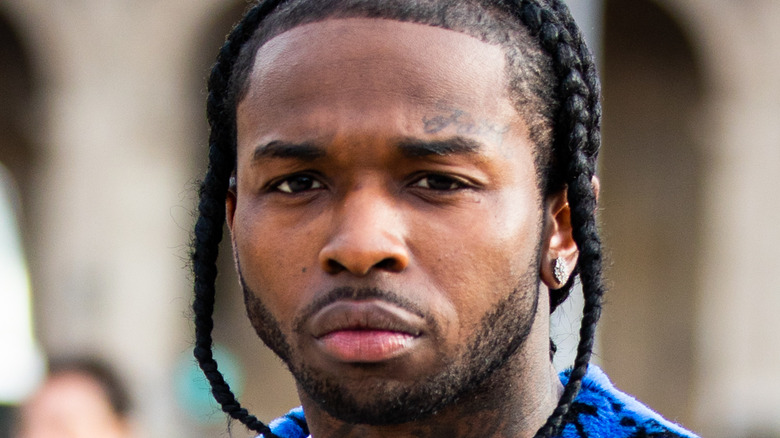 Claudio Lavenia/Getty Images
Following his tragic death in February 2020, Pop Smoke's career continues to see elevated success posthumously. His first posthumous album, "Shoot For The Stars, Aim For The Moon," exhibited the Brooklyn native's versatility as an artist while also boosting his celebrity. "Shoot For The Stars, Aim For Moon" went No. 1 on the Billboard 200 chart upon its release in July 2020, earning the equivalent of 251,000 albums sold with 268 million streams and 59,000 in sales (via New York Times). The "Welcome to the Party" crooner also made history with the longest-running No. 1 album on the Top R&B/Hip-Hop albums chart since 1990, a milestone set by M.C. Hammer's "Please Hammer, Don't Hurt Em" album.
Fast forward to a year later, Pop Smoke's second posthumous album, "Faith," is following in the same footsteps. The rapper snagged his second No. 1 album debut on the Billboard 200 chart, despite having lower listenership than "Shoot For The Stars, Aim For The Moon." The July 2021 release has received mixed reviews, with critics questioning the album's assembly as well as its features, such as Dua Lipa and Pusha T. Nonetheless, "Faith" further proves Pop Smoke had potential to be an unstoppable force in the rap game. The album also challenges his abilities on the R&B side with songs such as his Chris Brown-assisted track, "Woo Baby." Here's the real meaning behind the song.
Pop Smoke and Chris Brown express their desires toward love interests on "Woo Baby"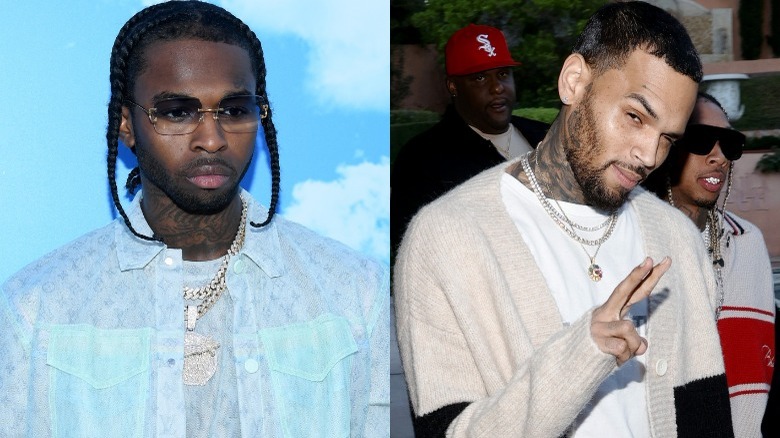 Pascal Le Segretain & Frazer Harrison/Getty
Pop Smoke may have brought New York-style drill music to the forefront of the music industry, but that doesn't mean he was opposed to experimenting with new sounds. As we heard on "Shoot For The Stars, Aim For The Moon," the rapper explored the genres of Latin-rap and R&B on tracks such as "Enjoy Yourself" and the Ginuwine-sampled smash, "What You Know Bout Love." Pop's second posthumous project, "Faith," keeps the same energy and digs deeper into his love life on the "Woo Baby" track featuring Chris Brown.
Sampling Ne-Yo's 2006 hit "So Sick," Chris Brown and Pop Smoke share a few rhymes about their sexually charged desires for their respective love interests. Brown opens the first verse of the song rapping about an intimate moment between himself and his lover. Although he's caught in the heat of the moment, he's not believing anything she says during their time together. He sings (via Genius), "Look me in my eyes when you tell me that it's mine/ Told her I'm too playa, I can't fall for the lies/ I know baby (Baby) That you a bad lil' somethin' and that a**, it drive me crazy (Drives me crazy)."
In the song's hook, Pop describes the same woman he raps about in his 2020 tracks, "Diana" and "Hello." He raps, "I like mine yummy yellow (Yellow)/ And that a** feel like jello (Jello)/ Shorty lightskin and tatted (Tatted)/ A** fat, so I grabbed it (Grabbed it)." The first line of the hook captured the attention of many, given that it references Yummy Yellow — the girlfriend of the late rapper.
Who is Yummy Yellow, Pop Smoke's girlfriend?
Pop Smoke has always kept his love life private, but it's clear from the subject matter of a couple of his songs that he had a soft spot for a special someone. According to The Sun, Pop Smoke was in a relationship with a woman known as Yummy Yellow by her large Instagram following. The mom of one is a model and entertainer, who also runs her own custom-made kids clothing store. It's unclear when or how she met Pop, but the model is very open about her relationship with him.
Yummy posted a moving tribute to her late boyfriend in February 2020. "We taught each other self-awareness. He was rare. Never once did he try to change me. He was so resilient. Nothing could bend or break him. He made sense out of everything and if he didn't understand, he would ask you questions, lots of em," she captioned a series of videos with Pop, including a snippet of the demo track of "Woo Baby."
She continued, "After a while, we explored each other day in & day out. Determined to find things out about each other that no one else knew." She further revealed that he urged her to keep her doors locked just before he made his final flight to California. She concluded her tribute, "Pop, I won't stop loving u! & I GOT U FOREVER On everything, EVERYTIME they see me... Imma make sure they Woo."