How Pop Smoke's Posthumous Album Just Made History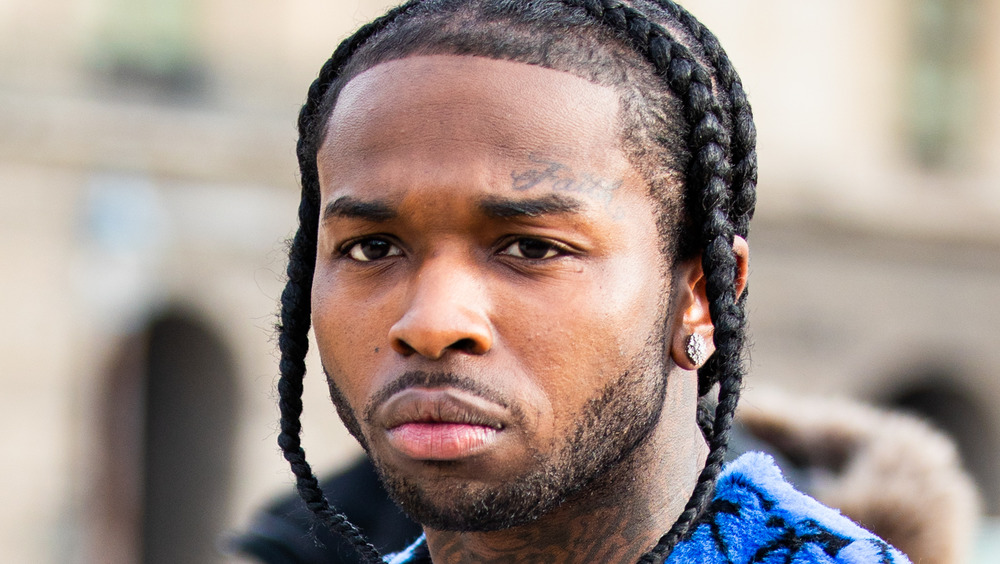 Claudio Lavenia/Getty Images
At the age of 20 years old, New York rapper Pop Smoke had a bright career ahead of him. With a voice reminiscent of 50 Cent and DMX and signature instrumental styles, the "AP" crooner easily became the leading voice of Brooklyn's blossoming drill scene. During his two years in the rap game, Pop Smoke released a string of breakout hits, including "Welcome to the Party," "Dior," and Travis Scott-assisted track "Gatti." Additionally, the rapper scored collaborations with artists such as Nicki Minaj, Roddy Ricch, and Burna Boy.
The rapper released his second mixtape, Meet The Woo 2, in early February 2020. Two weeks after the sophomore project's release, Pop Smoke died of gunshot wounds during an invasion in his Hollywood Hills rental home. He was 20 years old at the time of his death. Even after his death, however, the rapper's career is reaching new heights. Following the July 2020 release of his posthumous Shoot For The Stars, Aim For The Moon album, the rapper reached the top of the Billboard charts. Pop Smoke is also nominated for "Best Rap Performance" at the 63rd Annual Grammy Awards. The good news keeps rolling — the "Diana" crooner just made history. Here's how.
Pop Smoke hit an impressive feat on the Top R&B/Hip-Hop album chart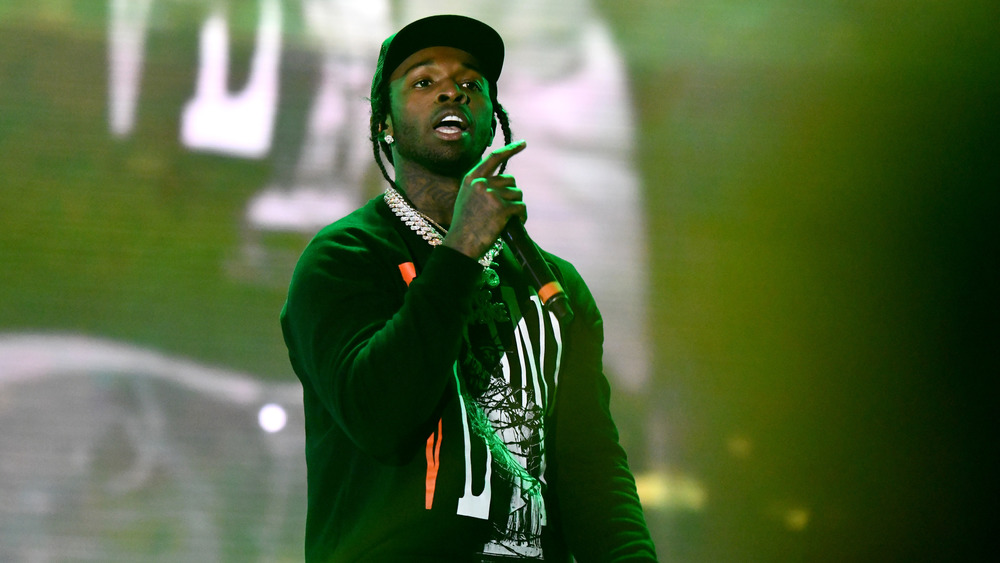 Scott Dudelson/Getty Images
Pop Smoke's accelerated journey to stardom is quite impressive, considering the rapper's music career started spontaneously after secretly recording his own voice in 2018, per AllMusic. In a short period of time, the "For The Night" rapper put the Brooklyn-born subgenre of drill at the forefront of the music industry, with artists such as Drake and Quavo later experimenting with drill beats. Despite his tragic death, Pop Smoke continues to impact the drill music scene on an international scale and making history while doing it.
In early March 2021, Billboard reported that Pop Smoke's posthumous album, Shoot For The Stars, Aim For The Moon, reached a milestone unseen in 30 years on its Top R&B/Hip-Hop Albums chart. According to the publication, the album is the longest-running No. 1 on the chart since 1990, leading the chart for the 17th week. Shoot For The Stars, Aim For The Moon's predecessor, Eminem's Recovery, spent 16 weeks leading the charts before being surpassed by Pop Smoke's album. The original milestone was set by M.C. Hammer's Please Hammer, Don't Hurt Em album, which dominated the chart for 29 weeks. 
That's not the only thing fans of the late rapper have to celebrate. Pop Smoke will posthumously make his acting debut in Eddie Huang's Boogie film in March 2021. Additionally, the rapper is featured on the film's soundtrack. Like his "Tunnel Vision (Outro)" song says, "The smoke will never clear."