The True Meaning Behind 'Volvi' By Aventura X Bad Bunny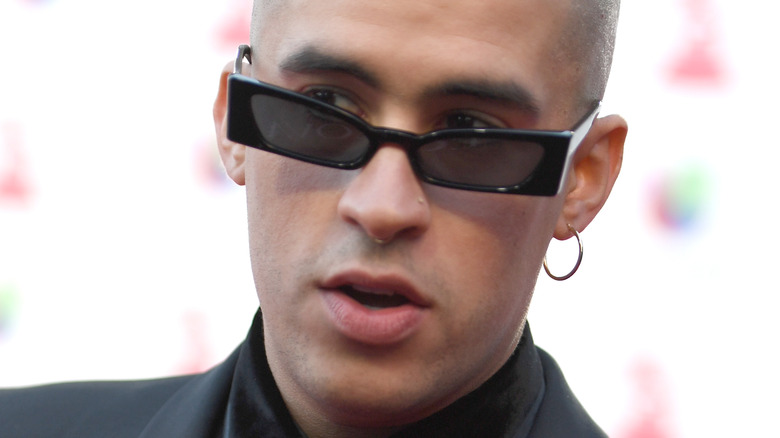 Denise Truscello/Getty Images
If you're a fan of the always-buzzworthy Bad Bunny, then you undoubtedly love to sing along to his super-catchy hits. However, have you ever thought about the meaning behind songs like "Yonaguni'," "Yo Perreo Sola," or "La Noche De Anoche" – not to mention his collab with Jhay Cortez, "Dakiti"? Each features lyrics that are worth delving into. And then there's "Volví."
On August 3, those who adore both Bad Bunny and Aventura were surely thrilled when the stars dropped their first collaboration, according to Genius. If you pop it on, you'll hear that the song lures in listeners with "el sutil ritmo de reggaetón y las guitarras características de bachata," as the outlet writes. What exactly does that mean? Well, it translates to a "subtle rhythm of reggaetón and characteristic bachata guitars," which also translates into what might be your favorite new sound.
While that's enough of a reason to add the song to your current playlist, the tune also offers more meaning than you might have first thought. Read on to find out more! But be warned, because these lyrics aren't as innocent as they might seem.
'Volvi' claims that forgetting someone isn't always easy
If you love to belt out "Volví," then you'll find yourself perfoming along with Aventura's Romeo Santos in the song's intro when he sings, per Genius, "Dime por qué le tiras piedras a la luna / Tan ilógico como extraerme de tu piel / Después de Dios, soy tu todo, mujer / ¿Qué tal te está yendo con él?" If you're fluent in Spanish, then you'll know that he's addressing a certain someone.
If you need a little help, then the English translation is along the lines of: "Tell me why you are throwing stones at the moon / As illogical as removing me from your skin / After God, I'm your everything, baby / How's it going with him?" It turns out that the person Santos is singing to is with another man. However, the star thinks that there's something getting in the way of the new connection, which is "him."
Indeed, both Santos and Bad Bunny go on to add, "Yo sé que al final / A mí no me olvidas tan siquiera un poco..." That is, "I know in the end / You won't forget me not even a little bit." They add, "In the end, baby, you miss how I touch you / Remember, I know your body, mami / Every corner inside and out..." If that makes it sound like the song is about to take a sensual turn, that's because it does!
'Volvi' might make you blush with its NSFW lyrics
While Entertainment Tonight calls "Volví" a "catchy, upbeat, romantic tune," it turns out that it's less lovey-dovey and more sizzling hot. In fact, in the first verse, Bad Bunny and Romeo Santos explain that they're "not coming with sweet-talk," per the English translation from Genius.
Frankly, the song is filled with arguably NSFW lyrics, like, "Tell that jerk that you always think of me / That when he finishes is whеn you are just starting / And that's when, that's when you feel thе difference." *Blush!* They also add, "I came back for you / To do it to you really nice how you like it / Get on all—" Um, oh. And then there's, "With him you don't even sweat, you don't even have to shower after / After ..." well, you get the idea. And they point out, "I don't want another, you're the one who knows how to make me—" Er, again, you get the point.
Of course, the lyrics also explain that since their relationship has spanned over the years, "there's no way to damage it." So, maybe that's the romantic part?