What Was Mary Trump's Reply On Whether Her Uncle Will Run For President Again?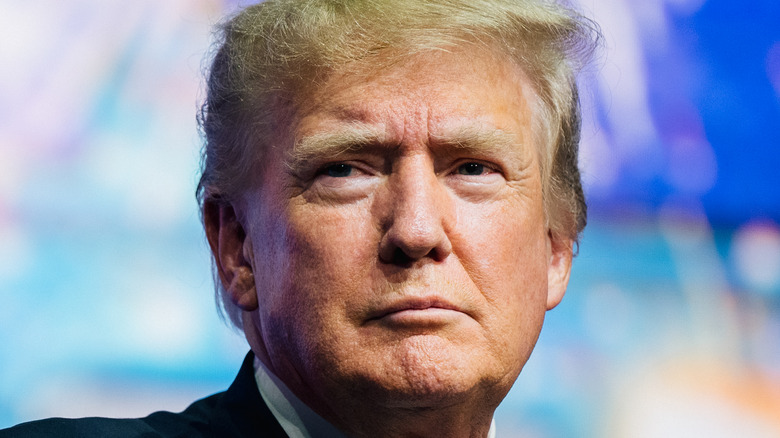 Brandon Bell/Getty Images
We may receive a commission on purchases made from links.
During Donald Trump's presidency, one family member broke ranks and boldly spoke out against him. Mary Trump, the former president's niece, wrote a wildly successful book providing detailed insight into the inner workings of her extended family. Now she's written a second book, "The Reckoning," and she is as opinionated as ever about her uncle's political life. In a new interview, she was asked if she thought he would run again in 2024. Her answer may come as a surprise.
As the Washington Examiner detailed, there have been signs suggesting the former president will run in the 2024 election, though so far, he hasn't committed one way or the other. Recent rumors indicate he was getting serious about running again, and his former press secretary, Sean Spicer, recently claimed: "He's in." "A couple of months ago I wasn't sure," Spicer said in a press interview, per the Examiner. "Now, there needs to be something that will keep him out," he added. According to Politico, there have been discussions behind-the-scenes within the former president's camp regarding a pick for a vice presidential running mate, as they're assuming the Republican nomination would be his for the taking.
In a February interview with MSNBC, Mary said, "I think he's going to pretend" to run, "for sure." She suggested he'd hold onto "the grift" for as long as he could, but ultimately, there was "no way that he is going to put himself in the position of losing again." Has her opinion changed now?
Mary Trump is concerned Donald Trump will run in 2024
In a new interview with Jake Tapper on CNN, Mary Trump admitted she has changed her mind on the idea of her uncle, former President Donald Trump, running in 2024. "If you'd asked me that back in November or December, I would have said decisively no," she began. She reiterated her opinion that he would not risk being beat again like he was in November 2020. However, her thinking has shifted in this regard. 
"But the problem is, he keeps getting away with stuff," she said during her August 17 interview. "People remain enthralled to him. ... Republicans ... keep traveling to see him to kiss his ring," she added. Mary detailed examples of how the Republican party continues to support issues that closely align with the former president's priorities, such as the "Big Lie" regarding President Joe Biden's win, as well as the reaction to the January 6 incident at the Capital. 
Mary also pointed out the voting-related bills being taken up by Republicans in many states and she worries it will all eventually "rig the system even further in the Republican's favor." Given all of that, she admitted, "If Donald gets to the point, assuming he's still a free man, where he feels that he can't lose, why wouldn't he run?" The idea of this happening is one that clearly rattles her, however, as she added, "That's something that should strike fear in all of us."