The True Meaning Behind 'Take My Breath' By The Weeknd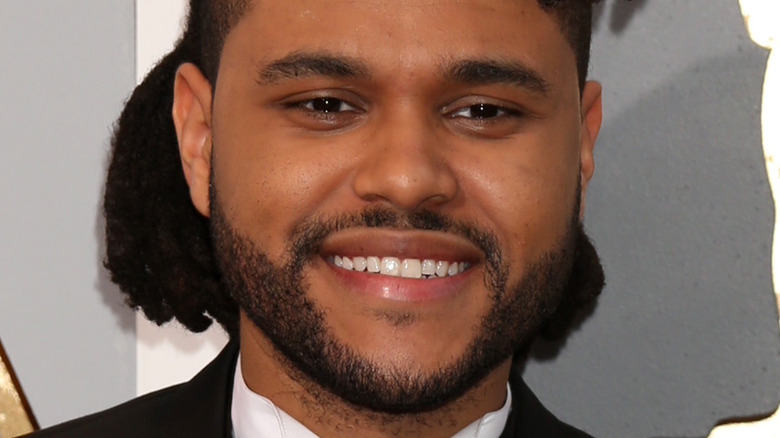 Kathy Hutchins/Shutterstock
If you check out various tunes from The Weeknd like "Blinding Lights," "Can't Feel My Face," or "Save Your Tears," then you'll know that he tends to release songs that are more meaningful than you might think when you first hear them. The same can be said for "Take My Breath" (FYI: The video now comes with an epilepsy trigger warning due to concerns over potential seizures).
Released on Aug. 6, the tune that fully takes advantage of the singer's signature super-catchy vibe was written by the star along with the help of Oscar Holter and Max Martin, according to Genius. That happens to be the same duo that produced "Blinding Lights," per Pitchfork, which is reason alone to give it a listen. Another reason might be the fact that it beat out other popular hits like Aventura and Bad Bunny's "Volvi" and "I Get a Kick Out of You" by Lady Gaga and Tony Bennett when it came to a Billboard poll that had readers pick out their favorite tune at the time.
Beyond that, you might also want to pop it on to go deeper into the real meaning behind this song, which delves into a certain sultry dynamic. Read on to find out more!
The Weeknd knows all about temptation
"I saw the fire when I look into your eyes / You tell me things you wanna try ... / I know temptation is the devil in disguise / You risk it all to feel alive," The Weeknd sings during the first verse of "Take My Breath," per Genius. He goes on to add that "you said you do this all the time / Tell me you love me if I bring you to the light."
While the first few lines might make you think that The Weeknd is singing to a special someone about a particular romantic situation that's too irresistible to be ignored or denied, things goes way beyond that when he continues in the second verse. "Want me to hold on to you tight / You pull me closer, feel the heat between your thighs..." That's right, just like many of the star's most memorable songs, this one has a rather sensual inspiration.
However, this isn't any ol' regular desire that we're talking about.
The Weeknd is willing to indulge dreams and fantasies
It's not unusual for The Weeknd to sing about both love and lust. However, in "Take My Breath," he opens up about a relationship that goes beyond a normal attraction. In the pre-chorus, he explains, per Genius, "It's like a dream what she feels with me / She loves to be on the edge / Her fantasy is okay with me." Indeed, instead of a regular relationship, this connection is all about this woman wanting to indulge in her deepest desires and push her limits.
That's why, in the chorus, The Weeknd adds that she tells him, "Take my breath away / And make it last forever, babe / Do it now or never, babe ..." 
She doesn't end there, but continues to admit that "nobody does it better, babe," which is why she asks The Weeknd to "bring me close to heaven, babe ... / Take my breath." Swoon!