How Khloe Kardashian Caught Lamar Odom Cheating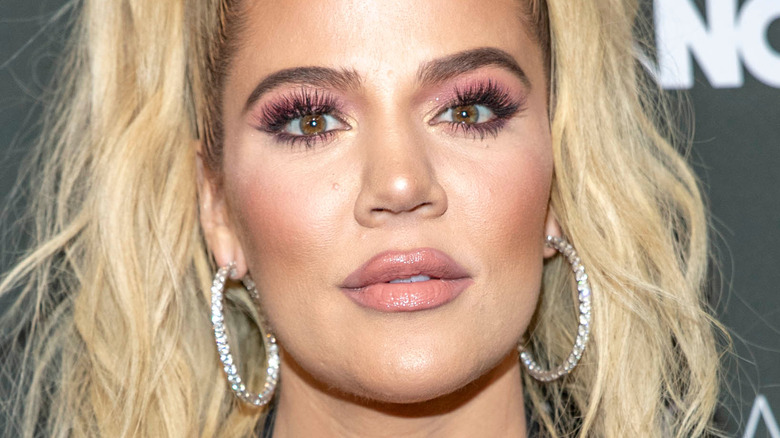 Eugene Powers/Shutterstock
We may receive a commission on purchases made from links.
True love hasn't come easy for Khloé Kardashian. Though the Kardashian ladies are known (among other things) for their rollercoaster relationships, Khloé might have had the messiest go of it of all of them. 
In June 2021, news broke that she and Tristan Thompson had called it quits for good, following their latest reconciliation. The pair first started dating in 2016, and Khloé gave birth to their daughter, True Thompson, in 2018. But in the midst of the pregnancy, a video began to circulate of Thompson getting up close and cozy with another woman. Though the couple eventually worked things out and stayed together, Thompson was once again accused of a cheating scandal in 2019, this time with Kylie Jenner's former bestie, Jordyn Woods. While fans clamored for Khloé to dump her reportedly unfaithful man, they were together as of 2021, when Page Six reported that Thompson was embroiled in another cheating scandal. Yikes!
But Khloé's latest relationship is far from her only experience with an unfaithful partner. Per InStyle, she famously wed Lamar Odom in 2009 after a whirlwind courtship, though their marriage disintegrated in the midst of Odom's substance abuse isues. He once claimed to have been intimate "with over 2,000 women," per BuzzFeed News, and his marriage to Khloé was plagued with infidelity. But how did his ex-wife catch him cheating? Let's take a look.
Khloé Kardashian followed Lamar Odom to a hotel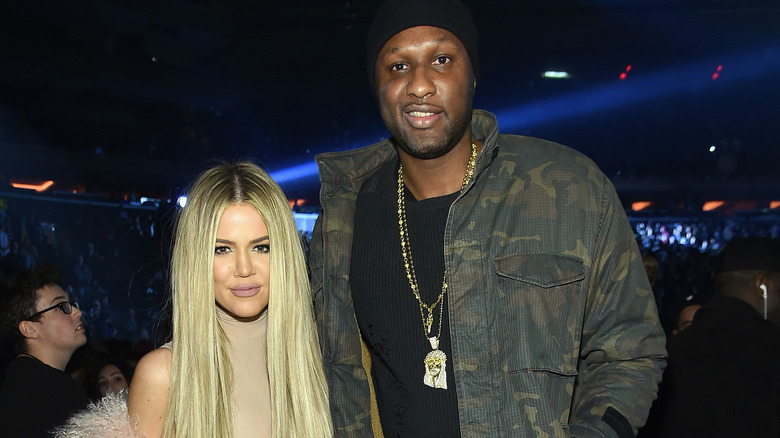 Jamie Mccarthy/Getty Images
In an interview with "The Howard Stern Show" in 2016, Khloé Kardashian opened up about how she'd been blindsided by Lamar Odom's infidelity. "Love is blind," Khloé admitted, explaining that she didn't initially suspect her ex-husband because he "was so great at making me feel like I was the only one, and I'm this princess" (via People). According to Khloé, Odom also went to great lengths to cover his tracks, including using his assistant's phone to text other women. The "Kocktails with Khloé" host was aware of the rumors circulating around her husband and knew "where there's smoke, there's fire," as she told Howard Stern. Taking matters into her own hands, she and momager Kris Jenner tailed Odom to a hotel, where they caught him in the act.
Detailing the account in his 2019 memoir, "From Darkness to Light," Odom claimed that the explosive incident took place at the Hotel Roosevelt, where he was under the influence of drugs and "surrounded by several women." In the book, he described the "naked girls everywhere" as Khloé and her mother burst into the room. Confronted with stark evidence of her then-husband's infidelity, Khloé allegedly began "beating ... one of the girls who tried to protest. She's dropping vicious blows all over the top of this girl's head," Odom wrote in "From Darkness to Light." Understandably, it was enough to tear the couple apart for good.
Does Lamar Odom regret cheating on Khloé Kardashian?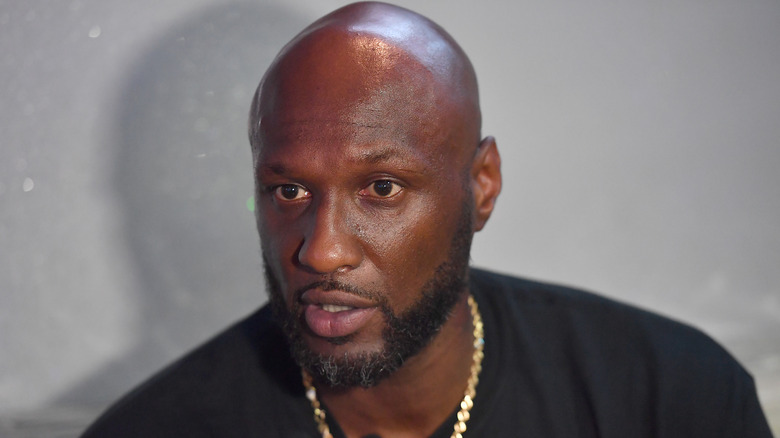 Paras Griffin/Getty Images
Lamar Odom has plenty of regrets, but one of his biggest might be cheating on Khloé Kardashian during their marriage. In February 2021, the former NBA star appeared on the Morning Hustle radio show, where he revealed that if he could go back and redo a year of his life, he would return to the first time he cheated on Khloé (via ScreenRant). "I would rewind that back and take those things back and never let that happen," he added. 
Odom also posted an Instagram video in March 2021 that showed him watching reruns of his short-lived reality show with Khloé, "Khloé & Lamar." In his caption, he also thanked his ex-wife and her family for "taking me in and loving me without judgment — y'all gave me family and for that I am forever grateful." It's not the first time Odom has expressed regret or emotion over Khloé, as he told People in 2019 that he wished "I could have been more of a man ... It [the infidelity] still bothers me to this day. But regret is something we have to learn to live with."
Odom's lingering feelings for Khloé also caused friction with Tristan Thompson, back when the two were still together. In July 2021, both men duked it out in the comments section of a bikini photo that Khloé posted to Instagram. Now that Khloé is officially single, who knows what will happen next?