Prince George Is Going To School With Another Famous Royal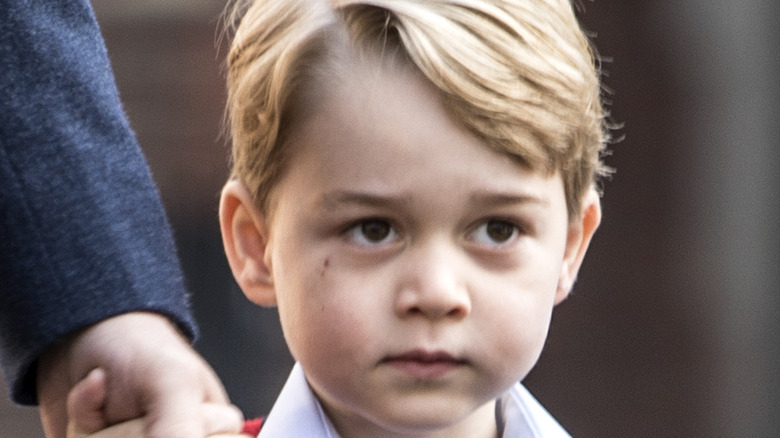 Wpa Pool/Getty Images
It's hard not to be charmed by the lives of royal children. They're destined for fame, making it to the front pages even before they are born. As they grow up, there's plenty of anticipation around their relationship with their parents, siblings, cousins, and other royals. There's also much talk around their upbringing, sets of interest, their nature, and the kind of royals they'll grow up to be. The world always has its eyes on young royals, noticing and cheering their every move as they grow up.
It's also a treat to see them with their parents and family at public events, such as royal weddings. For instance, young Prince George's attendance at the Euro 2020 final on July 11 at Wembley Stadium in London with his father, Prince William, and mother, Kate Middleton, was adored by royal fans worldwide. Clearly, it's hard for royal kids to escape the public and media attention — people are just too fond of them. And when someone's as charming as George, there's not a moment to be missed; after all, they grow up so fast.
Beyond the media's attention and like most kids, George's life also finds some regularity in schooling. He goes to the Thomas's School in Battersea. The school is quite unique, and it turns out he's not the only royal in attendance. The little one has got some company in another royal. So, who's this another famous royal George is going to school with? Here's more!
Prince George goes to school with Maud Windsor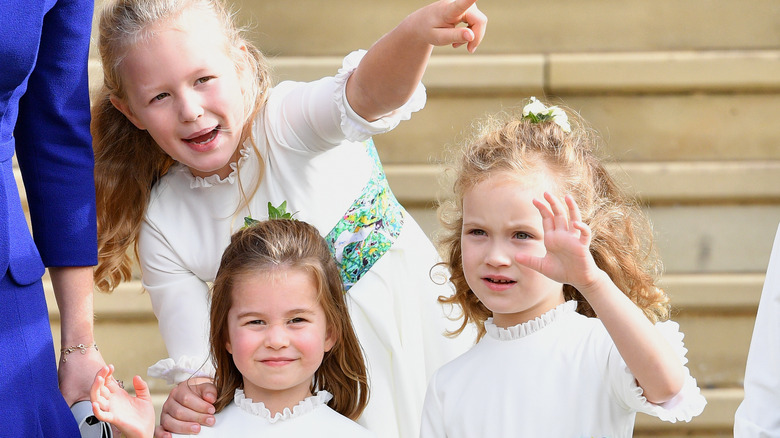 Pool/max Mumby/Getty Images
Young Prince George is already building royal connections, right from his childhood — imagine how popular he'll be when he grows up; the memoirs he could write. And if George chooses to write one at all — like his uncle Prince Harry — there'd be plenty to talk about, right from his childhood when he went to school with Maud Windsor, the daughter of Lord Freddie Windsor and actor Sophie Winkleman.
Really, George — like all his classmates — finds himself in some special company. Little Maud happens to be the granddaughter of Prince Michael of Kent. Michael is the queen's cousin — now, that's some connection right there! Maud is as old as George. It turns out she's also best friends with his sister, Princess Charlotte. The latter also attends the same school as Maud and her brother George (via Cosmopolitan). Just how fun learning and playtime would be together!
The school these young royals go to is quite prestigious and expensive. Per Cosmopolitan, they pay over $23,000 per year to attend Thomas' School, which is known for providing children with a unique "forward-thinking and outward-looking" outlook towards education. The school has poetry and ballet rooms, two libraries, a gym, and a theater. There's so much room for growth, and it seems these little royals are happy in each other's familiar company.