The Latest Ruling Against Larry Nassar Is Causing A Stir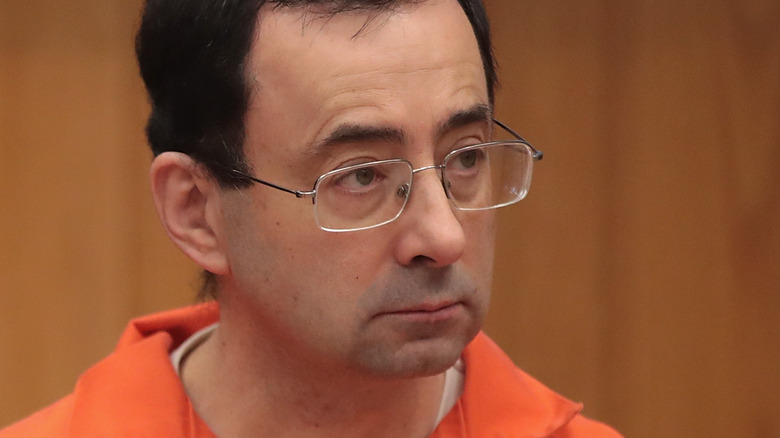 Scott Olson/Getty Images
The following article includes mentions of sexual abuse.
Roughly three years after former physician Larry Nassar was convicted of sexually abusing hundreds of gymnasts, many of them Olympic athletes, over the course of his career, it seems the courts aren't finished with him — and for good reason. In late July, CNN reported that Nassar, in addition to his 175-year prison sentence, had paid a total of $300 out of the more than $62,000 he was ordered to pay as restitution to the survivors of his crimes, among whom include Olympians Simone Biles, McKayla Maroney, and Aly Raisman. As the news network noted, the total of Nassar's monthly payments since 2018 amounted to the very bare minimum, averaging around $8.33 per month. 
Adding insult to injury — and possibly another story worthy of investigation — was the fact that Nassar appeared to have thousands upon thousands of dollars in his inmate trust account, according to a motion filed by the U.S. Justice Department and obtained by CNN. Per the filing, Nassar's account contained $12,825, though the time of that balance was unspecified but could have been as recently as March. (The figure also included stimulus checks Nassar received while in prison.) In July, that number had decreased by almost $10,000, with a remaining $2,041.57 in the trust. 
Now, however, a ruling made by a U.S. district judge might have Nassar facing more consequences. Read on to find out more. 
All of Larry Nassar's money will go towards survivors of his abuse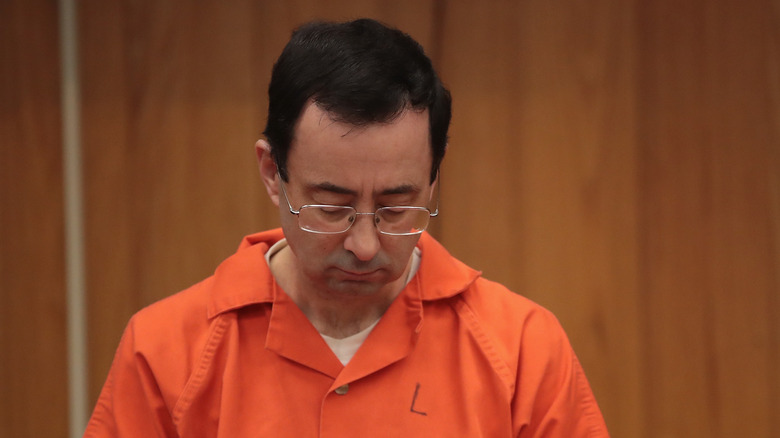 Scott Olson/Getty Images
According to CNN's latest update on Larry Nassar's restitution scandal, U.S. District Judge Janet T. Neff approved of a motion made by prosecutors to have Nassar's remaining funds removed from his inmate trust by the government, which will then allocate them to survivors for restitution. In her ruling, Neff stated that "the funds in Defendant's inmate trust account do not constitute property that is exempt from collection in a criminal case," and that the order to have the Bureau of Prisons seize these funds was effective immediately.
Though the order favored the side of the prosecution, Nassar attempted to block the motion with a filing of his own. As The Washington Post reported, Nassar claimed that aside from two stimulus checks he had received totaling at $2,000, the remaining $10,000 (which mysteriously disappeared from his bank account before his financial information became public), were gifted to him by other people. 
In addition to arguing that the $10,000 should "not count as a material change in his financial circumstances that would require him to pay more to his victims," as the Post put it, Nassar blamed the Bureau of Prisons for his delinquent restitution payments. Faulting the government for his unemployment within prison, Nassar wrote that officials were the cause of his financial problems, and should "have the BOP prison industry system pay a living wage to inmates that would allow inmates to make reasonable payments towards restitution."
If you or anyone you know has been a victim of sexual assault, help is available. Visit the Rape, Abuse & Incest National Network website or contact RAINN's National Helpline at 1-800-656-HOPE (4673).