What Larry Nassar's Life Is Like In Prison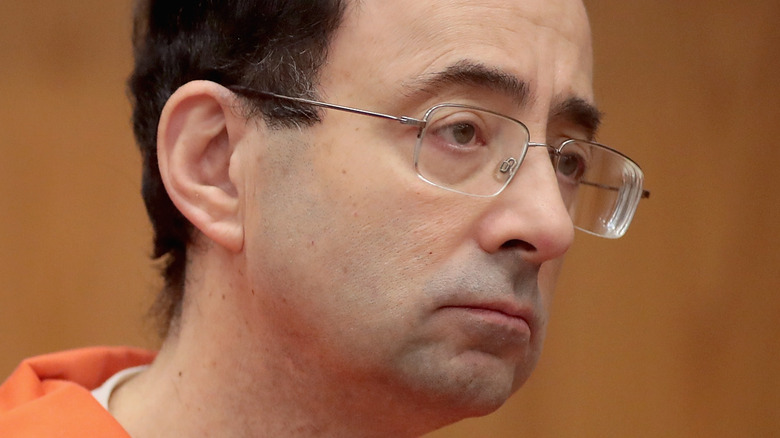 Scott Olson/Getty Images
The following article includes mentions of sexual abuse.
In the wake of the results of the U.S. women's gymnastics performance at the Tokyo 2020 Olympics — along with GOAT gymnast Simone Biles' decision to pull out of the competition to prioritize her health — another gymnastics-related report having to do with the dark underbelly of elite athletics has surfaced. According to CNN, former physician Larry Nassar, who previously oversaw the medical treatment of hundreds of gymnasts, and was convicted of sexually abusing hundreds of them over his 18-year career in 2018, has continued to show apparent disregard for the serious crimes he perpetrated.
Nassar, who was sentenced to 175 years in prison for multiple counts of sexual abuse and possession of child sexual abuse images, has spent the last few years in a high security prison in Florida, and has had multiple appeals shot down. Since the 2018 victim impact hearings, which Nassar complained were negatively impacting his health in a letter to the judge, the former doctor has had little to say about the survivors who spoke out, including Olympians and lauded gymnasts like Biles, McKayla Maroney, Aly Raisman, and many others. In total, Nassar abused 368 gymnasts over the course of decades, per a July report by USA Today, though it is possible there are still scores of others who have not come forward with their stories. So, what has Nassar done now? Scroll down to find out.
Larry Nassar is withholding money while in prison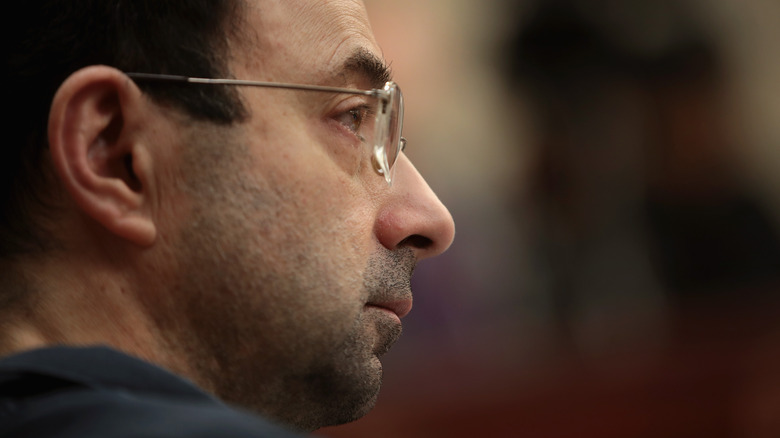 Scott Olson/Getty Images
Per CNN, a recent motion filed by the U.S. Justice Department lambasted disgraced gymnastics coach and convicted sex offender Larry Nassar for delinquency on payments to the many survivors of his abuse, despite having thousands upon thousands of dollars in the bank. As CNN noted in July, the motion summarized how Nassar, who as of the time of this writing has at least $2,041.57 in his inmate trust account, previously had a cool $12,825 deposited, with a portion of it made up from two $2,000 stimulus checks. Between then and now, it is unclear where the missing $10,000 has gone. Even with the remainder, Nassar has only paid the very bare minimum towards his court-ordered penalties, which are meant to be allocated to his survivors, since his incarceration in 2018. Nassar has only paid $300 or, as the motion stated, "approximately $8.33 toward his criminal monetary penalties per month."
Speaking with the U.S. Bureau of Prisons, a spokesperson relayed to CNN that the department "is committed to taking all appropriate steps to help ensure that inmates meet their financial obligations," though there was no mention of how they would specifically deal with Nassar. Attorneys representing the survivors of Nassar's systematic abuse told the network that they were appalled at the situation, with Simone Biles' lawyer, John Manly, calling it "revolting," especially considering she was "unable to compete because of what happened to her" at Nassar's doing.
If you or anyone you know has been a victim of sexual assault, help is available. Visit the Rape, Abuse & Incest National Network website or contact RAINN's National Helpline at 1-800-656-HOPE (4673).