The Truth About Kendrick Lamar's Next Album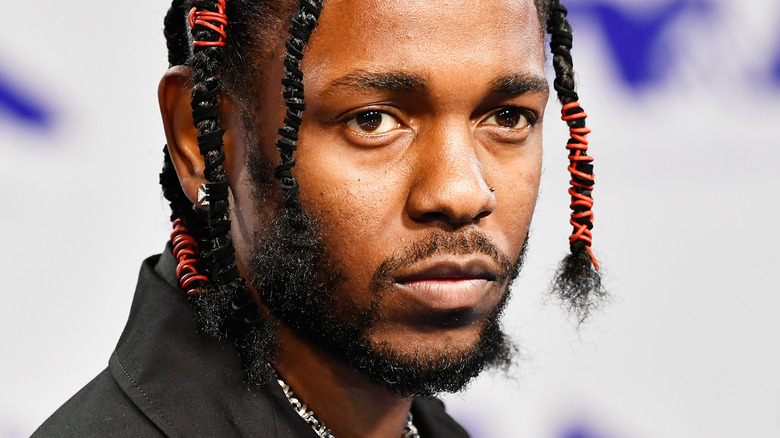 Frazer Harrison/Getty Images
Although his last Pulitzer Prize-winning album "DAMN." dates back to 2017, Kendrick Lamar has been keeping himself busy these past few years. Apart from producing the soundtrack to the "Black Panther" movie, the rapper launched a new company, pgLang, in March 2021. Founded alongside former Top Dawg Entertainment president Dave Free, pgLang is a creative agency that incorporates music, film, and more.
"PgLang is designed to be artist-friendly above all else and embrace both quality and unconventional concepts," the company's online statement reads (via Complex). "This ethos will be applied to an array of creators who will join pgLang, including authors, film and television directors, fine artists, producers, musicians, and blah, blah, blah... you have all heard this s*** before." So far, pgLang has worked with the likes of Calvin Klein, Yara Shahidi, Jorja Smith, and Baby Keem.
"They handle a lot of aspects creatively and, you know, management-wise and things like that for me," Keem recently told Complex about Kendrick's company. "We work as a team to contribute to each other's goals and things like that." Aside from helping manage Keem's music career, Kendrick has also been working on his own album, which could drop sometime soon. In April, Complex asked Kendrick's sound engineer, Derek "MixedByAli" Ali, if the new project would be arriving this year, to which he replied, "It might, it might, you never know." According to Kendrick's new statement, however, this next album will also be marking the end of an era. Read more below.
This will be Kendrick Lamar's "final TDE album"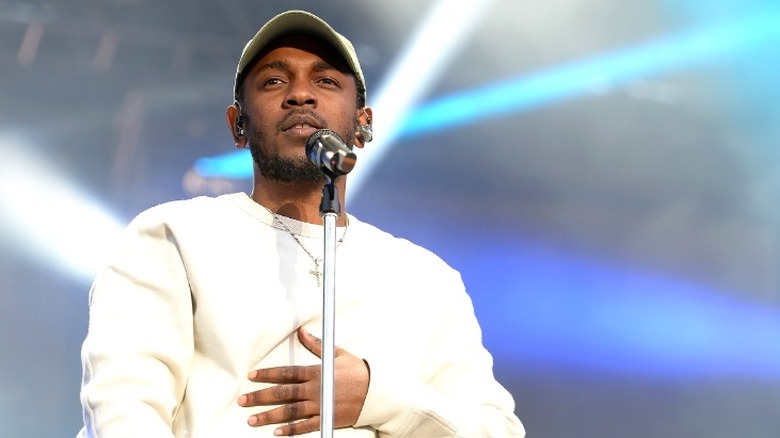 Gustavo Caballero/Getty Images
Taking to Instagram on August 20, Kendrick Lamar announced that his next album will be his last with label Top Dawg Entertainment. The rapper shared a picture of a folder, titled "nu thoughts," with the caption directing fans to a website called oklama.com, which included an official statement about his future with TDE. "I spend most of my days with fleeting thoughts. Writing. Listening. And collecting old Beach cruisers," Kendrick wrote.
"As I produce my final TDE album, I feel joy to have been a part of such a cultural imprint after 17 years. The Struggles. The Success. And most importantly, the Brotherhood. May the Most High continue to use Top Dawg as a vessel for candid creators. As I continue to pursue my life's calling. There's beauty in completion. And always faith in the unknown." The rapper ended the statement by thanking fans for keeping him in their thoughts, promising that he will see them "soon enough."  
Later, TDE's CEO Anthony "Top Dawg" Tiffith took a moment to reflect on Kendrick's upcoming departure. "With this being Dot's last album on TDE, this is more of a VICTORY LAP, a celebration," he said in a note (via Instagram). "I know he will be successful in whatever it is he decides to do and will have our FULL support." Though the release date is unknown, hip-hop fans are speculating about whether Kendrick's last TDE album will arrive sooner than some of his colleagues' work.
Will Kendrick Lamar's album drop before Drake and Kanye's?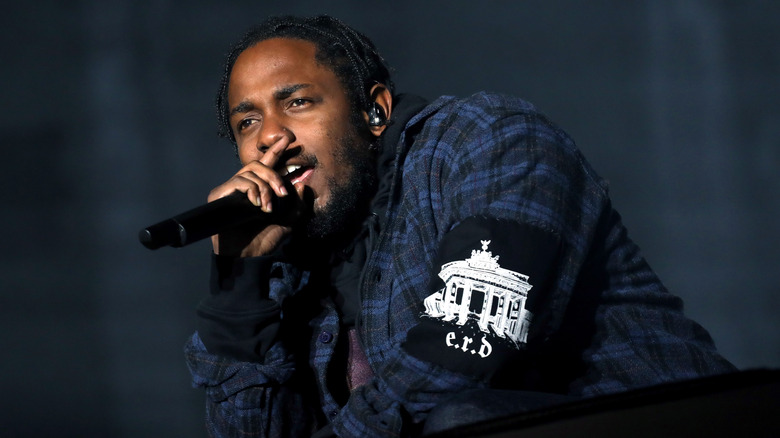 Rick Kern/Getty Images
As fans of Kanye West and Drake will know, their respective albums have been delayed various times now. Kanye, for example, was supposed to be dropping "Donda" on July 24 (after hosting a massive listening party at Atlanta's Mercedes-Benz Stadium the night before), but the project was postponed indefinitely for unclear reasons. Drake's "Certified Lover Boy," meanwhile, was expected to arrive in October 2020, but was then delayed due to a serious knee injury ... with no new date in sight. 
Now, following Kendrick Lamar's new announcement, music fans are wondering if the Los Angeles star will be dropping his project before Drake and Kanye do. Some people even think that Kendrick's album will cause Drake and Kanye to delay their projects even more. "Now Kanye and Drake never gonna drop," one fan hilariously tweeted, reposting Kendrick's announcement. "Kendrick after new Kanye and Drake were taking too long to drop," another wrote, sharing the "Fine, I'll do it myself" meme.
Meanwhile, others think the rest of 2021 will be great for music, thanks to potential releases by Kendrick, Kanye, and Drake. "New Kendrick, New Drake, New Kanye. We eating good this year," one particular fan rejoiced. "Me listening to new kanye, drake AND kendrick this year simultaneously," someone else tweeted. "Between now and October you could have Eminem, Kanye, Drake & Kendrick all dropping studio albums. Mad few months ahead," a third fan speculated. Let the waiting game begin!