How Selena Gomez And Jennifer Aniston Became Friends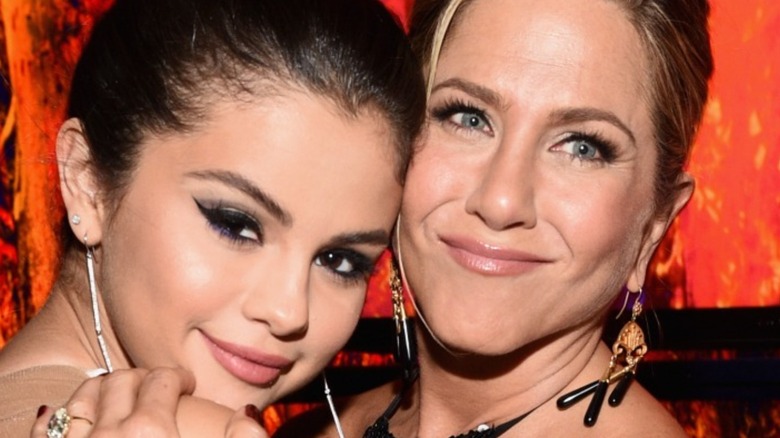 Michael Buckner/Getty Images
Outside of the glamour and opulence of Hollywood, it's hard to imagine celebrities as normal people. Sure, there are some enormous efforts to normalize the celebrity circle — such as Us Weekly's "Stars — They're Just Like Us" segment, where you're free to stare in amazement at Lady Gaga playing tennis or Elizabeth Olsen taking a sip of her iced coffee. But still, it's hard to fathom that the glittering stars themselves can also get starstruck at other people. However, that seems to be the exact case between Selena Gomez and her childhood idol, "Friends" alumna Jennifer Aniston.
Back in 2014, the "Rare" singer posted a sweet pic of the duo on her Instagram and admitted in the caption that she was going through a bit of fangirling. "I have not only been following her career as a fan since I was 8 and now get to watch her completely transform in her new movie CAKE, I have gotten to have real conversations with such a real heart, made my entire year," Gomez wrote in the caption.
But how did the duo meet in the gigantic Hollywood scene? And how has their friendship evolved through the years? Read on to find out!
Selena Gomez revealed that she first bumped into Jennifer Aniston in a restroom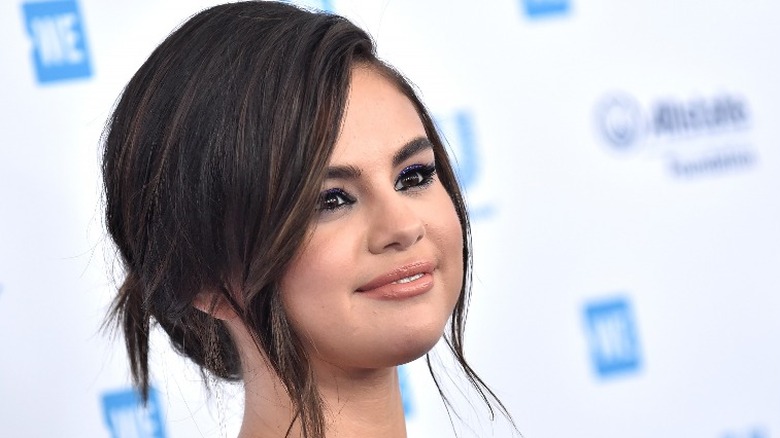 DFree/Shutterstock
During an episode of "The Ellen DeGeneres Show," Jennifer Aniston served as a guest host and interviewed Selena Gomez, who took the time to reminisce about their initial meeting. Gomez recalled she was relatively unknown at the time and walked into the bathroom of an event — just as Aniston made her way out in a black dress. "And my heart stopped. And I freaked out. And I ran to my mom. And I was like, 'Oh my God, I just saw Jennifer Aniston.'" Though the two did not exchange any words, Gomez assured Aniston that she was "everything that [Gomez] wanted."
However, Gomez revealed in another radio interview with 103.5 KTU that the two stars' worlds collided again when they found themselves sharing the same manager, Aleen Keshishian. According to the "Round & Round" singer, Aniston immediately started planning a fun girls' night with Gomez during their first official meeting through their management. "Like, we've made pizzas at her house. She's very cool and very sweet. She kind of gives me a lot of, like, maternal advice," Gomez said to KTU.
Selena Gomez and Jennifer Aniston are very supportive of each other's work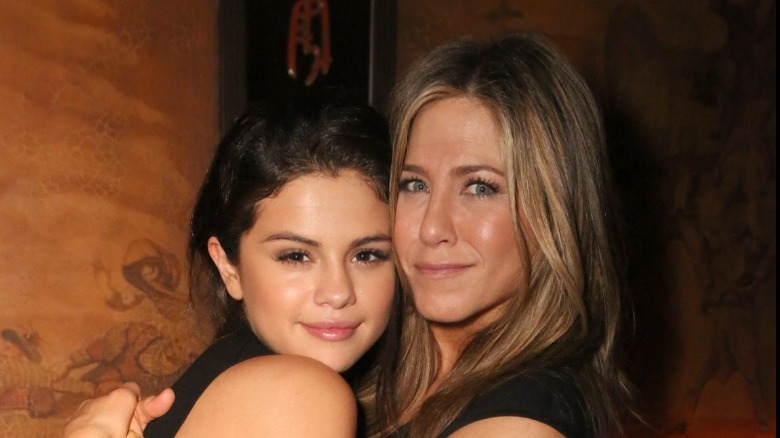 Ari Perilstein/Getty Images
Beyond a simple friendship, the stars are not shy when it comes to giving each other the warmest compliments to each other's passion projects. During the same interview on "Ellen," Jennifer Aniston expressed her endless praise for Selena Gomez's third solo studio album "Rare," which debuted at No.1 on Billboard 200, via Forbes. Naming "Lose You to Love Me," as a "very revealing song," Aniston noted Gomez's openness to expressing her emotions on this record. "And it is nerve wracking when you are putting your honesty, your heart out there. And yet, it always seems to pay off. Because that's what people really respond to is your authenticity, your beauty and your honesty," Aniston told the "Same Old Love" singer.
Gomez reflected back with equal enthusiasm and congratulated her idol on the lasting legacy of "Friends," a childhood favorite that the singer said she watched with her mom every week. "But what made me so happy is like, now, people my age and everyone else is just obsessed. And it just makes me so happy for you and for the show because it's iconic," Gomez couldn't help but gush.
The genuine bond between these two amazing women is just phenomenal! And we are super happy that Gomez was able to form a genuine connection with her childhood idol.