The Odd Nickname You Didn't Know Priyanka Chopra Had In India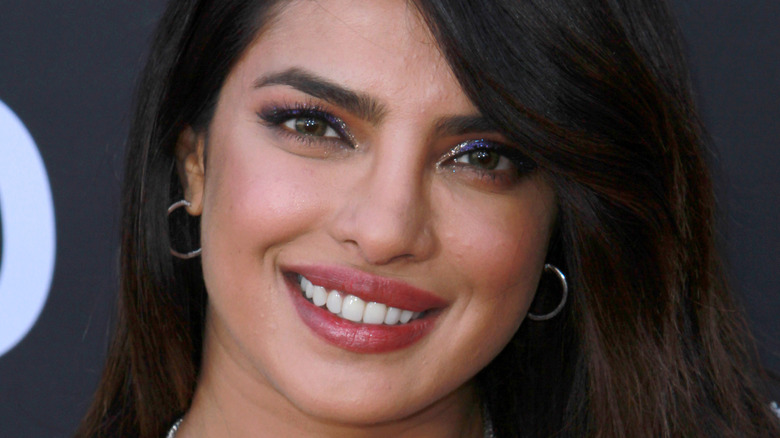 Kathy Hutchins/Shutterstock
After making the jump from her home country's Bollywood, Priyanka Chopra quickly ascended the ranks of the Hollywood elite. One of India's biggest international exports, the actor made a splash with her lead role as Alex Parrish in ABC's "Quantico" before appearing in other American flicks, like 2017's "Baywatch" alongside Dwayne "The Rock" Johnson and 2019's "Isn't It Romantic" alongside Rebel Wilson.
Aside from her expanding résumé in the western world, Chopra still works from time to time as an actor in Hindi films and has even founded Purple Pebble Productions — her own film production company which focuses on films featuring young, up-and-coming stars.
As Chopra climbed the ranks of the acting world (and still continues to!), she soon found herself enamored with Nick Jonas, the youngest of the Jonas Brothers trio. As the two began talking in 2016 (Jonas initially slid her DMs!), the couple became engaged in July 2018 before tying the knot later that year. And while we don't know what cute nicknames Jonas may have for Chopra (she does call her hubby "Babu," though!), we do know of the curious nickname she had back home in India. So, what exactly was this odd nickname? Keep on reading to find out!
Priyanka Chopra got this unique nickname on set
Kathy Hutchins/Shutterstock
In a 2015 interview with Glamour, Priyanka Chopra revealed that she was given the endearing nickname of "Piggy Chops" in India. Why? The actor noted it started as a joke on the set of an unnamed film. "Oh my gosh, it was a joke from one of my costars from a movie we did," Chopra stated before diving into the roots of the name. "Chops because of Chopra and Piggy because I like to eat a lot," she laughingly disclosed while adding, "It was cute for a while, but now it's like, 'Ahhh!'"
In a 2014 interview with Film Companion, it was revealed upon winning Miss World 2000, Chopra received a warm welcome in India with posters that read, "We are proud of you, Mimi." When asked who "Mimi" was, Chopra laughingly addressed the national audience and mentioned that was another nickname of hers. "Like Mimi Rogers," Chopra stated before revealing her mother "had a premonition or something that I will be an actress." Chopra also noted the name stemmed from when her father jokingly called her "Mitthoo" because she was "such a chatterbox," before the actor eventually grew tired of the nickname and reworked it to "Mimi."
Upon talking about her adorable nicknames, it's very clear that Chopra has a lot of love for her mother and now-late father. What do we know about Chopra's relationship with her family? Let's take a look.
Priyanka Chopra comes from a tight-knit family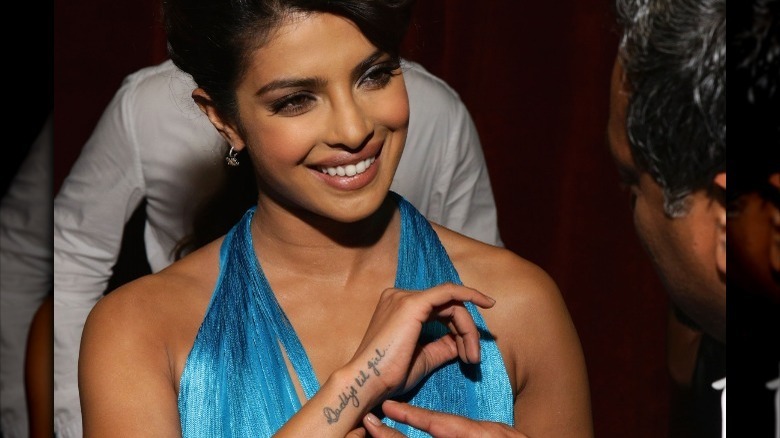 Andrew Toth/Getty Images
In a 2017 Instagram post, Priyanka Chopra shared a touching photo of her and her mom, Madhu Chopra — revealing that her mom is her #GirlHero. Chopra described her mom as a "feisty woman that came from a small town, who ran away from home to pursue her dream job." It was also revealed that Madhu has held top-ranking positions in the medical field holds a number of incredible certifications, with Chopra noting that she was a "doctor in the armed forces, has over 8 different medical certifications, is a certified pilot and she speaks 9 languages," while also being "an amazing mother, daughter, sister, wife, [and] business partner."
While Chopra has plenty of love for her mother, the actor also holds nothing back when it comes to her late father, Ashok Chopra. One year prior to his untimely death in 2013, Chopra revealed a tattoo on her wrist (seen above), which pays tribute to her late father — which reads, "Daddy's lil girl."
In an appearance on Oprah Winfrey's "Super Soul," Chopra revealed that her father's death was the experience that challenged her Hindu faith the most. "I think around the death of my dad. I was very angry," Chopra recalled (per The Indian Express). "My relationship with God changed a little bit. But then at the same time, I feel like God helped me find salvation and come out of it too," she continued, before noting "at that time, it was tested" as well.