Who Is Lori Loughlin's Stepson, Gianni Giannulli?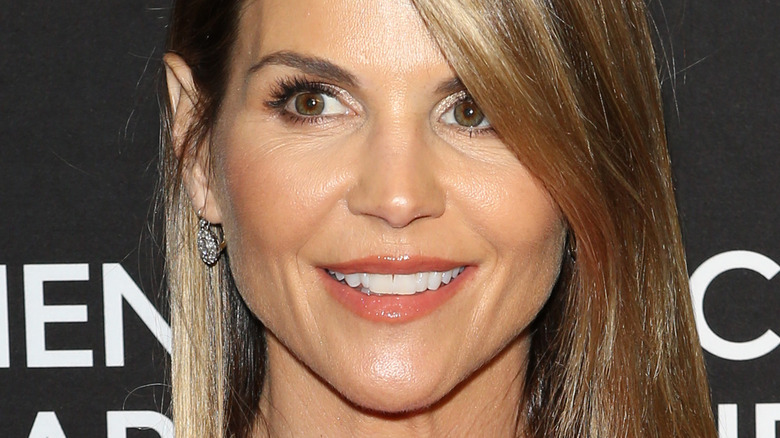 Kathy Hutchins/Shutterstock
Lori Loughlin and Mossimo Giannulli made headlines in 2019 for their role in the college admissions scandal that rocked the nation. Arrested for facilitating the entry of their children, Olivia Jade and Isabella Rose, into the University of Southern California, Mossimo and the "Full House" alum ultimately faced five months and two months in prison, respectively, per NBC News.
Though some may argue that Loughlin's and Mossimo's sentences were rather anticlimactic, the couple undoubtedly faced high pressures during their time in the clink. Loughlin was described as having "high anxiety" by Vanity Fair due to the raging coronavirus pandemic at the height of her sentence, while Mossimo had concerns voiced for him from an observant third party. Gianni Giannulli, Mossimo's son and Loughlin's stepson, chimed in to voice his concerns over his dad's alleged "solitary confinement" treatment (per Us Weekly). Coming from a relatively private individual, Gianni breaking his silence over Mossimo's treatment speaks volumes to his character and to the father-son relationship he has with Mossimo.
With that being said, who exactly is Gianni Giannulli? Keep reading to find out!
A devoted son
Gianni Giannulli broke his public silence when he finally spoke out about his father Mossimo Giannulli's alleged placement in solitary confinement during Mossimo's five-month prison stint. In an Instagram Story obtained by ABC News, Gianni lamented on his father being "locked in solitary confinement in the MEDIUM security prison in a cell for one month today." He also shed light on the treatment Mossimo was allegedly receiving, revealing that Mossimo was "Only let out every 3 days for a few moments to shower."
Gianni further noted that Mossimo was promised a stay in a "minimum security camp," but was actually forced to "quarantine" in a medium-security prison — all of this occurring at the height of the COVID-19 pandemic. Gianni also expressed deep concern, claiming that "The mental and physical damage being done from such isolation and treatment is wrong."
Mossimo was ultimately released from prison two weeks before his scheduled release date — serving the remainder of his sentence at home. Clearly, Gianni is looking out for his dad.
A dedicated stepbrother and entrepreneur
Albeit a stepbrother to sisters Olivia Jade and Isabella Rose Loughlin, the former has expressed immense gratitude for Gianni Giannulli's familial and entrepreneurial spirit.
In a 2017 Instagram post, Olivia Jade peeled back the curtain on Gianni's life and wrote, "Family = everything. Happiest birthday to my brother!" She also mentioned that Gianni is "the hardest working & most dedicated person I know" and that she "[loves] getting to watch you make your dreams turn to reality."
Speaking of hard-working and dreams turning into reality, Gianni is no stranger to entrepreneurship. The son of Mossimo Giannulli started his own company, The Smart Co., which is a food company dedicated to healthy toaster pastry, brownie, and cookie alternatives. Furthermore, he has also registered trademarks for "Protarts," "Smart Tarts," and "Smart Fig" — the latter of which revolves around "fruit-based food bars and snack foods, namely, fig bars and fig based snack foods," per Justia. His heart is in the right place and his mind is too!