Are Rob Kardashian And Tyga Teaming Up Against Blac Chyna?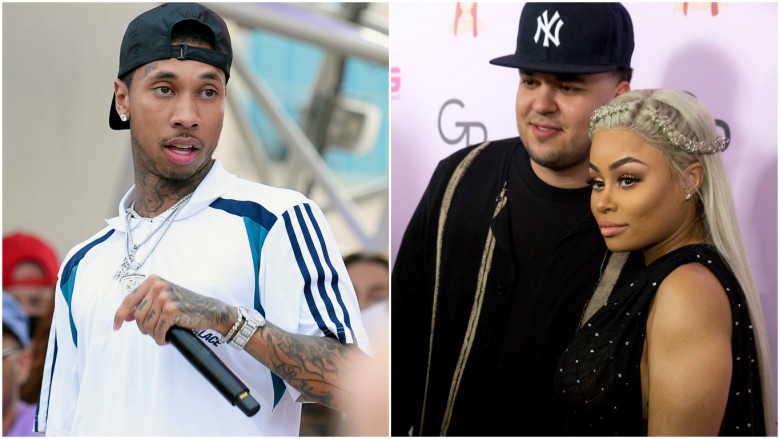 Getty Images
Blac Chyna went on a social media rampage against ex Tyga, and insiders believe that Tyga is actually teaming up with Rob Kardashian in a campaign to smear her.
The drama seemed to begin early morning on Wednesday, March 29, 2017, when Chyna, 28, lashed out on Snapchat at Tyga, 27, for allegedly not paying child support for their son, King Cairo.
"It's funny now to me !!! But when Tyga and side n***a kicked me out !!! And they wanted to see me fail ! lol ... And 2 grind from the dirt !!!!! No child support," the somewhat baffling missives began (via The Sun). "N***as is like h**s ! So imma treat u like that ! Not paying Jenny ! Wow... [sic] Stop running to ur money ! Telling my business about King ! I bet any money ! I got more money then ur account Tyga , Michael ! !!! [sic] So go tell Kylie, and Rob! About our son Account ! Cause that's the only reason I'm contacting ur f** ass ! But u wanna make it like I want u lol ! [sic]. Tyga ur a b***h ! And u can go get ur mom , or ur b***h ! Lol ! !!!! Or ur n***a u f***in ,,, or Terrell, or heather !"
Chyna also reportedly posted Tyga's address publicly.
If you couldn't make too much sense of that, fear not: The jist of it is, per Vibe, that Tyga (whose legal first name is the aforementioned "Michael") hasn't been paying child support for King, 4, and Chyna believes he's been taking money from the child's account.
After her rant when viral, TMZ reported that Chyna believes Tyga is collaborating with Kardashian, 29, to spread false rumors about her. Sources close to the family claim that Tyga has been telling people that Chyna wants to reconcile with him, an allegation Chyna adamantly denies — and that Kardashian is the one who told her about the rumors. The source also alleges that the "Jenny" Chyna claims Tyga hasn't been paying is actually King's nanny.
It's unclear how accurate Chyna's accusations are, but it's also important to remember that Tyga has come under fire (and even a bench warrant) for not paying his bills before.