Kate Middleton's Bra Straps Never Show. Here's Why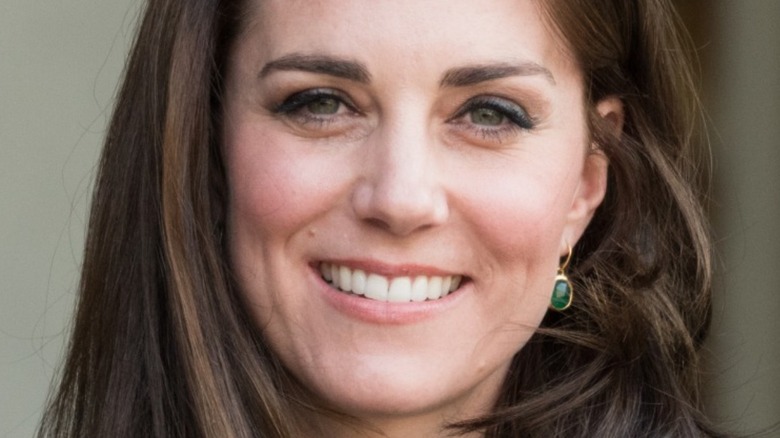 Frederic Legrand - COMEO/Shutterstock
As a member of the royal family, representing the country means one's looks and appearance will ultimately be scrutinized far and wide every time you show up to a tour stop or a meeting with the important world figure that's lined up in your daily agenda. However, for an establishment that has lasted as long as the British monarchy, it comes as no surprise that the royal family consciously follows certain guidelines and etiquette with regard to a dress code, especially when it comes to the well-dressed women in the family. For example, Buckingham Palace maintains a strict code which says all women from the royal family must break out a pair of nude pantyhose while going about their duties and outings, via InStyle.
"Underwear and bras are also considered private intimate wear, and for royals to put intimate apparel on display would simply not be done," Myka Meier, the founder of Beaumont Etiquette explained to Fabulous, via The Sun. In line with that note, Kate Middleton, Duchess of Cambridge, also never shows her bra straps in public despite not straying from the occasional one-shoulder gown. So what's her secret to keeping those annoying straps hidden amid the stress of having cameras all around her? Keep reading to find out.
Here's Kate Middleton's secret weapon for hiding bra straps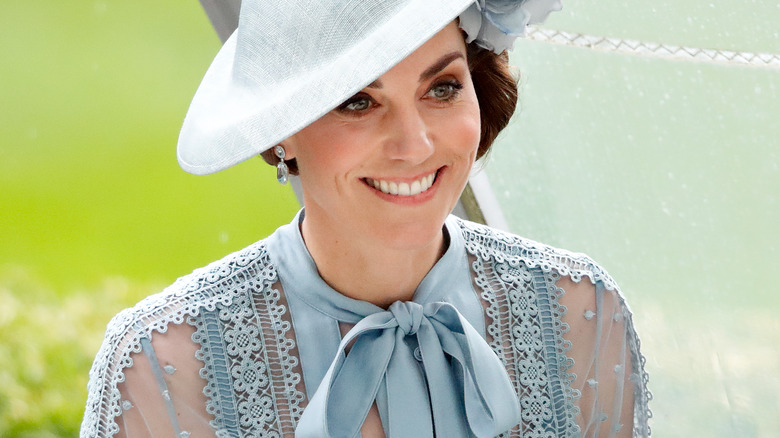 Max Mumby/indigo/Getty Images
At the 2019 Royal Ascot, an uber fancy annual horse race meeting, Kate Middleton donned a baby blue Eli Saab dress that the Duchess of Cambridge chose to pair with a Philip Treacy hat, per Harper's Bazaar. However, the periwinkle number also featured sheer sleeves and matching patterns on the chest. Luckily, Myka Meier was able to reveal the secrets behind Kate's seemingly invisible bra straps. In an Instagram post of professional shots of the duchess, Meier included a photo of a nude, strapless bodysuit as the second slide. "Ever wonder why you never see bra straps?!" she captioned the post. "Swipe to see a secret trick which is a must-have royal wardrobe piece!" 
With the cat out of the bag, Meier also spilled to The Sun that the preferred brand for the Duchess of Cambridge in terms of strapless undergarments is John Lewis & Partners, a British brand of high-end shops that was founded back in 1864. "You want the attention to be on the beautifully tailored and designed garment and not the undergarments," Meier explained to Fabulous, via The Sun. Let's just say when it comes to formal attire, it's never a bad idea to adopt some hacks from literal royalty!