Caitlyn Jenner Says Kris Always Knew About Her True Identity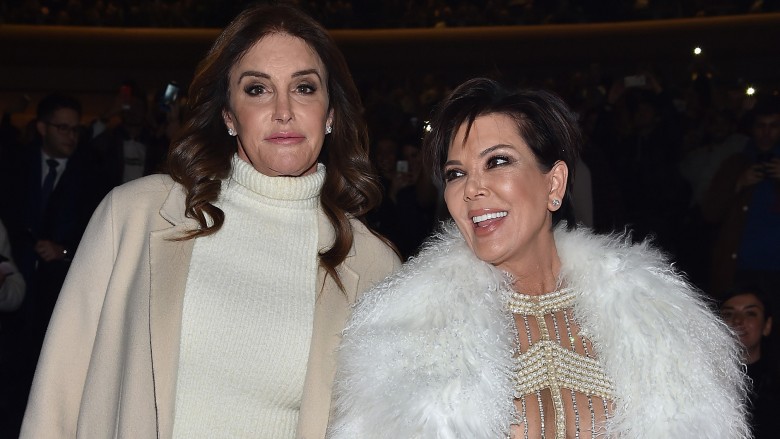 Getty Images
In her upcoming memoir, The Secrets Of My Life, Caitlyn Jenner blew the lid off of her relationship with ex-wife Kris Jenner in a big way.
Caitlyn, then going by Bruce, married Kris in 1991 shortly after Kris divorced Robert Kardashian. Bruce and Kris split in 2013 after 22 years of marriage, a series of reality shows spinning off of Keeping Up With The Kardashians, and a slew of drama on- and off-screen. Not long after their divorce, Caitlyn began transitioning into her current, true self.
Now, Caitlyn claims that Kris knew from day one that she wanted to live as a woman.
In an excerpt obtained by Radar Online, Caitlyn wrote of her early courtship with Kris, "I told her there had been a woman inside me all my life. On Keeping Up With The Kardashians she shed copious tears in coming to grips with it. Given what she saw, the whole reaction seemed a little puzzling then and seems puzzling now."
In fact, Caitlyn said she told Kris that she'd begun her transition hormonally before they even met. "I told her I had been in hormone therapy for roughly the past four and a half years before stopping six months earlier," Caitlyn wrote. "It was obvious that the effect of the hormones had caused something—two somethings to be exact. To me they were the development of breasts, size 36B."
Caitlyn claims that Kris saw her in women's clothing more than once, but that they came to an agreement for the sake of their family: "Eventually Kris and I do reach an understanding—take Caitlyn on the road—but she is not to play in our home or hometown," Caitlyn said in the tome. "End of discussion."
She added that she kept her women's clothing and makeup tutorial books hidden away so that their children wouldn't find them, noting, "Kris and I have negotiated this, since she is terrified, as I am, of the kids finding something."
Caitlyn also confessed that she went under the knife to get her "man boobs" removed when Kris became pregnant with their daughter, Kendall, in 1995. Caitlyn said she was so scared of being found out by her doctor that she told him that the breasts developed as a side effect of steroids. "I have never taken any steroids in my life," Caitlyn wrote, "but at this point, I am willing to sully my own reputation [to keep my gender a secret]."
As for Caitlyn and Kris' divorce, Caitlyn said the reasoning was relatively simple: She wanted to live openly as a woman. "I am tired of my life consisting of secret items tucked away in a tony closet with a lock and key," Caitlyn recalled thinking, adding that her mindset was, "'I cannot go on like this.'"
This new bombshell truth is just the latest revelation from Caitlyn's book, which also details her sex reassignment surgery and alleges that Robert Kardashian believed O.J. Simpson was guilty of the brutal murders of Nicole Brown Simpson and Ron Goldman. The Secrets Of My Life hits shelves on April 25, 2017.