Why Olivia Rodrigo's 'Brutal' Video Is Causing A Stir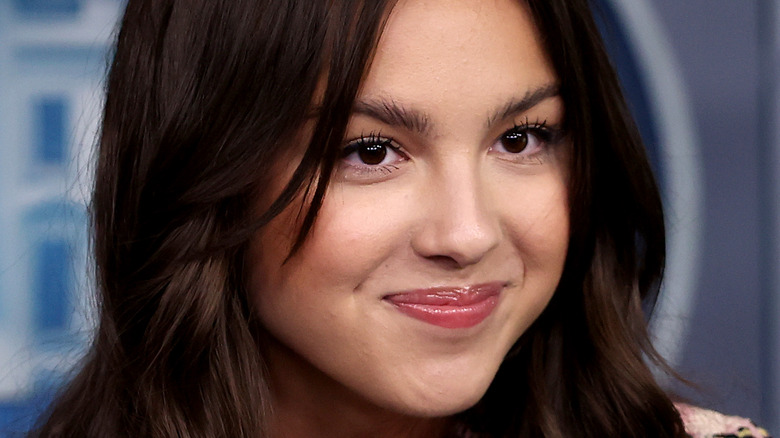 Chip Somodevilla/Getty Images
Olivia Rodrigo's debut album "Sour" came out in May and is still creating a lot of buzz. The "Good 4 U" hitmaker first rose to fame in 2019 as Nini Salazar-Roberts in Disney's "High School Musical: The Musical: The Series" and is currently balancing work as a successful actor and singer.
After Rodrigo debuted onto the music scene with her own material, she has continued to propel forward, morphing into a teen sensation. Her debut single, "Drivers License," became the fastest song to achieve over 100 million streams, per SPIN. On the U.S. Hot 100, all the songs taken from the LP have entered the top 30 within the first week, according to Billboard. As noted by Forbes, the singing star made history as the first artist to have four simultaneous top 10 hits on Billboard's Global Chart.
To keep the ball rolling, Rodrigo has released a new music video for her latest single, "Brutal." Unsurprisingly, millions of fans watched the video as soon as it premiered and had something to say about it. While many loved the music video, some couldn't help but notice that it was similar to another video that recently came out. Keep reading to find out more.
People noticed Olivia Rodrigo's video concept seemed very similar to Rina Sawayama's
In less than 24 hours, Olivia Rodrigo's music video for "Brutal" has been watched an impressive 5 million times on her YouTube channel. The angsty pop-punk song features a video where the "Deja Vu" hitmaker is seen in various different scenes in different outfits. Some of which have been compared to Japanese-British singer Rina Sawayama's video for "XS," which came out in April 2020.
Sawayama's video features her in a television show set, just like Rodrigo's. The two are both seen wearing knitted blazer jackets. Sawayama's is green while Rodrigo's is pink. With that being said, Rodrigo looks even more similar to an extra in Sawayama's video. From the blonde wig to the very similar attire and jewelry, fans couldn't help but notice the resemblance there also.
"Olivia Rodrigo's Brutal music video giving off major XS by @rinasawayama vibes. Anyone else?" one user wrote on Twitter while attaching photos. "Brutal video definitely taking inspiration from Rina Sawayama XS music video," another person shared. "Look I love Olivia Rodrigo but why does a lot of this feel like a direct rip off of Rina Sawayama visuals?" remarked a third account. "Not olivia rodrigo copying rina sawayama.... did her dumba** think we wouldnt notice????" a fourth person wrote.
As of this writing, neither Rodrigo nor Sawayama have responded to the backlash.