Here's What Ariana Grande Looks Like With No Makeup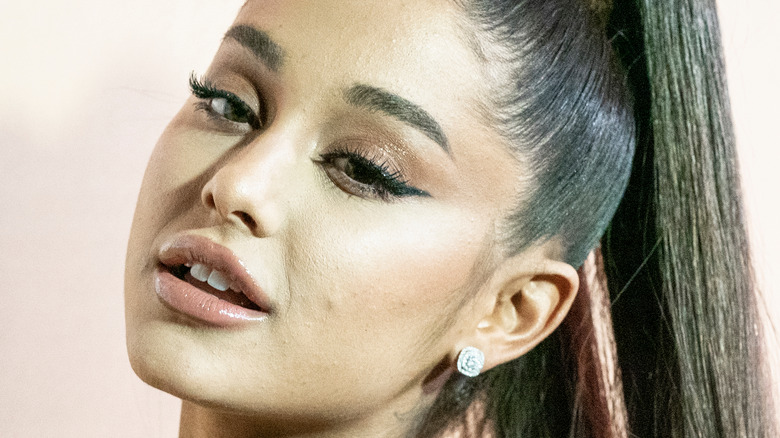 lev radin/Shutterstock
It's no secret that Ariana Grande's illustrious makeup looks stop many dead in their tracks (as does her music, of course). This is why we were quaking in our boots when we first saw Grande trademark the name R.E.M Beauty, her rumored beauty line, and a very cute callback to her hit single, "R.E.M." which was released back in 2018. Not long after, billboards in Times Square were spotted, a very secretive Instagram and Twitter popped up, and a mysterious website under the same name launched.
As excited as we are about Grande finally becoming the latest celebrity to join the beauty industry, many of us Arianators are dying to know, what does Grande look like underneath all of that glitz and glamour?
Well, can you believe that the "Positions" singer looks even MORE heavenly au naturel? This bare-faced beauty is giving us ALL our lives, and we can't help but stare in awe.
Ariana Grande reveals her beauty secret
Here is an adorable picture of the gorgeous couple, Ariana Grande and Dalton Gomez, enjoying their time together on a hot summer day, looking as fresh-faced as ever with no makeup. (ICYMI: The carefree couple first hit the scene back in January 2020, got engaged in December 2020, and had a secret wedding the weekend of May 16th, per TMZ.)
So although some might say Gomez has contributed to the singer's glow, there might be another reason — her beauty routine! "You know what I actually use on my face as well as my body? I feel like people would think it would make you break out, but it doesn't make you break out: coconut oil!" Grande confessed to Byrdie in December 2020. "Like, cooking oil. I put it everywhere—in my hair, on my body. It's the answer."
Grande's life seems to have an abundance of blessings already, (and it definitely shows through her glowy, clear skin!) but we can't help but wonder what's next on the horizon? Hopefully, she will take some pointers from Rihanna and start a skincare line soon!