The Potentially Concerning Reason Kamala Harris' Vietnam Trip Was Delayed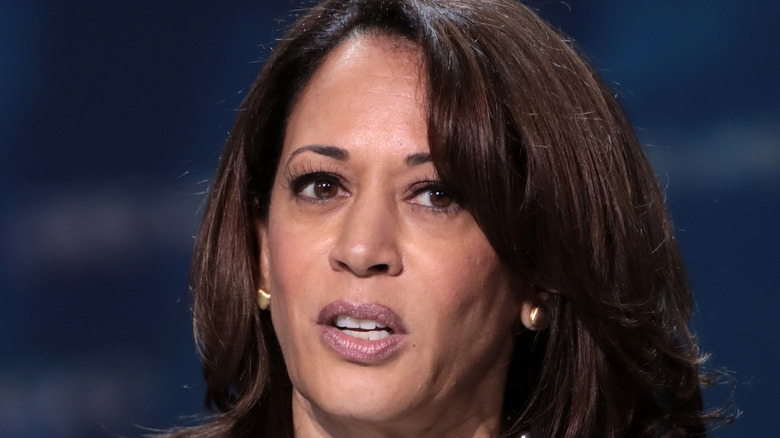 NumenaStudios/Shutterstock
Kamala Harris is overseas on her second trip since becoming the United States vice president, visiting Singapore and Vietnam in an effort to "bolster economic and security ties" with the Southeast Asian nations, per a report from The New York Times. President Joe Biden has put a huge emphasis on focusing on the region's security issues with China since being sworn into office in January, and Harris is expected to oversee the relationships with regional partners to address "climate change, cybersecurity, and the pandemic."
During an address in Singapore on August 24, Harris spoke about China's "unlawful claims" that continue "to undermine the rules-based order and threaten the sovereignty of nations," per the NYT. "In the South China Sea, we know that Beijing continues to coerce, to intimidate, and to make claims to the vast majority of the South China Sea." The Democratic politician also commented on the ongoing conflict in Taliban-controlled Afghanistan after the U.S. withdrew troops earlier this month.
"I am standing here because of our commitment to a longstanding relationship, which is an enduring relationship, with the Indo-Pacific region, with Southeast Asian countries and, in particular, with Singapore," Harris said during a news conference alongside Prime Minister Lee Hsien Loong, saying Biden's administration is "singularly focused" on evacuating Americans and Afghan allies. Upon departing from Singapore, Harris was set to fly to Vietnam to continue her trip. However, the VP's flight was delayed for a rather concerning reason. Keep scrolling for details. 
Kamala Harris' trip to Vietnam is delayed more than three hours due to 'Havana Syndrome'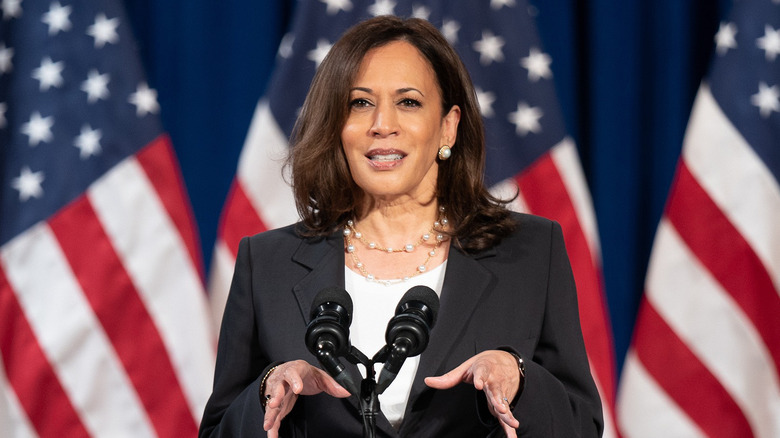 Nuno21/Shutterstock
For her overseas visit to Southeast Asia, Kamala Harris' itinerary had her departing Singapore on the evening of August 24 and landing in Vietnam, where she was expected to continue her efforts at discussing supply chain issues between business leaders. However, the vice president's departure was delayed by several hours after a suspected "possible anomalous health incident." CNN reported Harris' office was notified by the U.S. embassy in the capital of Hanoi after an investigation was launched into possible cases of what officials call the "Havana Syndrome," a mysterious illness that causes nausea, severe headaches, and other symptoms, per BBC.
"Earlier this evening, the vice president's traveling delegation was delayed from departing Singapore because the vice president's office was made aware of a report of a recent possible anomalous health incident in Hanoi, Vietnam. After careful assessment, the decision was made to continue with [the] trip," spokeswoman Rachael Chen said in a statement, noting Harris "wouldn't travel further to a country if there wasn't confidence in her security on the ground." 
Insisting the delay had "nothing to do with the vice president's health," CNN reported chief spokeswoman Symone Sanders told reporters aboard Air Force Two that the plane eventually departed from Singapore's Paya Lebar Air Base at 7:32 p.m. local time, more than three hours after scheduled takeoff. Fortunately, Harris was doing "fine and looking forward to meetings in Hanoi tomorrow," Sanders stated.