How Many Times Has Jennifer Lopez Been Engaged?
Ovidiu Hrubaru/Shutterstock
It has been a whirlwind year for Jennifer Lopez. In under nine months, the "Hustlers" star's relationship status went from engaged to single to "it's complicated" to finally, dating her ex-fiance Ben Affleck. Ever since the duo were first spotted together in March, Bennifer fans have speculated that one of the early aughts' most famous couples was giving things another try — and as it turns out, the rumors were true! Lopez and Affleck jetted off to spend some quality time in Montana over Mother's Day, with a source telling E! News that they "really care for each other" and have "picked up right where they left off." Following the getaway out west, the lovebirds committed to spending time at each other's respective homes, per Harper's Bazaar.
Even fans seemed to sense that the couple — who first met on the scene of "Gigli" — were committed to making things work this time around. People reported that Bennifer were "slowly starting to talk about the future" and rehashing what went wrong before, in an attempt to make their relationship reboot even stronger. Fast forward to August, and Page Six reported that Affleck was spotted browsing engagement rings, so it seems the couple are in it for the long haul. And with Lopez (maybe) on the brink of walking down the aisle once more, will this time be the one? And just how many times has Lopez been engaged at this point? Let's investigate.
Jennifer Lopez has been married three times ...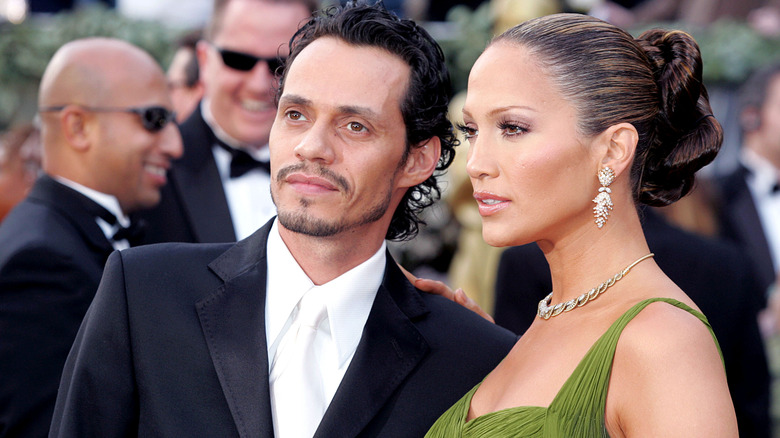 Everett Collection/Shutterstock
As Jennifer Lopez told Harper's Bazaar in 2019, her "relationship journey has been very up and down," which she clarified "was about me figuring out me." And it may have taken the "Cambia El Paso" singer several marriages to figure herself out, but as of this writing, she seems happier than ever. Still, back in 1998, Lopez wasn't quite so self-assured. According to The Mirror, Lopez's first marriage was to a waiter named Ojani Noa, who "charmed her before her big break in 'Selena.'" Speaking of Noa in a 2019 video, Lopez reflected that she "doesn't count" their 11-month marriage because it was so short-lived (via Today). "I was very young the first two times I tried to get married," the multi-hyphenate added. "I felt like if I got married I felt like I would always have somebody, but that's not how life works."
After Noa, Lopez's second marriage was equally brief. Per InStyle, she wed Cris Judd, whom she met on the set of her "Love Don't Cost a Thing" music video in 2001, though the pair called it quits in 2002. Lopez's third marriage, to Latin Grammy winner Marc Anthony, is her most well-known. The singers tied the knot in 2004 and welcomed twins Emme and Max in 2008, before announcing their split in 2011. In 2017, Lopez referred to Anthony as a "great friend," and continues to speak fondly of her ex-husband today.
... But she has been engaged five times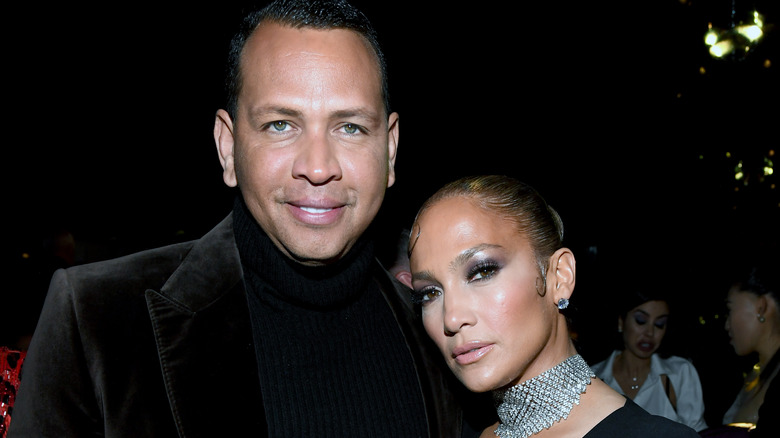 Kevin Mazur/Getty Images
Because Jennifer Lopez has been married three times previously, it makes sense to assume she's also been engaged at least three times. In fact, the singer-actor has been engaged five times, according to Town & Country. Along with her three husbands, Lopez was also engaged to Ben Affleck in 2002, which takes us back full circle. The pair called off the engagement in 2003, a moment which Lopez referred to in her book "True Love" as her "first real heartbreak," per Page Six. "Ben and I split up at the moment when I thought we were committing to each other forever, it was my first real heartbreak, it felt like my heart had been torn out of my chest," she wrote, via Page Six. So, maybe she and Affleck were always meant to be?
But it would take years before Lopez and Affleck found their way back together. As well as marrying someone else, and dating around, Lopez got engaged to former New York Yankees slugger, Alex Rodriguez, before cozying back up to Affleck. She and A-Rod began dating in 2017, and were set to tie the knot in 2020, but postponed the wedding due to COVID-19. During quarantine, the couple tried to work things out with therapy, which Lopez called "really helpful for us in our relationship." Ultimately, it wasn't helpful enough, and they parted ways in 2021. Here's to hoping that J.Lo's fourth marriage (if Affleck pops the question) works out for both of them.