Who Was Chris Noth's Famous Mother?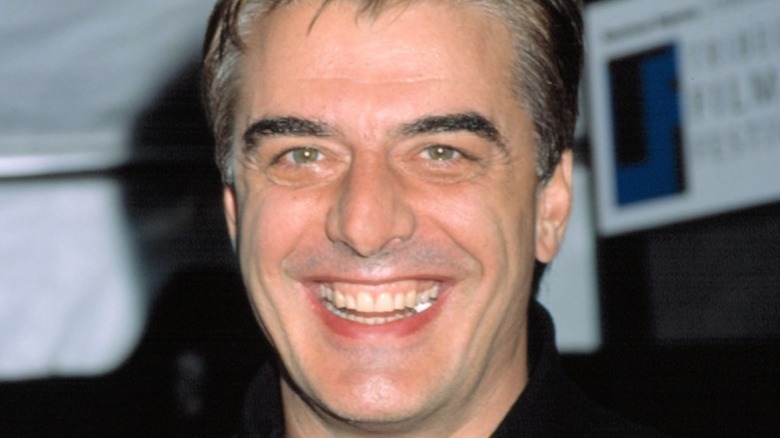 Everett Collection/Shutterstock
In the era of reboots and sequels, any movie or TV show you're nostalgic for might have a chance of resurrection! And that sentiment can't be truer for the fans of "Sex and the City," who are gearing up for the iconic HBO show's inevitable reboot in a limited series "And Just Like That," via Glamour. With filming currently underway, the cast, which features some notable members from the original series, have been pampering old and new fans alike with teaser images on their social media. However, the most juicy and interesting update has to come from Mr. Big himself, the mysteriously sexy yet majorly problematic love interest of the protagonist Carrie Bradshaw (Sarah Jessica Parker). To fans' delight, Chris Noth, the actor behind Mr. Big, posted an Insta pic of him and Parker cuddling in bed. "Just like the old days!" Noth wrote in the caption.
But even as someone with such a prolific television career as Noth, even die-hard fans of "SATC" might be surprised to know that the "Law & Order" star has an equally successful and famous mother who might have inspired him to go after a career on screen. So who was this trailblazer of a woman who raised Noth? Read on to find out more!
Chris Noth's mother was a famous CBS News correspondent
Chris Noth's mother Jeanne Parr started off her career by pursuing both modelling gigs and hosting shows at the local radio and television station in her hometown of Madison, Wisconsin, via People.  She decided to leave her hometown in 1959 and eventually landed the position of a weather forecaster at a station in New Haven, Connecticut, according to her hometown website, Madison.com.
The stars would align for the hard-working Parr when a blooper of her struggling to identify the state of Arkansas led her to become a clue and a guest star for the television game show "What's My Line?" in 1960, People noted. That specific segment of Parr caught the eye of a CBS producer. "As a matter of fact, it was a very lucky appearance," the pioneering correspondent said when she returned to "What's My Line?" in 1966, as cited by People. "Because the next day, on Monday, I received word from this network, and I've been working ever since."
Parr sustained a vastly successful career as one of CBS' first female news correspondents, working first as a weather reporter on "The Jim Jensen Show" before transitioning to cover news full-time and starring in her own talk show in 1978, via Deadline. She eventually retired to the island of Maui and died at age 92 on May 23, 2016, the Wisconsin State Journal reported.
"My mother lived fiercely with courage and love," Noth told People. "She never accepted anything less than her dreams."
Jeanne Parr posed with Chris Noth's brother for an iconic "Life" cover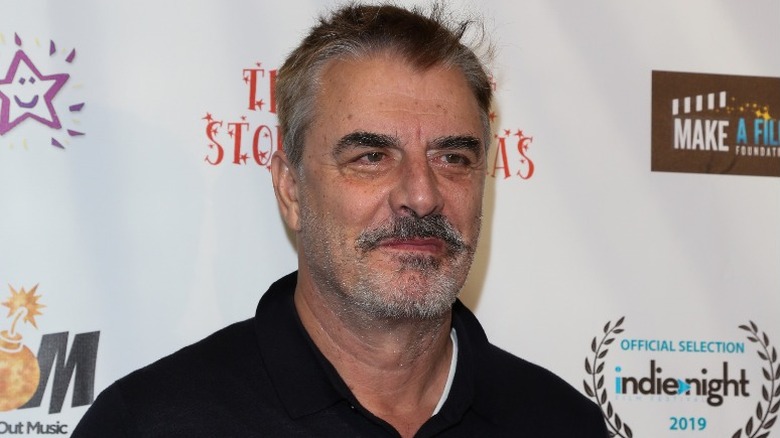 Paul Archuleta/Getty Images
Before she became known for her work on CBS, Jeanne Parr had an earlier momentary collision with fame back in 1948. For a title story that named Madison, Wisconsin as the ideal American city, "Life" magazine photographer Alfred Eisenstaedt was tasked with coming up with the spread and found the then 24-year-old Parr to be the perfect subject of a cover portrait, the Wisconsin State Journal. Posing alongside her eldest son Charles Noth, Parr smiled big for the camera while holding her laughing son in mid-air. "That was a big, big deal to have your town go all over the world with Life magazine. And then to have her on the cover — that was very special," Jeanne Parr's sister-in-law, Rosann Parr, revealed to the Wisconsin State Journal.
Years later, Parr seemed to have never lost her fondness for her hometown despite jumping from city to city for work and not choosing Madison as her location for retirement. "Madison was always — certainly for my mother — home. They had a nice life in Madison," Parr's middle son, Michael Parr Noth, told the Wisconsin State Journal back in 2016. "It was jobs that drove them out of there. If that pressure hadn't been there, I don't think they ever would have left."