Here's What Kim Kardashian Looks Like Without Makeup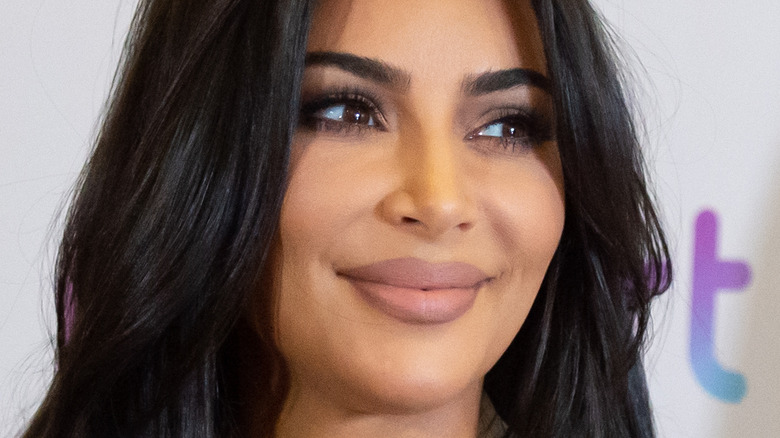 Asatur Yesayants/Shutterstock
Kim Kardashian's status as a sex symbol and woman of power is undeniable. With her stunning beauty and unparalleled business savvy, Kim has ascended the upper echelon of the celebrity food chain. After a decade-plus of being in the spotlight, the famous socialite has solidified her place as the head of the table in the Kardashian family. With numerous business dealings, reality TV appearances, and a highly-publicized marriage to Kanye West, Kim is constantly in the headlines 24/7 — and with that comes the added responsibility of putting on the best facade possible.
As the owner and founder of her own makeup company, KKW Beauty, Kim has made beauty a crucial part of her brand over the past several years. Perpetually dolled up in front of the cameras — whether it's in public or for a steamy photoshoot — the always-working Kardashian surely knows how to put her best face forward. And even though she is often preened, there have been times where she's been seen sans makeup — though many may not realize what she looks like beneath.
No need to worry, however, because we got you. Read on to see what Kim Kardashian looks like without makeup!
Kim Kardashian is a natural beauty underneath the makeup
Pictured above is the makeup-less duo of Kourtney and Kim Kardashian. Captioning the photo "It's the brows for me...," Kim uploaded the throwback flick to Instagram in late January. Receiving critical acclaim in the comments (one commenter even wrote, "Kim is so beautiful naturally"), the still-stunningly beautiful flick of the two sisters was a social media home run — receiving nearly 2.5 million likes in the process.
Despite sharing plenty of photos of herself, though, Kim has expressed concerns about being labeled as a sex symbol. When The Cut asked the socialite about her status as a sex symbol, she noted that "it can be complicated" and that she "definitely [sees] the things that I brought on" herself, naming the infamous 2016 Paris robbery in which she was a victim. She also opined about "just being flashy and oversharing my every move on social media."
Kim also revealed in the interview that she inadvertently started dressing less sexy at the behest of estranged husband Kanye West, who "has voiced that sometimes too sexy is just overkill" and that "he's not comfortable with that," though he "always [gave] me the freedom to be and do what I want."
Kim Kardashian's passion for makeup runs deep
In 2017, Kim Kardashian uploaded a video to YouTube entitled, "Kim Does Her Own Makeup" (which one user referred to as "ASMR," and we totally agree), detailing her intricate and meticulous makeup routine using her own KKW Beauty products. In the video, Kim offers a fascinating insight into her makeup process and gives viewers a five-minute crash course on doing makeup her way, sans foundation and concealer.
In a 2017 interview with Elle, Kim delved further into her makeup philosophy, in which she has taken a much more minimalist approach over the past few years. "I think [the minimalist approach] just [happened] over time and meeting new stylists and changing my wardrobe," Kim told the outlet. The mother-of-four also poignantly reflected that she is "just evolving and realizing I don't have to wear that much makeup."
On the philosophy behind KKW Beauty, Kim noted that she wanted to bring her makeup credo into a marketable product that emphasizes her "minimal" approach and love for contouring. "I knew that I wanted to do a line that was really representative of the makeup that I wear now," Kim revealed, pointing out that it "is a little different than I've worn over the years ... Especially now that I'm a mom, I don't have that much time."