Inside Pink's Relationship With Her Late Father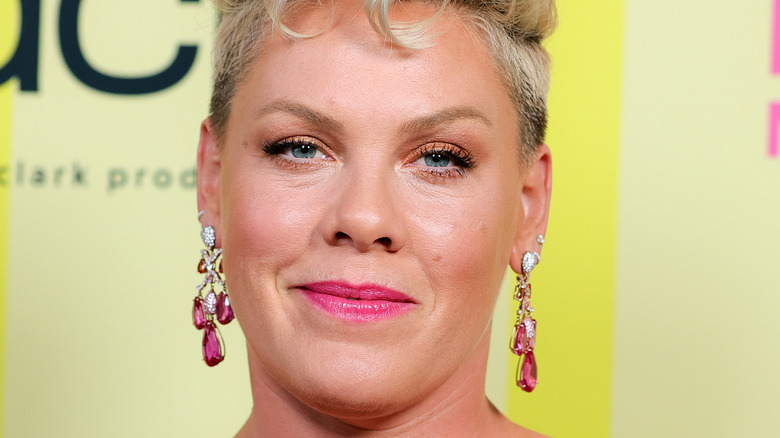 Rich Fury/Getty Images
Pink's beloved father, Jim Moore, died on August 26 from prostate cancer, according to Page Six. The "All I Know So Far" singer shared the heartbreaking news via Instagram, posting a series of throwback photos of her dad — one of her singing with him on stage and two more black-and-white shots of her slow dancing with him when she was a child and on her wedding to Carey Hart in 2006. She respectively captioned the posts, "Daddy-Sir" and "Til forever."
Pink previously opened up about Moore's cancer, revealing in July 2020 that he had "just finished his second round of chemo for prostate cancer." Alongside an image of him smiling and holding hands with his wife, she explained: "Here he is, my Dad, scared and in pain sitting with the love of his life, our Grace, and what's he doing???? Smiling. Cracking jokes. Making everyone else feel better. He's already back to his old tricks ten hours later, talking about napalm and snipers and viruses and blood puddles.... oh, Dad." Pink added, "How amazing it is to watch you whistle through Hell."
Scroll ahead to learn more about Pink's relationship with her dad, including all the ways he supported her music career.
Pink and her dad, Jim Moore, connected over music
Music ran deep in Pink's family. And it's because of her dad, Jim Moore, that she's the superstar she is today. "My dad was my first rockstar. I am who I am — I'm a little f***ed up — because of him," she told fans at a concert in 2007 before welcoming him to the stage to sing "I Have Seen the Rain," a song he wrote 40 years ago in Vietnam while serving in the military. "I think it's important today because it's a soldier's cry and we're producing them by the thousands. And tonight this is a really special evening because the first time my dad's ever performed in front of a group is going to be right now."
Pink also loved to poke fun at Moore on social media. In January 2019, she posted a throwback of her father, looking tired as he held his son, Pink's brother Jason. "This picture of my Dad makes me laugh so hard," the pop star wrote. "Never before have I seen 'parenthood of young children' captured so perfectly... love you Daddy Sir."
On his part, Moore adored his daughter and was one of her biggest supporters. Per Page Six, he praised Pink while talking to the Philadelphia City Paper in 2000. "Nothing's better than and wilder than seeing her do this," he raved. "She said she was going to do it as a kid and she meant it."