The Celebrity Cameos You Might Have Missed In Pink's 'All I Know So Far' Music Video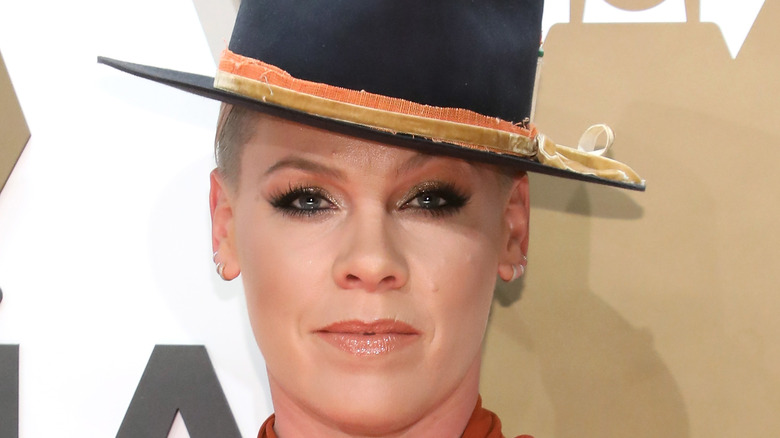 Taylor Hill/Getty Images
P!nk is back and is ready to debut her latest album. The new album, titled "All I Know So Far: Setlist," will be released on May 21, reported Rolling Stone, and will mark the newest release in her over 20-year career. "All I know So Far: Setlist" will be a different album for the "So What" singer, since it's a live album composed of performances from her Beautiful Trauma World Tour in 2019. The live album is an especially smart move for P!nk, given that the "Beautiful Trauma" album was commercially successful. It was nominated for Best Pop Vocal Album in 2018 for the 61st Annual Grammy Awards and the following tour grossed close to $400 million, becoming one of the highest-grossing tours of all time, according to Billboard.
Continuing with the success of her discography, it's time to see something new from the three time Grammy Award winner. In fact, P!nk included two new songs on the album. The first is "Cover Me in Sunshine," a duet with her daughter, Willow, that was released in February, reported Rolling Stone, and the second is "All I Know So Far," which debuted on May 7. The title track of the album was also accompanied by a star-studded music video. Read on to find out which celebs were in the video!
P!nk's 'All I Know' video is filled with everyone from Cher to her family
P!nk's "All I Know So Far" album is the singer's way of memorializing her past. The album will even be accompanied by "P!NK: All I Know So Far," a documentary film directed by "The Greatest Showman's" Michael Gracey, reported Rolling Stone. Though the most recent development from the latest album is the release of the title track "All I Know So Far" and its music video, which dropped May 7.
The "All I Know So Far" music video tells P!nk's life story, with celebrities and those close to her playing vital figures. The video shows P!nk talking about her life in the form of a bedtime story for her real-life daughter, Willow. (Son Jameson also makes an appearance.) The story consists of the singer's complicated relationship with her mother, played by iconic actor Judith Light, her rollercoaster marriage with husband Carey Hart, who also stars, and features a goddess mentor played by music legend Cher.
On the chorus of the track, P!nk sings about her resilience, no matter what life has thrown at her. "You throw your head back and you spit in the wind / Let the walls crack, 'cause it lets the light in," she belts. "Let 'em drag you through hell / They can't tell you to change who you are / That's all I know so far."