The Real Reason John Stamos Was Hospitalized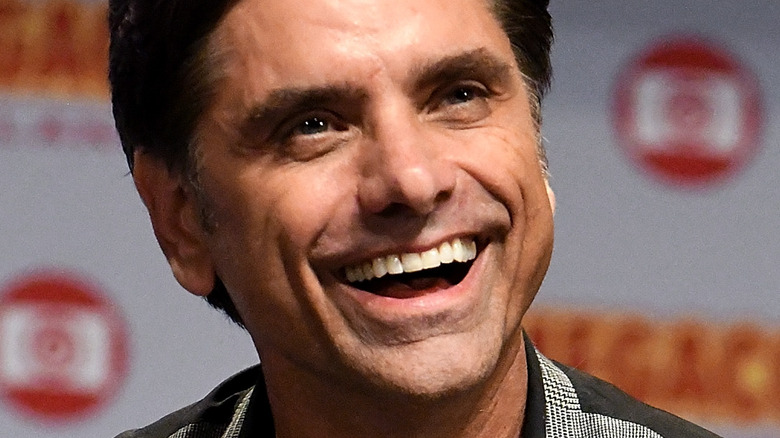 Gerardo Mora/Getty Images
Buckle in, John Stamos fans; we have to talk. The "Full House" star is in the headlines because he is in the hospital. But before we you completely freak out about Stamos's health, let's review Uncle Jesse's life right now.
The hunky 57-year-old actor finally found love with Caitlin McHugh. The couple started dating in 2015 after McHugh's roommate was cast in an episode of "Fuller House." Just two years later, Stamos proposed to McHugh at Disneyland, one of her favorite places. Stamos and McHugh married in 2018 and welcomed their son Billy the same year. Stamos told People earlier in 2021 that his life now "is what I always wanted," and said, "My dreams came true 100 times over." Stamos and McHugh seem over the moon about their family life with their adorable 3-year-old, Billy.
During his interview with People, Stamos said, "Everybody tells you it goes so fast, and it's true...I want to be alive to see all of the wonderful things in my son's life. These are the beautiful memories I'll remember forever." With so many good things going on in his life, Stamos's visit to the hospital can't be bad, right? But considering it's 2021, fans might be worried. Keep reading to find out the real reason Stamos was hospitalized.
John Stamos had elective surgery for Trigger Finger
Take a deep breath, John Stamos fans. America's favorite hot uncle is just fine. Stamos underwent elective surgery for a hand condition known as Trigger Finger.
The "Full House" actor posted an Instagram photo from his hospital bed, writing in the caption, "Damn you #Triggerfinger ! I went in for a quick elective procedure – In and out! Thanks to the fine doctors/nurses for taking such good care of me. I'll be up and drumming in no time. Thank you for the well wishes."
According to WebMD, Trigger Finger is the name for a hand condition known as "stenosing tenosynovitis." Trigger Finger happens when "something inflames a band of tissue called a 'pulley,' which holds the tendon to the finger bone, most often in the ring finger or thumb. This narrows the space in the tube, or 'sheath,' around the tendon and causes stiffness and pain," WebMD explains.
Stamos is recovering, and it's nothing serious. We can take a lot of bad news in 2021 — except anything bad going on with Stamos, a.k.a. Uncle Jesse.