This Is One Thing Harry Hamlin Won't Let Lisa Rinna Do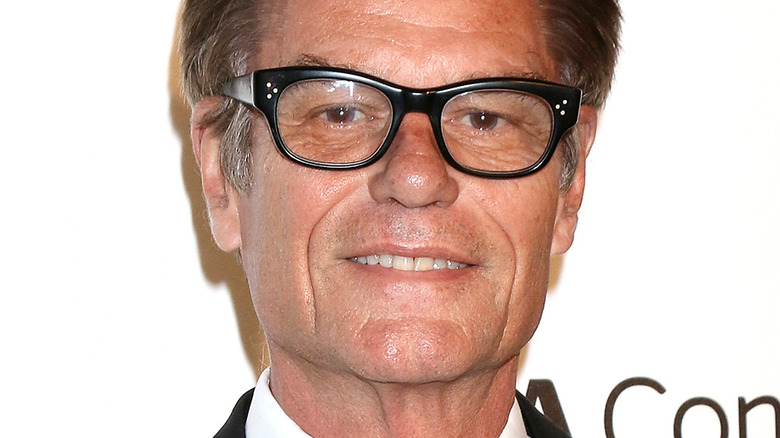 Joe Seer/Shutterstock
Harry Hamlin and Lisa Rinna are Hollywood royalty. Harry appears to be the more laid-back member of the duo and doesn't get too riled up about life. According to Page Six, Harry keeps his cool as his 20-year-old daughter Amelia is dating Scott Disick. Many dads might freak out by their daughter dating a man 18 years older, much less a reality TV star linked to the Kardashians.
But Harry takes Amelia's relationship in stride, saying it reminded him of his romance with Ursula Andress. Page Six reported that Harry was 29 and Ursula was 44 when they welcomed their son Dimitri in 1980. Harry said, "I was 14 years younger than she when we had Dimitri. So I can't really complain, right?" While Harry is quiet, his wife creates drama for a living as one of the "Real Housewives of Beverly Hills." Lisa has been on the popular Bravo series since 2014, and one of the "RHOBH" seems to make headlines every week. Being married to one of the housewives can be hazardous at times!
In addition to his 24-year marriage to Lisa, the couple shares two daughters, Amelia and Delilah, both models. Harry's son, Dimitri, is 40, and according to Bravo's "Daily Dish," he is a "bit of a smarty-pants," and is "basically Harry's twin." Harry's plate is full, but he seems to have a chill approach to life. So, just what is the one thing Harry apparently won't let his wife do? Keep reading to find out.
Harry Hamlin won't let Lisa Rinna renovate their kitchen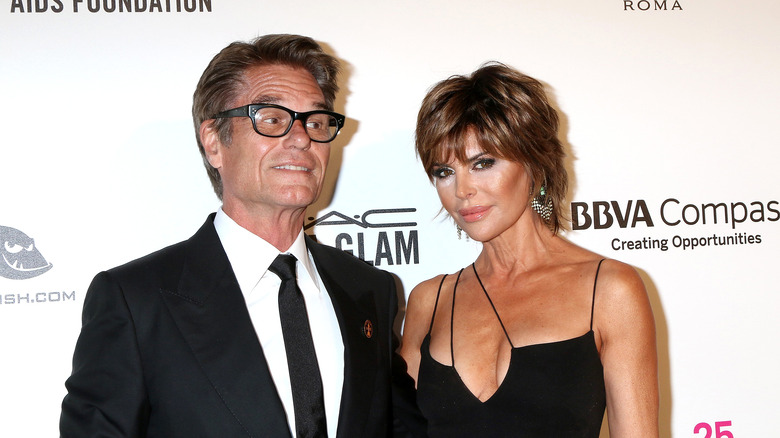 Joe Seer/Shutterstock
It turns out, Harry Hamlin won't let Lisa Rinna renovate their kitchen. In a recent Instagram Story (via BravoTV), Lisa admitted defeat on the kitchen renovation. Lisa wrote, "I finally gave up. I just gave up. My husband loves his 1984 kitchen. I have fought for — I don't know, a couple of years now to try to redo the kitchen."
Lisa continued, "He loves his kitchen so much, and you know what, I'm gonna just let him have this 1984 kitchen. I'm not gonna fight it anymore. He loves it. He's so happy. And since I don't cook, I don't really have a case. So guess what? I'm gonna let him have it." 
The good news about the so-called "1984 kitchen?" Lisa doesn't have to cook in it! Lisa gushed about Harry's cooking on the July 7 episode of "The Real Housewives of Beverly Hills" (via BravoTV), raving, "Harry is an amazing cook. Some of his specialties are his Kobe beef, which is the 'Harry's meat,' blueberry pie, and there's bolognese. Harry's bolognese is so well known." In the same episode, Lisa made it clear that she's a reality TV housewife, not an actual housewife, joking, "Harry does all the cooking. Because you don't want me cooking."
How Harry Hamlin and Lisa Rinna make their marriage work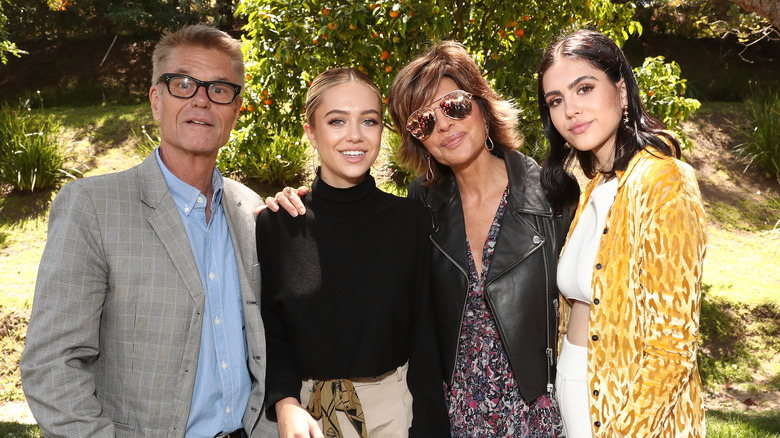 Todd Williamson/Getty Images
Harry Hamlin and Lina Rinna have been married for 24 years. That's like being married 150 years outside Hollywood. And the ways that Harry and Lisa make their marriage work seem old-fashioned and sweet. In a 2018 interview with LaPalme magazine (via Us Weekly), Harry said the couple is committed to working through their problems, explaining, "We put a lot of time in therapy and talking and reading books and trying to figure out how to create a foundation for a family." Harry added, "We never get tired of each other's stories. Lisa is a master of social media and pop culture. My real interests are the political and scientific."
And during a 2018 episode of "Watch What Happens Live with Andy Cohen" (via People), Lisa shared, "I think that we are complete opposites. And I mean, we have nothing in common!" The old "opposites attract" philosophy seems to work for them!
Still, in 2019, there were allegations by Lisa's "RHOBH" co-stars that Harry had cheated on Lisa with Julianne Phillips. But Lisa made it clear that she stands by her man, tweeting, "You all can come at me for whatever you want I don't care Julianne and Harry need to be left alone they did nothing." Harry and Lisa's approach appears to be working!