What's The Latest In Donald Trump's Plans For 2024?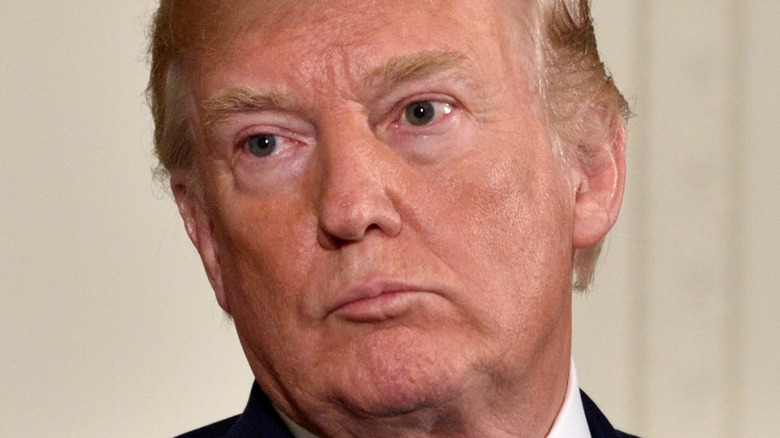 Evan El-Amin/Shutterstock
Just one year after one of the most contentious presidential elections in modern American history, former President Donald Trump isn't exactly hiding his plans for the next election cycle. In July 2021, Rolling Stone reported that Trump was already sharing his political aspirations with friends, according to a former senior official at the Republican National Committee. "I have three friends who've had dinner with him [Trump] the last couple of months," the source told the outlet. "All three reported that his current plans are to run for president in 2024. Now, whether he does or not is a different issue. We've still got three years to go. But he's telling people that."
In April, the 45th president revealed his "very serious" plans to run for office again on Sean Hannity's Fox News show. A month later, he unveiled a new website, titled "From the desk of Donald J. Trump," allowing supporters to repost his statements to their respective Facebook and Twitter feeds — and (more importantly) showcasing his intention to remain at the top of people's minds. Though the business mogul hasn't formally announced plans for a presidential run in 2024, those close to him agree that he'd like to run again. "All the people I talk to who deal with him directly think as of now he is running," an ex-advisor told Rolling Stone.
Now, Trump's latest move has got people talking more than ever — so what's the latest on those potential presidential plans?
Donald Trump is headed to Iowa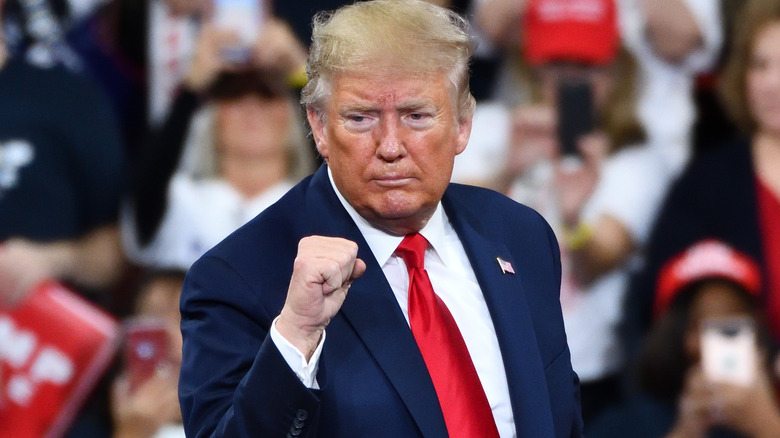 Evan El-Amin/Shutterstock
In late August, Donald Trump said that he will hold a rally in Iowa, as he continues to tease a run for the White House. Speaking on the "Todd Starnes Show" of his rallies in Alabama and Ohio, Trump told the host, "We're doing some more [rallies]. We're going to Iowa. We're going to Georgia. We're going to some others."
As the caucus state that typically kicks off the race for the White House, GOPers have been flocking to Iowa to address conservatives or hold fundraising events. While details are still being ironed out, Trump's visit to the state would follow in the wake of other high-profile Republicans with presidential aspirations. Per Des Moines Register, Trump's vice president Mike Pence, as well as Secretary of State Mike Pompeo, and South Dakota Gov. Kristi Noem, spoke at a Family Leadership Summit in Iowa in July. USA Today reported that U.S. Senator Ted Cruz, U.S. Rep. Ashley Hinson, U.S Senator Marco Rubio, and congressional candidate Nicole Hasso have also made trips to Iowa this summer.
According to the outlet, Trump's fundraising committee hired two Iowa political operatives, which may further signal his interest in running. Per Bloomberg, a Save America spokesperson confirmed the hires in a memo as Eric Branstad and Alex Latcham, adding that they will help "on many political matters." Though it may be too early to read into political motivations, it certainly seems Trump will be in the mix in some capacity come 2024.