Sad News For Scott Disick And Amelia Hamlin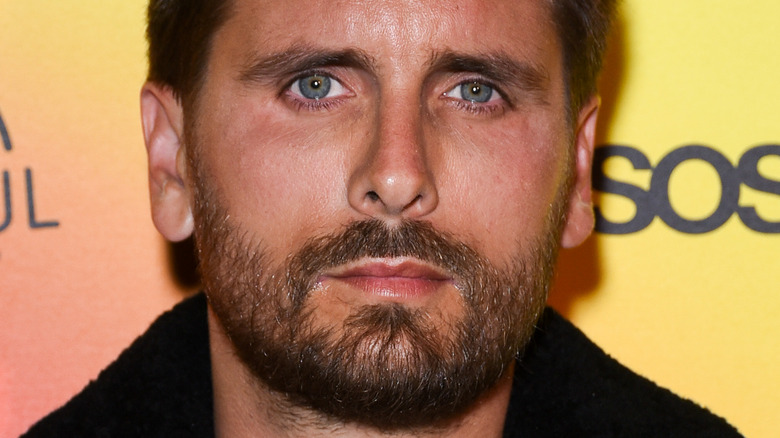 Presley Ann/Getty Images
Fans of Scott Disick and Amelia Hamlin have gotten some sad news. While it was speculated that the couple was having trouble in paradise over Labor Day weekend, it seems the pair has finally called it quits, per TMZ. The "Keeping Up With the Kardashians" star and the eldest daughter of Lisa Rinna and Harry Hamlin had been dating for just under a year, having made their public debut in October 2020, per Us Weekly. 
Despite their 18-year age difference and some drama involving Scott messaging Kourtney Kardashian's ex about her beau, Travis Barker, the two seemed to be going strong and even made plans to celebrate Labor Day weekend together in the Hamptons, as reported by Entertainment Tonight. Disick was even planning on supporting Hamlin during the upcoming New York Fashion Week. A source told the publication that "shortly after Scott [allegedly] DMed [Kourtney Kardashian's ex] Younes [Bendjima], Amelia and Scott were still trying to make New York Fashion Week plans together."
However, it seems like the drama became too intense, and the two spent Labor Day weekend apart, with Hamlin staying in New York City and Disick going to the Hamptons without her. And although a source told ET that Hamlin had "been understanding of Scott's co-parenting routine and the family dynamic," she was "disappointed" about the DMs between him and Bendjima, and was apparently "figuring out where to go from here." It seems like that now involves them going separate ways. But how did the breakup go down? Keep scrolling to find out.
Scott Disick and Amelia Hamlin both claim they did the dumping
Scott Barbour, Michael Loccisano/Getty Images
When the news first broke that Scott Disick and Amelia Hamlin had officially parted ways, TMZ reported that the Talentless designer was the one who had called things off. Sources told the publication that the breakup "wasn't anything personal, he just didn't see a future with Amelia long-term, and didn't want to keep wasting his time or hers." And while the timing might have seemed suspicious to those who have been following the Younes Bendjima DM drama, the ending of their relationship allegedly had nothing to do with that situation. In fact, a source told TMZ that the drama "didn't have any impact on Scott's decision to pull the plug."
However, Hamlin has since released her own version of events, with sources from the model's camp telling TMZ that she was the one who did the dumping, not Disick. They said that Hamlin was allegedly already considering breaking up with the reality star, and described "the Younes DM" as "the final straw." While fans may never know which version of events is true, Hamlin seems to have been hinting at her annoyance with Disick over the weekend, posting on her Instagram Story to "never settle for less" and uploading a photo of herself in a tank top that read, "Don't You Have a Girlfriend?" per Us Weekly. 
Maybe Lisa Rinna's wish about Hamlin dating Harry Styles can now come true!