How tWitch And His Wife Allison Holker First Started Dating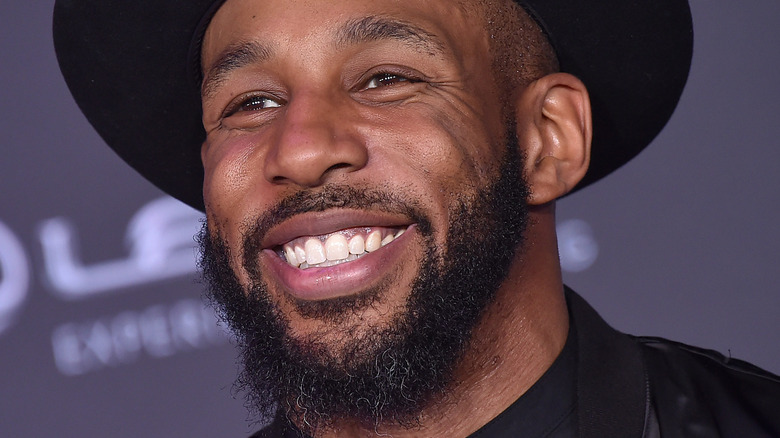 DFree/Shutterstock
Stephen "tWitch" Boss and Allison Holker can credit "So You Think You Can Dance" for the fabulous life they live together. They did not originally compete against one another on the same season, but returning during a subsequent "All-Star" season gave the two a chance to connect. Fans of the pair may not realize, however, how they first started dating.
Holker initially appeared on Season 2 of "SYTYCD," which aired during the summer of 2006 — only two years after she started dancing competitively, per TV Overmind. She joined "SYTYCD" the same year she graduated high school and finished eighth place that season, per E! News. Holker and Boss actually met during that season, when her fellow contestant Ivan Koumaev threw a party they both attended. According to Boss in a 2012 interview with Dance Spirit, Allison doesn't remember their meeting. "I had blond hair and piercings, so I'm not sure how you'd forget me," he joked. 
Holker was invited back for Season 7 of the Fox dance show, as was Boss. That is where they met again — but that doesn't mean the sparks were flying right away. Keep scrolling to learn more about how the dancing duo started dating.  
Boss was oblivious to Holker's signs of interest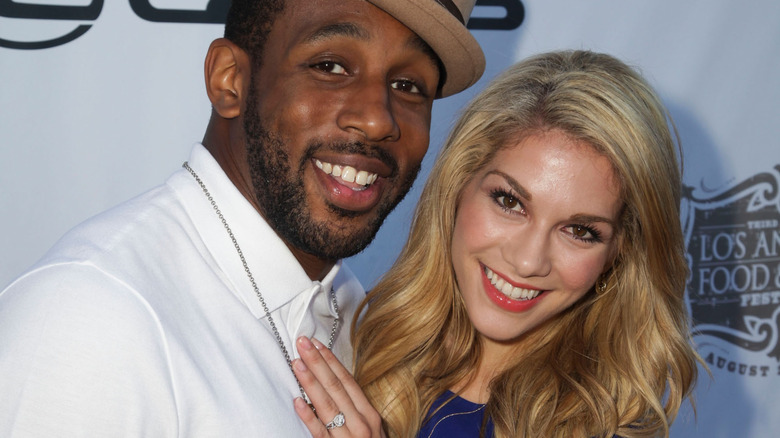 Ben Horton/Getty Images
According to Stephen "tWitch" Boss, he didn't say a word to Allison Holker throughout Season 7 of "So You Think You Can Dance." Holker, however, was smitten right away, admitting to Dance Spirit in a joint interview that she thought he  was the "cutest guy ever." According to her, she dropped hints, but Boss "was completely oblivious to it." And to make matters worse, she claimed they "avoided" one another outside of rehearsals. 
That changed during the premiere of "Step Up 3D." Holker noticed Boss on the red carpet and thought he looked "so hot." Instead of ignoring each other, Boss greeted Holker, and she got flustered right away. However, they later danced together and hit it off. "I finally made my move, and he asked me for my number," Holker recalled. Unfortunately, he didn't call her. So, she got his number and texted him with praise over the movie and premiere. 
Even after that, it took the Season 7 "SYTYCD" wrap party for magic to happen. Holker told Dance Spirit she knew the party might be her last chance with Boss and "was on a mission to find" him. When she did, they spent hours dancing together. Boss told Ask Men that the dance "initiated everything" for the couple. "Without that dance, I don't know what other signs I would have needed," he admitted. Luckily, everything worked out in the end.
Boss and Holker are now a family of five
As Allison Holker and Stephen "tWitch" Boss developed their relationship, they often found themselves traveling in different directions. "The first year, we had a Skype relationship," she told Dance Spirit, adding that they were separated for nine months of that initial year. It worked for them, though, and in 2013, Boss orchestrated an epic proposal. As he explained alongside a YouTube video of the touching moment, they booked a commercial for Microsoft together, and he used that setting to ask Holker to marry him. He flew her parents in to surprise her, and her daughter, Weslie, was there, too.
The dancers tied the knot in December 2013 at the California vineyard owned by "So You Think You Can Dance" executive producer and judge Nigel Lythgoe, per Entertainment Weekly. As Us Weekly noted, Holker and Boss had son Maddox in 2016, and daughter Zaia came in 2019. In addition, Hollywood Mask reported Boss adopted Holker's first daughter after their 2013 wedding.
Forbes detailed that the family lives in a 4,600-square-foot Los Angeles home with six bedrooms and seven bathrooms. Holker has kept busy hosting HGTV's "Design Star: Next Gen" while Boss' IMDb page notes he's hosting "Clash of the Cover Bands" and of course, he has been part of "The Ellen Degeneres Show" for years. The former "So You Think You Can Dance" stars have created a fabulous life together, and as Holker admitted to People, they're a "fun-loving family" with a "wild" side.