Cardi B Once Sparked A Feud With This Cartoon Character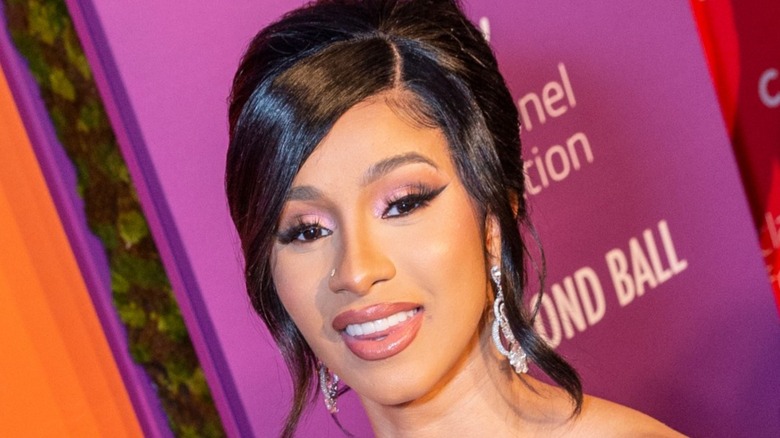 lev radin/Shutterstock
When kids are young, they look to almost everyone and everything around them as role models. In some cases, this can be helpful when you need them to get a task done, like brushing their teeth on time or cleaning up the playroom when dinner's ready. On the other hand, it gets a little problematic when young children start absorbing behaviors that are causing havoc instead of helping the situation at hand. Media has been a big source of inspiration for kids of this generation, especially because more and more youngsters are starting to surf the net and use complicated tech with ease.
Apparently, the aforementioned struggle crossed the mind of Cardi B back in 2020 when she set off a feud with a certain cartoon character that her daughter Kulture was idolizing.
But what did this particular character do to make Cardi B angry? And what do Kulture's closet and blossoming fashion influencer career have to do with this feud? Read on to find out!
Cardi B's daughter Kulture jumped in puddles because of Peppa Pig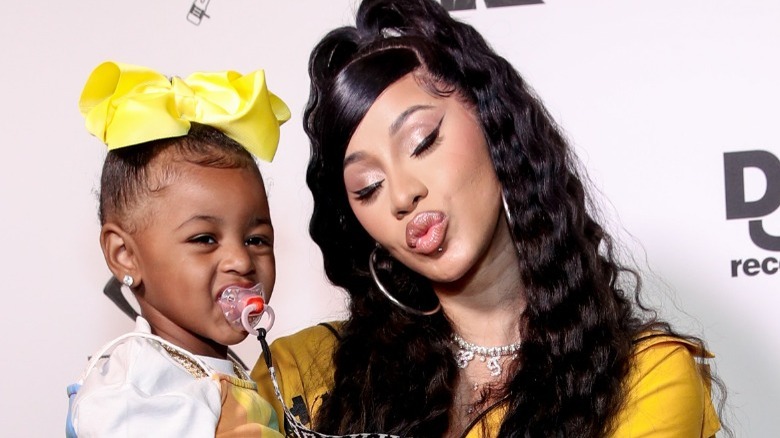 Rich Fury/Getty Images
Ah, the Brits. Besides Harry Potter, Sherlock Holmes, and Paddington Bear, they're also to thank for "Peppa Pig" enriching the list of memorable culture phenomena. The loveable animated series surrounding the antics of a pig family first launched in 2004 and have continued to dazzle children worldwide with their song-infused hilarity ever since. Apparently, the list of "Peppa Pig" fans includes Cardi B's daughter, Kulture.
However, the "Bodak Yellow" singer seems to dislike her daughter's fascination. In a tweet from December 2020, the star openly lamented to her followers about how Kulture is copying the behaviors of Peppa Pig. "My baby been watching peppa pig and now Everytime she sees a wetpuddle she wants to stomp on top of it," the "WAP" singer complained.
It seems that the running gag of "Peppa Pig" characters splashing around in mud puddles really stuck in Kulture's mind, as Cardi B added that her daughter's Uggs are now predictably ruined. "Deum you peppa pig...COUNT YOUR F***IN DAYS," the "Up" singer stated in her tweet.
Kulture has a collection of designer items in her closet thanks to mom Cardi B
Hopefully, Cardi B was able to talk some sense into Kulture, as there are a lot more expensive items in her closet that muddy puddles could stain and ruin. With her mom and dad being big names in the current rap industry, it's no wonder that they have splurged on their 3-year-old daughter's closet quite a bit.
Earlier this year, Cardi B proudly shared an Instagram video of her conquests at the shopping mall for Kulture, which included three Chanel purses, three Dior bags, and a Dolce & Gabbana satchel, via W Magazine. Kulture was more than content with her mom's purchasing decisions, as Cardi later posted to Insta an iconic series of photos of Kulture strolling around with her white Lady Dior bag. Her accessory paired well with the rest of her OOTD, which consisted of a fuzzy cheetah print vest, a white turtleneck, and Chanel earrings. "my girly cheetah girl," the proud mom wrote in the caption.
Talk about an iconic mother-daughter fashionista duo! We would love to see more of Kulture's taste in clothes and accessories because she already has a well-dressed mom to learn from.