The Truth About Travis Barker And Machine Gun Kelly's Friendship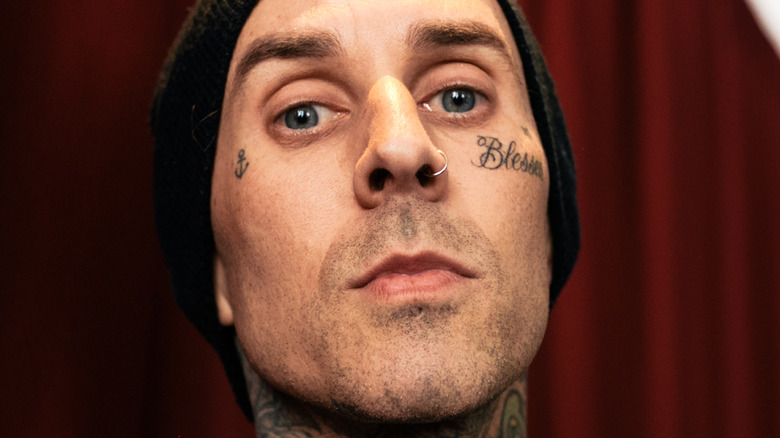 Emma Mcintyre/Getty Images
Other than hot new Hollywood couples, there's nothing the internet loves more than celebrity friendships. The proof lies in fans' obsession with best friends like Jennifer Aniston and Courtney Cox, Taylor Swift and Selena Gomez, and Emma Stone and Jennifer Lawrence. These celebrities have not only stuck by each other side's through thick and thin, but defend each other against gossip magazines and praise each other during interviews.
Two other famous friends are musicians Machine Gun Kelly and Travis Barker, who met over a decade ago and have collaborated musically multiple times along the way. According to the "Bloody Valentine" hitmaker, their connection and chemistry is undeniable, which was proven true when they worked on his 2020 album, "Tickets to my Downfall," together. "This whole [record] started out with one studio session. We've been great friends for a decade. So this was just like, ​'Hey, let's just do a random day of work.' The energy was so immense that came from it," he recalled. "And it was so powerful that Travis was like, ​'F**k it, I'm blocking off two months of my life and we're doing this album.'" Now that's dedication.
Scroll ahead to learn more about MGK and Barker's friendship, including whether their A-list girlfriends are friends as well.
Travis Barker and Machine Gun Kelly have matching tattoos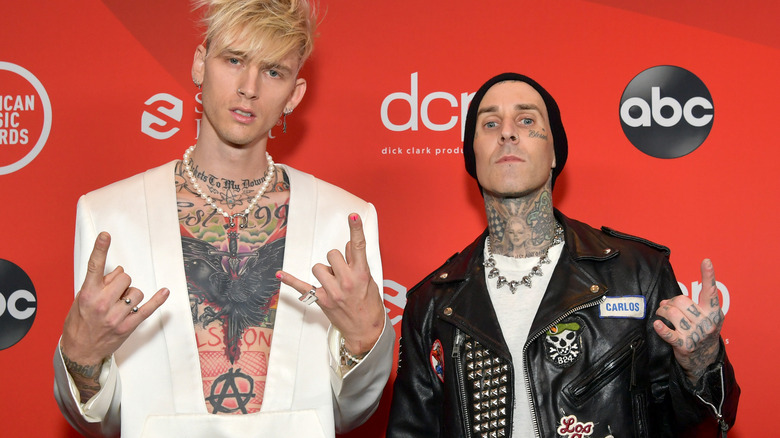 Emma Mcintyre /Getty Images
Other than music, Machine Gun Kelly and Travis Barker share other commonalties: Their tattoos. Both musicians are covered from head to toe in body art and continue to new add ink every chance they get, including a matching tattoo, which is a real testament to their longtime friendship. 
The two unveiled their new tats in posts uploaded to Instagram in August, which also served as the rapper's album announcement and new collaboration with the drummer. "'Born with horns' the album," MGK captioned his video, which also happens to be the words they inked on their forearms. "We're back for round two..." he continued. As noted above, they previously worked together on MGK's album, "Tickets to My Downfall," and Barker will serve as executive producer on the upcoming record, per People. For his part, Barker shared the same caption alongside two photos of them posing with their arms front and center. 
Unsurprisingly, Kelly and Barker are in the same social circles — and even go on double dates. Keep scrolling to learn about how they bond with each other and their girlfriends. 
Machine Gun Kelly and Travis Barker's girlfriends seem to get along
One thing is also for sure: Both Machine Gun Kelly and Travis Barker have a fiery passion for their girlfriends, Megan Fox and Kourtney Kardashian, respectively, who seemingly get along very well. In the last year, they've all been spotted together on multiple occasions, including the rapper's birthday and a UFC fight. According to sources, the couples love hanging out together and have "gained a genuine trust amongst each other."
"This was not the first time Kourtney and Travis have hung out with Megan and Colson (Machine Gun Kelly's birth name). Colson is over at Travis' house a lot and Megan is usually with him, so Kourtney has gotten to know both of them through Travis and they've all become friends now," a source told HollywoodLife after the UFC date. "They do dinners at home or hang out in the studio all together. It's cute because they're both in such happy relationships. So it's very lovey dovey."
Another insider added, "They all have the same interests and love living life. They are legitimately all friends with each other. We are going to see them all out together plenty of times in the future, start getting used to it." We're looking forward to any and all future double dates.