Inside Britney Spears' Engagement To Sam Asghari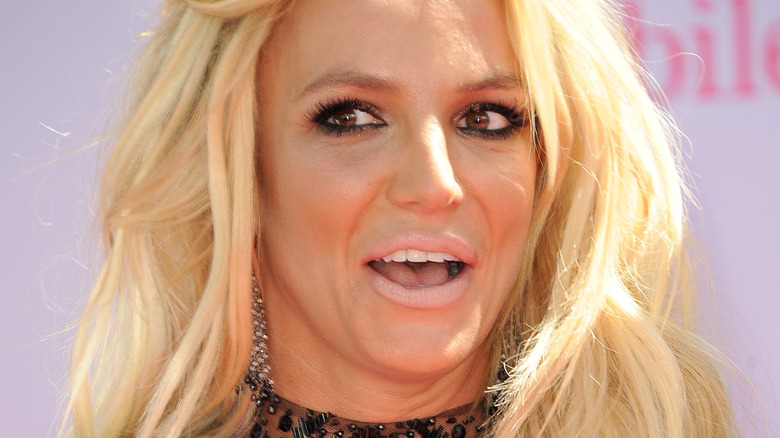 Tinseltown/Shutterstock
Oops! Britney Spears did it again — she got engaged, and we're already dying to see what her and fiance Sam Asghari's wedding looks like (We're keeping our fingers crossed that Britney gets married in a crop top). As reported by People, the couple shared the happy news on Instagram. Based on Britney's reaction, we're just going to guess that she was not expecting her beau of nearly five years to pop the question. "I can't f**king believe it!!!!!!" she wrote, adding a string of wedding ring emoji.
Britney shared a video of herself showing off her engagement ring inside her home. She was rocking a pink top, black lace choker, and red dip-dye highlights that matched the tips of her fingernails. She hammed it up for the camera, sticking her lips out and holding her hand in front of her mouth as if she were surprised. Sam asked her if she liked her new sparkler, which had a colossal diamond befitting a pop princess. "Yes!" she excitedly responded. Sam's manager told People that jeweler Roman Malayev designed the ring.
Britney and Sam's engagement comes just days after Jamie Spears finally asked a judge to terminate his daughter's 13-year conservatorship, per Variety. Britney previously claimed that her conservators were barring her from getting married again, which would explain the timing of Sam's proposal. However, it worried some fans. "Hmmm. You are about to get your money back, and he proposed," wrote one Instagrammer. Other fans begged her to get a prenup.
Are kids in the cards for Britney Spears and Sam Asghari?
This will be Britney Spears' third time tying the knot. Her 2004 marriage to childhood friend Jason Alexander lasted just 55 hours, and she gave birth to two sons while married to dancer Kevin Federline. Their boys are both teenagers now, but Spears wants at least one more child.
During a conservatorship hearing in June, Spears told the judge that she was not being allowed to remove her IUD so that she could pregnant. "This so-called team won't let me go to the doctor to take it out, because they don't want me to have children," she said, per ET Online. Spears had previously expressed a desire to have a daughter. Asghari is also ready for parenthood. "I want to take my relationship to the next step, as well. I don't mind becoming a father. I want to be a young dad," he told Forbes in March.
The Iranian personal trainer and actor first met Spears in 2016 on the set of her "Slumber Party" music video when she hand-picked him to play her love interest. She called him a few months later and invited him out on a sushi date (via ET Online). He's had her back ever since, and Spears has praised him for supporting her "through both the hardest and the best years of my life." We hope they can leave all that "Toxic" stuff behind as they embark on the next chapter of their relationship.