How Billie Eilish Completely Shaded Jennifer Lopez At The VMAs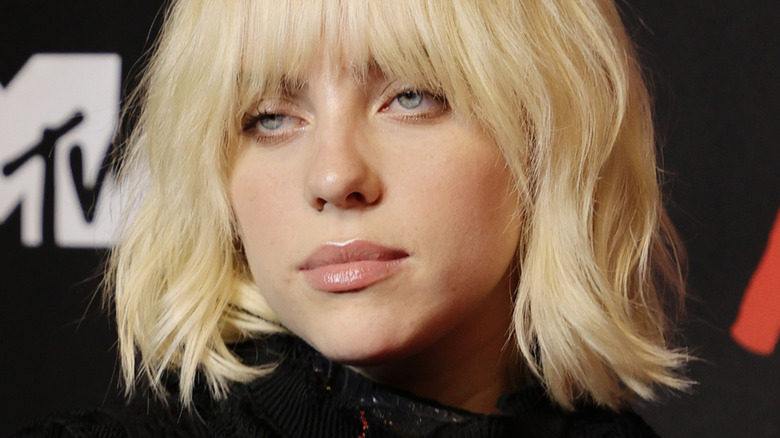 Jamie Mccarthy/Getty Images
The 2021 MTV Music Video Awards were full of surprises. Apart from Madonna's unexpected appearance, another music legend graced the event, much to everyone's delight. As part of the network's 40th anniversary, Jennifer Lopez made an appearance on the VMAs stage, fresh off her stint at the Venice Film Festival.
The "Cambia el Paso" singer strutted on stage looking as dashing as ever, donning a David Koma sequin mini skirt, a lace-up crop top, and naked-style stilettos, per Harper's Bazaar. J.Lo made the stage her runway, and the crowd loved her for it. (But what she was really there for is to present the Song of the Year Award, which went to "Good 4 U" singer Olivia Rodrigo.)
"Happy 40th birthday, MTV!" J.Lo said on stage. "Tonight is your party and I gotta tell you, tonight it feels so good to be here in my hometown for the VMAs." Everyone looked pretty stoked to see J.Lo make a VMAs comeback — except for one audience member who didn't seem excited about seeing the star on stage.
Billie Eilish didn't seem pleased to see J.Lo on stage at the VMAs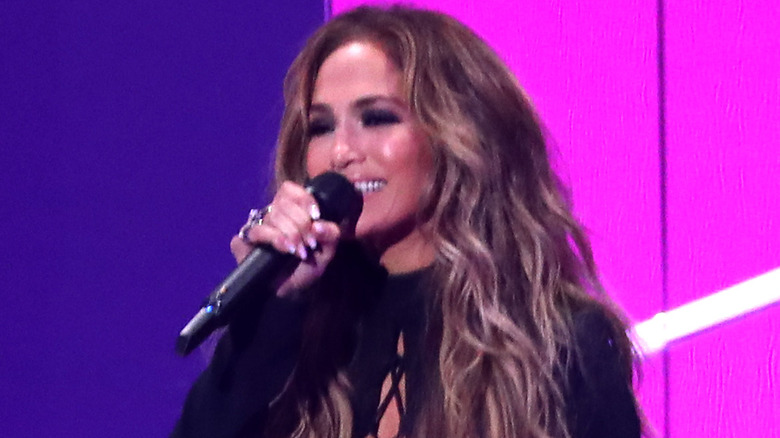 Bennett Raglin/Getty Images
Twitter users pointed out that Billie Eilish stood out from the crowd with her reaction to J.Lo. Several users shared a clip of the "Bad Guy" singer keeping a straight face and refusing to clap when Jennifer Lopez appeared on stage. "Ya peeped the way Billie looked when jlo came on stage felt a bit shady Oop," one person tweeted. Other users echoed the sentiment, saying Eilish "seemed unimpressed by JLo." And one fan said her expression was "a mood."
This isn't the first time Eilish's rather stoic look got her in trouble during an award show. During the 2020 Academy Awards, her expression toward Kristen Wiig and Maya Rudolph's performance made the rounds on Twitter. Many thought that she gave attitude, but fans came to her defense, saying that it's Eilish's normal expression.
This time around, though, it doesn't seem that the singer is shading J.lo. Lopez previously shared how she and her daughter are big Billie Eilish fans, and they even went as far as watching her concert and meeting her backstage. "It made me appreciate what I do more, my fans more, what Billie did for my daughter," Lopez told People. "We love Billie." Lopez went on to share a photo of them hugging on Instagram with the caption, "When Emme met Billie," along with green hearts and a crying emoji. It looks like there's no beef between the two, after all!