Did Trump Just Drop His Biggest Hint Yet About 2024?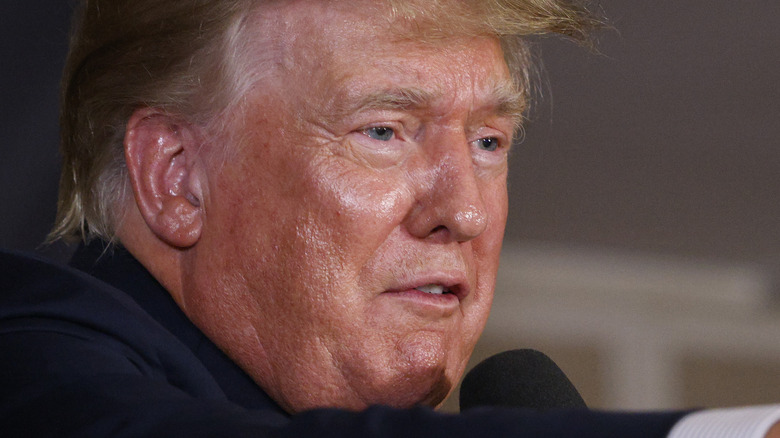 Douglas P. Defelice/Getty Images
Since Donald Trump's unceremonious leave from the White House in January in the swirling aftermath of a second impeachment trial and the January 6 right-wing riots at Capitol Hill, the ex-president has adopted a "will-he-or-won't-he" attitude regarding his chances of running for re-election in 2024. Casting a pall on voters across all parties — despite the looming possibility that future results of multiple criminal investigations into Trump and his cohort could ultimately preclude continuing a career in politics — the answer to Trump's endgame regarding 2024 has also seemingly kept the ex-president relevant, even while publically bereft of his own direct platform. 
Now, however, a recent comment Trump made during a September appearance on Fox News has once again reinvigorated the rumor mill. Predictably, it has everything to do with hinting at Trump's next political gambit, all the while possibly hinting at his next move. So what did Trump have to say about his future in U.S. politics? And are we any clearer on the matter at large, or even what his motivations might be? Keep on scrolling to find out.
Trump suggests he has 'no choice' but to run in 2024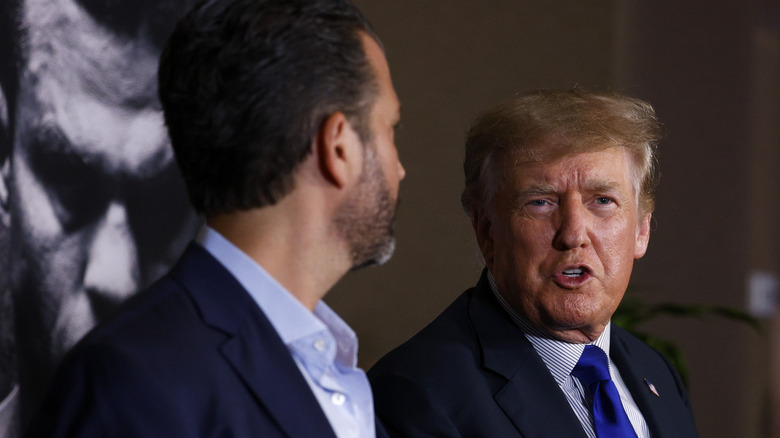 Douglas P. Defelice/Getty Images
As Fox News recapped on September 13, Donald Trump told the news network he feels the political climate in the U.S. is "getting to a point where we really have no choice" for the ex-president to enter the 2024 election fray. The reason? According to Trump, the fault completely lies with the White House administration under current President Joe Biden. Citing the withdrawal of U.S. troops in Afghanistan and the end of a nearly 20-year American occupation of the country on August 31, Trump called it the "greatest embarrassment in the history of our country." Unsurprisingly, Trump failed to mention how Biden's withdrawal was actually implemented during the Trump administration as far back as 2018, during which he and former South Carolina Governor and diplomat Nikki Haley attempted to negotiate the very same troop withdrawal with the Taliban.
Though Trump seemed to strongly hint at plans for a 2024 re-election bid, he still stuck by his general playbook in the months since stepping down from the Oval Office only days after a similar stunt. As Fox News briefly noted, Trump took the time during a visit to officers in New York City on the 20th anniversary of the 9/11 terrorist attacks and ultimately seemed to bring focus back to himself, telling officers present "I think you're going to be happy" when asked what his decision to run will ultimately be.