The True Meaning Behind 'Holy Smokes' By Trippie Redd Featuring Lil Uzi Vert
Scott Dudelson/Getty Images
Trippie Redd released his fifth studio album, "Trip At Knight" in August, and on that album includes a smorgasbord of features, including none other than "Baby Pluto" himself, Lil Uzi Vert. Titled "Holy Smokes," the track is Redd and Vert's first collaboration together and the second single off Redd's album. The whimsical track truly is trippy, with both rappers crooning their true feelings about what it truly feels like to be wealthy over a melodic beat. In June, Redd and Uzi both teased their fans by confirming they have a song together, but not mentioning what it was until July. 
Their collaboration was a long time coming because Redd has constantly credited Uzi for inspiring him and for his artist development. In an interview with , Redd had this to say about Uzi: "Listening to Uzi's s**t back in 2015-16, that s**t was different. And Carti, at that time. They was on some other s**t for the young n*****," Redd told XXL in May. "They did some crazy s**t for us. They really opened doors for us to do a lot of s**t that we do. You know, the n***** from the SoundCloud era might not say it too much, but definitely, they some of the G.O.A.T.s from our era."
Redd is definitely living a life he once dreamed about when he was younger, but in his song "Holy Smokes" he tells his fans there is a lot more than meets the eye when it comes to his lifestyle.
Money can't buy everything... right?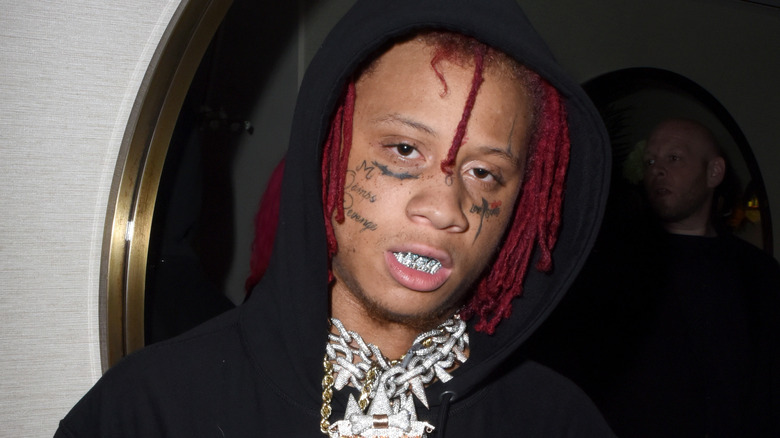 Vivien Killilea/Getty Images
Trippie Redd bares his true feelings about being a multi-platinum young rockstar, but feeling like the money isn't worth the one thing that he is missing from his life. "Holy f***in' smokes, I got my money up / Countin' all these bands, took me a while just to damn run it up/ Multi millions, I fill a hundred up/ All this cash on me but I still can't buy love," he raps. The lyrics paint the classic tale that money can't buy love. "Put the hunduns in the Chanel, got my racks up... Got two accounts, still got millions in my backup/ All this cash on me, but this money still won't buy love," the chorus continues.
Redd was seen in multiple relationships that went sour, like with rapper Coi Leray and social media influencer, Ayleks. Ayleks was Redd's most notable relationship, but she allegedly cheated on him with his enemy, rapper Tekashi 6ix9ine. Leray and Redd also had a very public relationship but eventually had a messy breakup. Redd included a song called "Leray" on his album "A Love Letter to You 4," which saw him calling her "an idiot," amongst other revelations.
However, things still haven't quite settled on "Holy Smokes." These relationship woes would make anyone feel weary, and Redd doesn't shy away from telling people that he's tired of it. "Baby girl, I'm exhausted/ Baby, be cautious," Redd continues. "Know the streets be talkin'/Every day, walk with a check and a motherf***in' target." 
Lil Uzi Vert is living his best life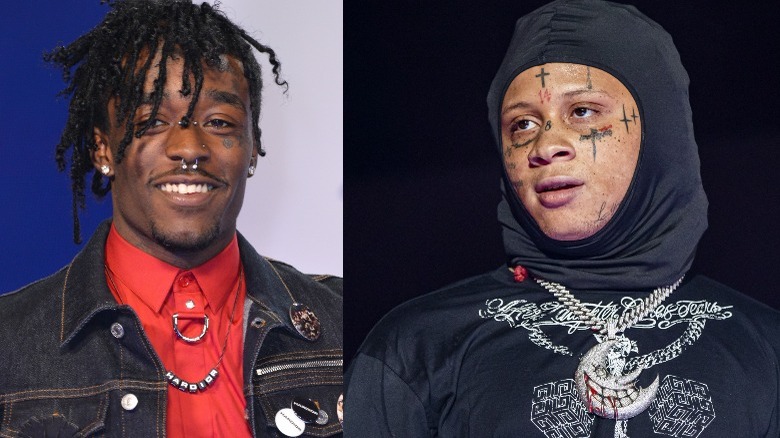 Featureflash Photo Agency/Shutterstock & Scott Legato/Getty
Lil Uzi Vert was included in Trippie Redd's song as a feature, but the energy between their verses couldn't be more different. While Redd's verses reflect more on his luxurious lifestyle being fun but also lonely and exhausting, Vert's verse is embracing the high life and perks of fame and fortune. "I just spent me a hundred thousand, I treat it like it's twenty bucks / I'm a Leo, now watch how I f*** the summer up," he brags (via Genius). "Your girl got my name tatted, she swear she won't get a cover up/ If he want smoke with me, that's another blunt / All different kinds, every girl fine, can't make my mind."
While the verse shows that Uzi is clearly enjoying his time as a hip-hop heavyweight, he does join Redd in the final chorus. They both essentially agree with the sentiments that even though they both have a lot of money, it still will not give them the one thing they desperately crave, which is love. Uzi is now in a relationship with certified City Girl JT, but there isn't much information on Redd's current relationship status. Let's hope this lonely lover eventually finds the company he is clearly craving.