Did Elizabeth Holmes Really Change Her Voice?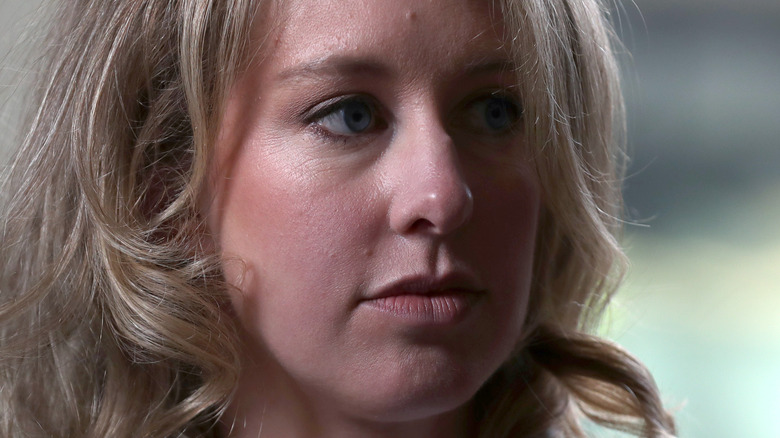 Justin Sullivan/Getty Images
After two years of staying out of the spotlight, Elizabeth Holmes is back in the headlines. In case you've been out of the loop, Holmes, the founder of the famous blood-testing startup Theranos, is on trial for charges of fraud.
Elizabeth Holmes was once touted as the "next Steve Jobs" because everyone thought that she had revolutionized the way society tests blood. Her company promised to produce a cheaper alternative to traditional blood testing, one that is able to detect common diseases in just a single finger prick. Through effective pitching, she managed to convince a slate of powerful people, including the likes of Rupert Murdoch and Betsy DeVos, to invest around $700 million in the startup, as reported by Fortune. It turns out that it was all a sham. Theranos, which was at one point valued at $9 billion, was forced to close its doors.
Holmes is now a famous fraudster, and apparently, the technology behind Theranos wasn't the only thing she faked. Keep reading to learn more about Holmes' lies.
Former Theranos employees say Elizabeth Holmes' deep baritone voice is fake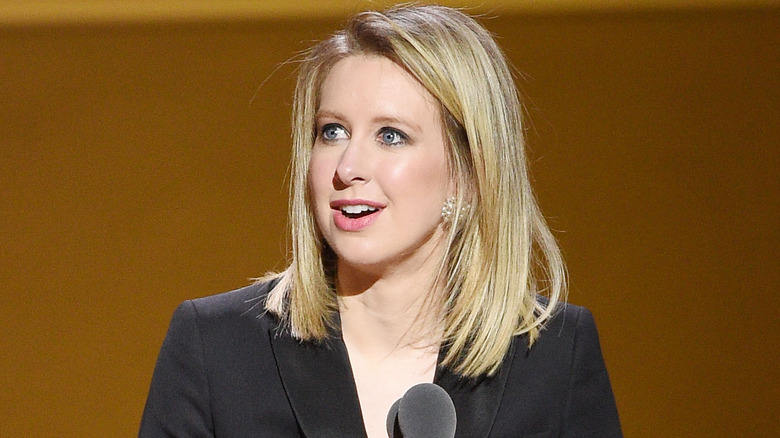 Larry Busacca/Getty Images
A huge part of the reason why Elizabeth Holmes had successfully conned prominent investors and politicians to support her company was how she presented herself. She was famous for having a limited wardrobe, usually only donning a black turtleneck. She also had a deep, baritone voice that warranted attention, but Theranos employees say that it's all fake.
Per Refinery29, Theranos insiders have revealed in various interviews that Holmes would sometimes "speak in a higher tone," typically when she's had a few drinks in. "It was maybe at one of the company parties, and maybe she had too much to drink or what not, but she fell out of character and exposed that that was not necessarily her true voice," former Theranos employees Ana Arriola dished on "The Dropout" podcast. "Maybe she needed to be more convincing to project a persona within a room among male VCs. I'm not really quite sure."
Viewers who watched "The Inventor," HBO's documentary on Theranos, noticed the same thing: that Holmes' deep voice sounded so disorienting that there's no way it's real. "Elizabeth Holmes not only ripped off investors, but also ripped off Steve Jobs' turtleneck. Not sure whose voice she's ripping off, but that's not her own either," one viewer tweeted. "You know Elizabeth Holmes is a sociopath because I would have lasted about two seconds before laughing doing a fake baritone voice and that bitch did it for years," another quipped.
Elizabeth Holmes' family swears she really has a deep voice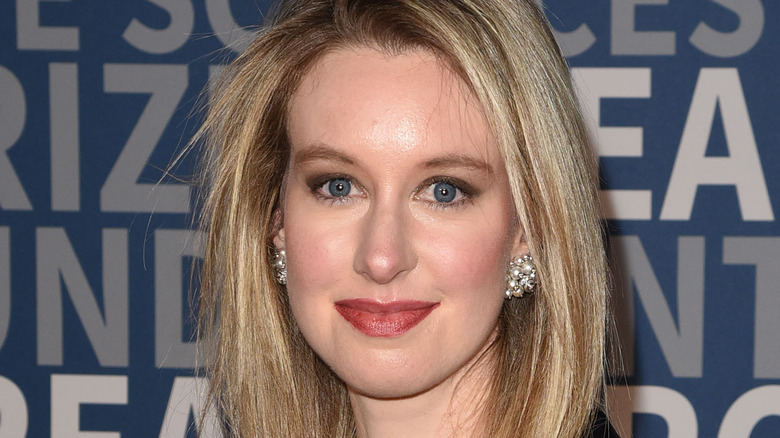 C Flanigan/Getty Images
No matter how many people have claimed that Elizabeth Holmes' voice is indeed fake, her family swears that it's real. Her family members told TMZ that her voice is "naturally low," and that many of them had low voices, including her grandmother.
On several occasions, though, when Holmes would get "excited or passionate," her family said that she changed her pitch to a higher octave. Then again, they have also remained supportive of Holmes throughout this whole ordeal, so it's unclear if they're only saying this to help her save face.
It's a matter of he-said-she-said at this point, so no one can say for sure what Holmes actually sounds like. But it's all irrelevant now, considering the severity of charges she's dealing with. With her trial ongoing, BBC notes that Holmes may serve "up to 20 years in prison if found guilty of the 12 charges of fraud against her." Maybe then, the truth about her voice will arise.